»
»
Barefoot Contessa Parties!: Ideas and Recipes for Easy Parties That Are Really Fun
x
Welcome to Eat Your Books!
If you are new here, you may want to learn a little more about how this site works. Eat Your Books has indexed recipes from leading cookbooks and magazines as well recipes from the best food websites and blogs.
Become a member and you can create your own personal 'Bookshelf'. Imagine having a single searchable index of all your recipes – both digital and print!
Barefoot Contessa Parties!: Ideas and Recipes for Easy Parties That Are Really Fun by Ina Garten
Reviews about this book
Reviews about Recipes in this Book
ISBN 10

0609606441

ISBN 13

9780609606445

Linked ISBNs
Published

Aug 09 2001

Format

Hardcover

Language

English

Countries

United States

Publisher

Random House USA Inc

Imprint

Random House USA Inc
Publishers Text
In this stunning book, Ina celebrates a relaxed and innovative style of entertaining that is as much of a joy for the host and hostess as it is for the guests.


Arranged by season, Ina's 16 parties are more about assembling food than about cooking for hours. The Not Thanksgiving Dinner transplants the turkey from its November trimmings and makes it a lighter, any-time-of-the-year treat. The California Pizza Party is just made for good times. And the Academy Awards Party for friends puts a whole new spin on the idea of TV dinners.


Tips from Ina's 20 years' catering experience place the emphasis on fun, not fuss. And the recipes are just what the countless fans of Ina's first book are hoping for--fabulous soups, salads and main courses (Butternut Squash with Apple Soup, Tomato Fennel Salad, and big bowls of Chicken Chili, for instance!) And the desserts! Chocolate Ganache Cake is a highlight. But so is the Lemon Cake that was first pictured so irresistibly in Ina's first book.


All of Ina's fans are hungry for more--and lots of other people who love to have a good time are about to have a great time discovering this entertaining star.


In 1978, Ina Garten left her job as a budget analyst in the White House to pursue her dream: operating a specialty food store in the Hamptons. Today, the Barefoot Contessa is celebrated for its stylish charm as well as its delicious food.
Other cookbooks by this author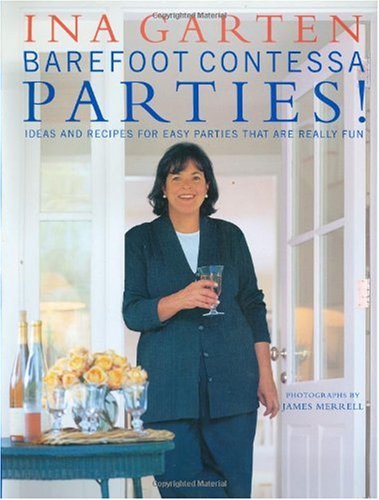 Categories