x
Welcome to Eat Your Books!
If you are new here, you may want to learn a little more about how this site works. Eat Your Books has indexed recipes from leading cookbooks and magazines as well recipes from the best food websites and blogs.
Become a member and you can create your own personal 'Bookshelf'. Imagine having a single searchable index of all your recipes – both digital and print!
The Lee Bros. Simple Fresh Southern: Knockout Dishes with Down-Home Flavor by Matt Lee and Ted Lee
Reviews about this book
Reviews about Recipes in this Book
Huffington Post

...hands-down my most-cooked recipe from "Simple Fresh Southern"... Please enjoy responsibly, as you'll want to eat it with a spoon, even though it's mostly butter.

Full review
ISBN 10

0307453596

ISBN 13

9780307453594

Linked ISBNs
Published

Nov 03 2009

Format

Hardcover

Language

English

Countries

United States

Publisher

Clarkson Potter
Publishers Text
Check out the Lee Bros 2010 book tour dates

Authors of the award-winning Lee Bros. Southern Cookbook, Matt Lee and Ted Lee grew up in Charleston, South Carolina, immersed in the flavorful traditions--long-simmered gumbos, fish-frying marathons, whole-hog barbecues--that have made southern food the most beloved of American cuisines. But they also came of age in the company of two hardworking parents who enlisted them in making dinner happen. As teens they learned that even the most routine weeknight family meals could be indulgences, as you long as you've got stellar ingredients, some wise kitchen counsel and--perhaps most important-- you're having fun in the kitchen. That's the genesis of The Lee Bros. Simple Fresh Southern-easy, healthy dishes for every day, that don't compromise an ounce of deep southern flavor. Simple Fresh Southern speaks to the way contemporary Southerners cook and eat, with dishes like Garlic-Chile Crabs, Duck with Raspberries and Rosé, Pork Loin Chops with Mushroom Chutney, Pan-Seared Scallops with Butterbean Mash. Oh, and Watermelon Margaritas!
Other cookbooks by this author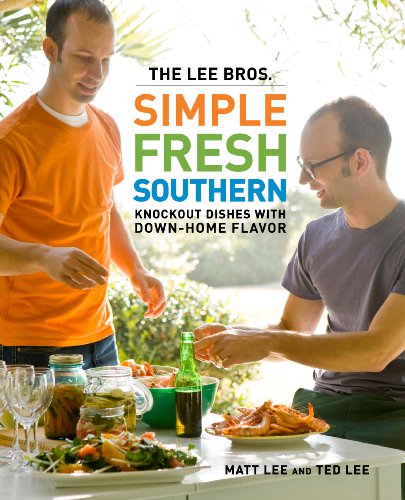 Categories