x
Welcome to Eat Your Books!
If you are new here, you may want to learn a little more about how this site works. Eat Your Books has indexed recipes from leading cookbooks and magazines as well recipes from the best food websites and blogs.
Become a member and you can create your own personal 'Bookshelf'. Imagine having a single searchable index of all your recipes – both digital and print!
The Reach of a Chef: Professional Cooks in the Age of Celebrity by Michael Ruhlman
This book contains no recipes.
Reviews about this book
ISBN 10

0143112074

ISBN 13

9780143112075

Published

Jun 01 2007

Format

Paperback

Language

English

Countries

United States

Publisher

Penguin Books

Imprint

Penguin Books
Publishers Text
The author of The Soul of a Chef looks at the new role of the chef in contemporary culture.


For his previous explorations into the restaurant kitchen and the men and women who call it home, Michael Ruhlman has been described by Anthony Bourdain as the greatest living writer on the subject of chefs - and on the business of preparing food. In The Reach of a Chef, Ruhlman examines the profound shift in American culture that has raised restaurant cooking to the level of performance art and the status of the chef to celebrity CEO. Bibliophiles and foodies alike will savor this intimate meeting with some of the most famous chefs in the kitchens of the hottest restaurants in the world.
Other cookbooks by this author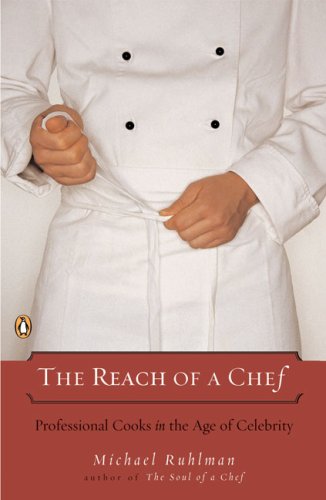 Categories