x
Welcome to Eat Your Books!
If you are new here, you may want to learn a little more about how this site works. Eat Your Books has indexed recipes from leading cookbooks and magazines as well recipes from the best food websites and blogs.
Become a member and you can create your own personal 'Bookshelf'. Imagine having a single searchable index of all your recipes – both digital and print!
On Top of Spaghetti…: Macaroni, Linguine, Penne, and Pasta of Every Kind by George Germon and Johanne Killeen
Reviews about this book
Reviews about Recipes in this Book
Lisa Is Cooking

The head note to this recipe reads "this is as close to pasta salad as we get" and that sounded perfect.

Full review
ISBN 10

0060598735

ISBN 13

9780060598730

Published

Nov 01 2006

Format

Hardcover

Language

English

Countries

United States

Publisher

Morrow Cookbooks

Imprint

Morrow Cookbooks
Publishers Text
On Top of Spaghetti... is an invitation to join Johanne Killeen and George Germon, the renowned chef-owners of Providence, Rhode Island's legendary restaurant Al Forno, on a sensory journey to pasta paradise.


No other food offers the unique, tangible, sensuous enjoyment of pasta. And with a few fresh ingredients, a little imagination, and a lot of love (for cooking and for each other), Johanne and George have been making pasta magic for years. Now, with On Top of Spaghetti . . . , they offer their experience cooking pasta in Italy, in their restaurant, and in their home kitchen. All of the lessons, the techniques, the secrets, and their special pasta affinity are on display for you to achieve perfect results for perfect pasta.

On Top of Spaghetti... is a versatile collection of recipes that proves the ingenuity of pasta. The chapters are devoted to pasta with vegetables, legumes, and herbs; tomato sauces; seafood; poultry, meat, and rabbit; and eggs and cheese as well as baked and fresh pastas, ravioli, and lasagne. You will find authentic dishes here, such as Ricotta Ravioli, Linguine with Classic Ligurian Pesto, and Pasta Shells with Spicy Sausage Red Sauce, as well as innovative new dishes such as Zucchini Flower Lasagne, Saffron-Sauced Pasta and Osso Buco, and the superspicy Spaghetti La Bomba.

In down-to-earth style, Johanne and George include a guide to specialty ingredients that add a whole new understanding to capers, anchovies, and pine nuts, as well as to traditional meats and cheeses-;prosciutto di Parma, prosciutto cotto, pancetta, Pecorino Romano, and Parmigiano-Reggiano, including instructions for making homemade ricotta-;that are essential to the true taste of Italian pasta. There is also a section devoted to helpful, sensible tips: why you should always reserve some of your pasta cooking water, which pasta dishes are better served without cheese, how to know when your spaghetti is perfectly al dente, and how to gauge portion size. Topping it all off are sixteen pages of luscious color photographs of the finished dishes.

For utterly simple, fun, fresh, and flavorful recipes that are perfect for a leisurely lunch, an elegant feast, or a midnight spaghetti snack, nothing tops On Top of Spaghetti...
Other cookbooks by this author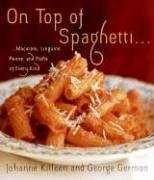 Categories