x
Welcome to Eat Your Books!
If you are new here, you may want to learn a little more about how this site works. Eat Your Books has indexed recipes from leading cookbooks and magazines as well recipes from the best food websites and blogs.
Become a member and you can create your own personal 'Bookshelf'. Imagine having a single searchable index of all your recipes – both digital and print!
Reviews about this book
ISBN 10

0809400391

ISBN 13

9780809400393

Published

Oct 01 1969

Format

Hardcover

Page Count

208

Language

English

Countries

United States

Publisher

Time-Life Books

Imprint

Time-Life Books
Publishers Text
Foods of the World was a popular series of 27 cookbooks published by Time-Life, beginning in 1968 and extending through the early 1970s, that provided a broad survey of many of the world's major cuisines. The individual volumes were written by well-known experts on the various cuisines and included significant contemporary food writers, including Craig Claiborne, Pierre Franey, James Beard, Julia Child, and M.F.K. Fisher, and was overseen by food writer Michael Field who died before the series was complete. The series combined recipes with food-themed travelogues in an attempt to show the cultural context from which each recipe sprang.
Each volume came in two parts -- the main book was a large-format, photograph-heavy hardcover book, while extra recipes were presented in a spiralbound booklet with cover artwork to complement the main book. The individual volumes remain collector's items and are widely available on the secondhand market.
Other cookbooks by this author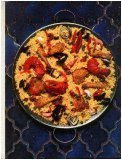 Categories