x
Welcome to Eat Your Books!
If you are new here, you may want to learn a little more about how this site works. Eat Your Books has indexed recipes from leading cookbooks and magazines as well recipes from the best food websites and blogs.
Become a member and you can create your own personal 'Bookshelf'. Imagine having a single searchable index of all your recipes – both digital and print!
Dining at Delmonico's: The Story of America's Oldest Restaurant by Judith Choate and James Canora
This book has not been indexed yet...
Reviews about this book
ISBN 10

1584797223

ISBN 13

9781584797227

Published

Oct 01 2008

Format

Hardcover

Language

English

Countries

United States

Publisher

Stewart, Tabori & Chang Inc

Imprint

Stewart, Tabori & Chang Inc
Publishers Text
The name Delmonico's is synonymous with fine dining. Ever since the establishment - the country's first real restaurant - opened its doors in Manhattan's Financial District in 1837, Delmonico's has been showing Americans just what it means to eat well.
Delmonico's was where American diners were introduced to some of our most beloved dishes: Lobster à la Newburg, Eggs Benedict, Manhattan Clam Chowder, Baked Alaska. Many were created in Delmonico's kitchen by New York's first star chef, Charles Ranhofer; others were popularized here. And always heading the bill of fare was the Delmonico's Steak - an unbelievably succulent 20-ounce prime rib-eye, grilled to perfection and topped with herbed butter - which remains the gold standard that other steakhouses try to emulate.
Delmonico's history is one of "firsts": the first American restaurant to use tablecloths, to offer private dining rooms, to furnish a separate wine list, to admit women diners, and to re-envision haute cuisine for the American palate. That tradition of exquisite food served in a luxurious setting continues to flourish today. Now, Dining at Delmonico's invites the home cook into the restaurant's legendary kitchen, providing more than 80 recipes that let you re-create the gastronomic glories of Delmonico's dining room for your own table.
Other cookbooks by this author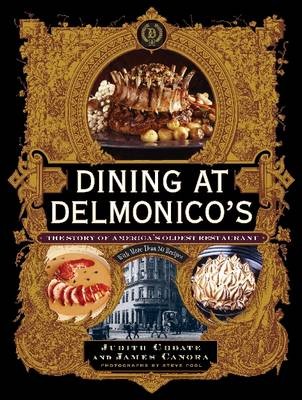 Categories