»
»
Vegetable Love: Vegetables Delicious, Alone with Pasta, Seafood, Poultry, Meat and More
x
Welcome to Eat Your Books!
If you are new here, you may want to learn a little more about how this site works. Eat Your Books has indexed recipes from leading cookbooks and magazines as well recipes from the best food websites and blogs.
Become a member and you can create your own personal 'Bookshelf'. Imagine having a single searchable index of all your recipes – both digital and print!
Vegetable Love: Vegetables Delicious, Alone with Pasta, Seafood, Poultry, Meat and More by Barbara Kafka and Christopher Styler
Reviews about this book
ISBN 10

1579651682

ISBN 13

9781579651688

Published

Nov 01 2005

Format

Hardcover

Language

English

Countries

United States

Publisher

Artisan

Imprint

Artisan Division of Workman Publishing
Publishers Text
2006 IACP Award Winner: Single Subject Category!

Barbara Kafka has been shaping the way America cooks for three decades. She's doing it again.

With her customary originality, thoroughness, and passion for great cooking, Barbara Kafka has created the cook's ultimate vegetable resource: 750 original recipes showcasing everything she adores about the vegetable world, from the lowly green bean to the exotic chrysanthmum leaf--even stretching the definition to include potatoes, mushrooms, and avocadoes just because she's crazy mad for them.
Her love of vegetables shows in every dish, each impeccably researched, consistently foolproof, and put to the Kafka taste test. Among these delectable dishes are dozens of essays, including personal reflections on the garden and migrations in the vegetable world, for example; all are erudite and unfailingly entertaining.

Kafka's book within a book--an at-a-glance, we've-done-all-the-work-for-you Cook's Guide--provides practical, encyclopedic information on how to buy, measure, substitute, and prepare every food that ever called itself a vegetable.
Other cookbooks by this author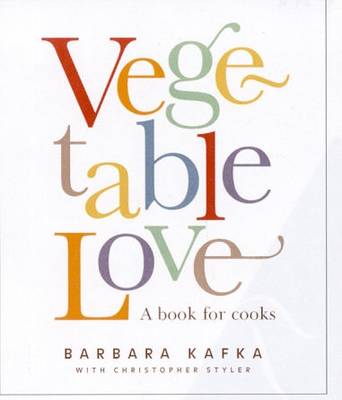 Categories