»
»
Crepes, Waffles, And Pancakes!: Over 100 Recipes For Hearty Meals, Light Snacks, And Delicious Desserts
x
Welcome to Eat Your Books!
If you are new here, you may want to learn a little more about how this site works. Eat Your Books has indexed recipes from leading cookbooks and magazines as well recipes from the best food websites and blogs.
Become a member and you can create your own personal 'Bookshelf'. Imagine having a single searchable index of all your recipes – both digital and print!
Crepes, Waffles, And Pancakes!: Over 100 Recipes For Hearty Meals, Light Snacks, And Delicious Desserts by Kathryn Hawkins
This book has not been indexed yet...
Reviews about this book
ISBN 10

1561485217

ISBN 13

9781561485215

Published

May 01 2006

Format

Spiral-bound

Language

English

Countries

United States

Publisher

Good Books

Imprint

Good Books
Publishers Text
Breakfast and brunch will never be the same again. Nor will main meals, desserts or snack-times. This is a culinary adventure that will take you through the day--even special occasions.

It starts with the basic, simple recipes that makes these comfort foods a favorite. But a few extra ingredients take the humble crepe, waffle, or pancake into a realm more exotic and provide fresh inspiration for any restless cook.
Enjoy Lemon and sultana buttermilk pancakes piping hot from the pan or cold on-the-go.

Get festive with Thanksgiving pancakes or deep-fried mincemeat pancake pockets.

Take colorful crepe and fruit skewers on a picnic, or serve them at a child's party.

Finish your day with flair and hazelnut waffles with raspberries--drizzled with dark chocolate sauce.
The book includes more than 100 recipes, a brief history of this traditional food, and its regional variations. From the same series as Juice!, Ice Cream!, Soup! and Grill!
Other cookbooks by this author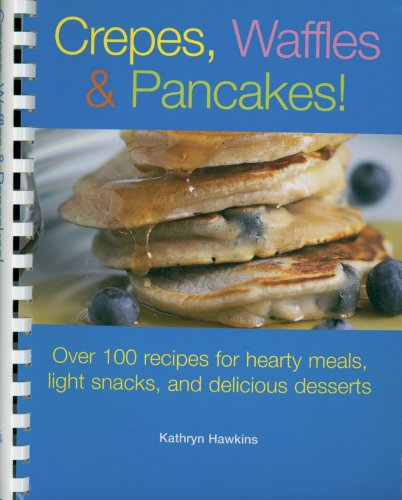 Categories