x
Welcome to Eat Your Books!
If you are new here, you may want to learn a little more about how this site works. Eat Your Books has indexed recipes from leading cookbooks and magazines as well recipes from the best food websites and blogs.
Become a member and you can create your own personal 'Bookshelf'. Imagine having a single searchable index of all your recipes – both digital and print!
Spirit of the Harvest: North American Indian Cooking by Beverly Cox and Martin Jacobs
Reviews about this book
Reviews about Recipes in this Book
Lisa Is Cooking

...tasting this fry bread inspired one of those little dances I do around the kitchen when I get really excited about food. Puffy, crispy, chewy, and delicious is what it was.

Full review

Lisa Is Cooking

...a dish of prickly pear cactus and eggs which is to be served with tortillas/bread and relish/salsa. I made a vegetarian version of it and served it on top of fry bread with the Sacaton relish.

Full review
ISBN 10

1556701861

ISBN 13

9781556701863

Published

Oct 24 1991

Format

Hardcover

Page Count

256

Language

English

Countries

United States

Publisher

Stewart, Tabori & Chang Inc

Imprint

Stewart, Tabori & Chang Inc
Publishers Text
This classic text on Native American cooking is available once again. Here, authentic recipes, glorious photographs, and an informative text present the distinctive cooking of North American Indians from coast to coast. Fifty full-color photographs featuring an array of historic Indian artifacts illustrate 150 native recipes that originated in points across the United States. From Smoked Salmon Soup to Navajo Peach Crisp and Wild Rice and Venison Stuffed Pumpkin (featured on the book's cover), these traditional dishes incorporate many ingredients hailed today for their healthfulness and flavor. The reissued James Beard and IACP award winner Spirit of the Harvest brings authentic Native American recipes into the modern home kitchen. This carefully researched cookbook incorporates many indigenous ingredients and traditional dishes from the Cherokee, Chippewa, Navajo, Sioux, Mohegan, Iroquois, Comanche, Hopi, and many other North American tribes. Each chapter is introduced by an expert on the region and discusses the cultures of major tribal groups, their diets, their ceremonial use of food, and the historic dishes they developed. Spirit of the Harvest celebrates the many cooking traditions that have stood the test of time and are still very much alive today.
Other cookbooks by this author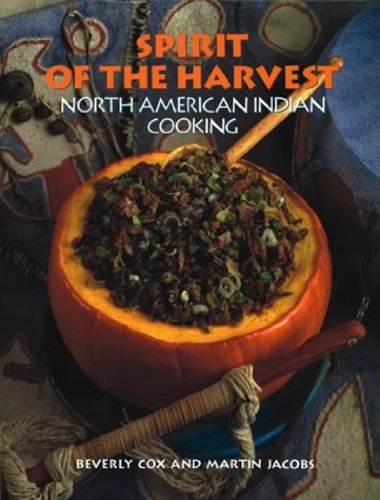 Categories