x
Welcome to Eat Your Books!
If you are new here, you may want to learn a little more about how this site works. Eat Your Books has indexed recipes from leading cookbooks and magazines as well recipes from the best food websites and blogs.
Become a member and you can create your own personal 'Bookshelf'. Imagine having a single searchable index of all your recipes – both digital and print!
British Seasonal Food by Mark Hix
This book has not been indexed yet...
Reviews about this book
ISBN 10

1844009432

ISBN 13

9781844009435

Published

Mar 04 2011

Format

Paperback

Language

English

Countries

United Kingdom

Publisher

Quadrille Publishing Ltd

Imprint

Quadrille Publishing Ltd
Publishers Text
Most ingredients are now available all year round, flown in from afar as necessary, but there is no doubt that food eaten in season - and preferably grown as close to home as possible - tastes far, far better. Mark Hix cares passionately about British food and is keen for readers to experience the excitement that cooking seasonally offers. In British Seasonal Food, he draws attention month-by-month to the homegrown ingredients at their seasonal best. He provides information on where to source the foods, how to prepare and cook them, and suggests simple ways to serve them - to enjoy their flavour to the full. For each featured ingredient, he also presents a selection of inventive mouth-watering recipes - Chilled Pea and Lovage Soup, Fried Green Tomatoes in Beer Batter, Roast Goose with Sprout Tops and Quince Sauce, Autumn Fruits with Sloe Gin Jelly. Superbly photographed by Jason Lowe and with original drawings that capture the mood of the seasons, this book is guaranteed to become a British classic.
Other cookbooks by this author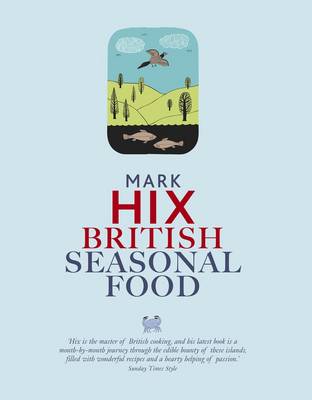 Categories