x
Welcome to Eat Your Books!
If you are new here, you may want to learn a little more about how this site works. Eat Your Books has indexed recipes from leading cookbooks and magazines as well recipes from the best food websites and blogs.
Become a member and you can create your own personal 'Bookshelf'. Imagine having a single searchable index of all your recipes – both digital and print!
Reviews about this book
Reviews about Recipes in this Book
Subtly but surely flavored, these chicken meatballs need little, if anything, in terms of embellishment. Of course, if you want to serve them as sliders you'll need, at minimum, a bun.

Full review
ISBN 10

0440423163

ISBN 13

9780440423164

Linked ISBNs
Published

Nov 01 2011

Format

Hardcover

Page Count

176

Language

English

Countries

United States

Publisher

Ballantine Books

Imprint

Ballantine Books
Publishers Text
The Meatball Shop has quickly grown into a New York City dining destination. Food lovers from around the city and beyond are heading down to Manhattan's Lower East Side for a taste of this breakout comfort food phenomenon. In this fun and satisfying cookbook, chef Daniel Holzman and general manager Michael "Meatball Mike" Chernow open up their vault of secrets and share nearly 100 recipes—from such tried-and-true favorites as traditional Bolognese Meatballs and Mediterranean Lamb Balls to more adventurous creations like their spicy Mini-Buffalo Chicken Balls and Jambalaya Balls.
Accompanying the more than twenty meatball variations are recipes for close to a dozen delectable sauces, offering endless options to mix and match: from Spicy Meat to Parmesan Cream to Mango Raisin Chutney. And what would a meatball meal be without succulent sides and simple salads to round out the menu: Creamy Polenta, Honey Roasted Carrots, and Marinated Grilled Eggplant, just to name a few. You'll also find helpful tips on everything from choosing the best cuts of meat to creating the perfect breadcrumbs to building the ultimate hero sandwich.
There may not be a Meatball Shop near you—yet—but there's a meatball for everyone (and lots more) in this crowd-pleasing cookbook that will have them lining up outside your kitchen.
Other cookbooks by this author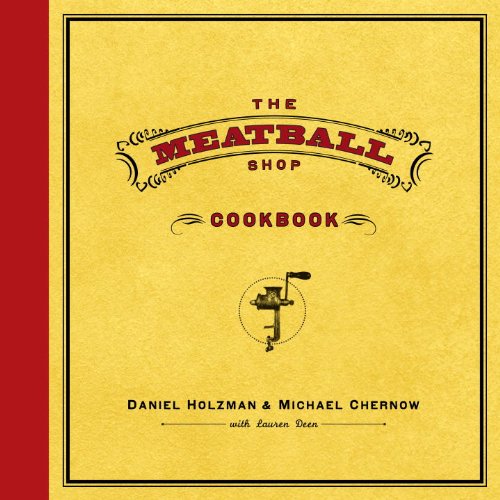 Member Indexed
This book has been indexed by an Eat Your Books member.
Categories