To create a Bookshelf you need to become a member...
Membership is free, with a limit of 5 Books, or for just US$2.10 a month you can create a searchable index of your recipes in your own cookbooks, magazines and favorite blogs. You can also include any recipe on the web and all your own personal recipe clippings. Become a member now and start a new relationship with your cookbooks.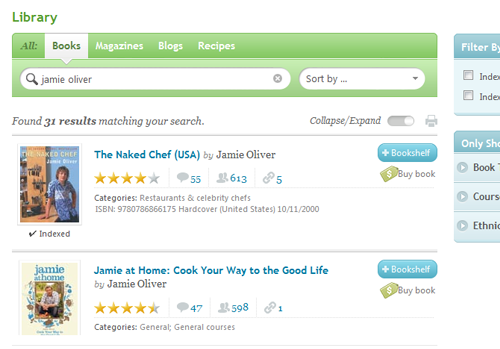 My Bookshelf is where you list all the cookbooks, magazines and blogs you love
Select your books, magazines and blogs from over 100,000 titles in the EYB Library to create your own Bookshelf.
Setting up your Bookshelf is a simple process. Once done you will have a searchable index of your recipes and a catalog of your cookbooks and magazines.
EYB has categorized cookbooks by Ethnicity, Category, Occasion, Meal Type and Special Diet.
If some of your books aren't indexed you can either request for them to be, or you can use the EYB indexing tool to add them yourself.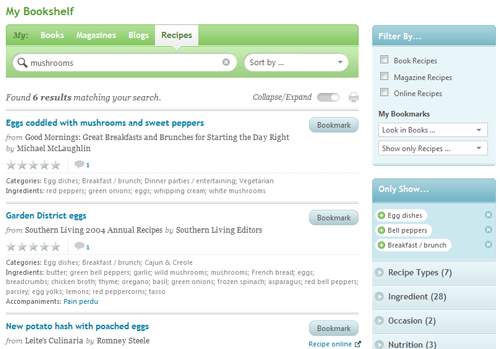 Search your Bookshelf for new recipe ideas and easily find old favorites
The EYB recipe index includes the title, main ingredients and 6 different types of categories - not the complete recipe. Your search result tells you where you can find recipes - either in your cookbooks or magazines or the website it comes from.
You can search for recipes using the recipe title and any ingredients.
You can narrow down your search further using Recipe Type, Ethnicity, Meal/Course, Occasion and Special Diet to find exactly the right recipe.
If you can't find a suitable recipe in your own collection, search the EYB Library for recipes with online links (over 60,000) that come from the best recipe authors. Try Now, you don't have to be a member to do this.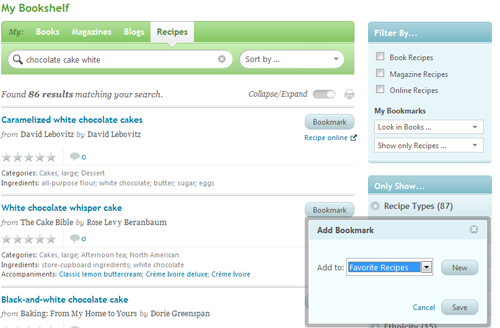 Catalog & organize your cookbook collection
Having set up your Bookshelf, now you can get even more organized! Use Bookmarks to tag your books and recipes to make them even easier to find.
Create your own Bookmark lists with names that have meaning to you.
Plan a menu, save your favorite recipes or mark the ones that you want to try out later.
Group your books by location or type.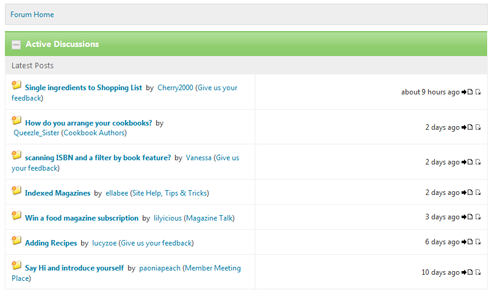 Chat with other cookbook lovers - get inspired!
Share cooking knowledge & tips, see other members' favorite books & recipes.
Benefit from other cookbook lovers' experiences.
EYB members can add ratings and comments to their books and recipes.
Find a topic that interests you in the Forum and add a comment. Or start a new topic.
Take a look at the Forum now.