Five flavors to rule them all
July 14, 2014 by Darcie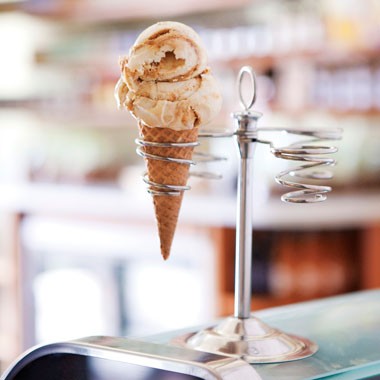 Baskin-Robbins, the world's largest chain of ice cream specialty shops, is known for its famous "31" logo, which suggests a different flavor of ice cream available for each day of the month. However, the chain may want to winnow its lengthy list of flavors, as this Parade magazine article explains. It provides a map of each state's most popular flavors of the ice cream, based on the stores' dairy carrier shipment data.
Even though consumers have dozens of choices ranging from blueberry cheesecake to "Wild 'N Reckless Sherbet," it's not a shock to learn that vanilla is the favorite flavor in about half the states. The classics are classics for a reason. However, there is an interesting grouping of mint chocolate chip in the southwestern corner of the country. Perhaps it's due to the cooling properties of mint (those states feature a lot of hot, desert terrain).
It is somewhat surprising, however, that a mere five flavors dominate the entire country (some states don't have a Baskin-Robbins location and so are not given a favorite). The three flavors besides vanilla and mint chocolate chip are Oreos 'n cream, pralines 'n cream, and chocolate. Only two states had chocolate as the number one flavor.
If you had to choose just one ice cream flavor, what would you pick?
Photo of Brown sugar ice cream with a ginger-caramel swirl from Sweet Cream and Sugar Cones in the EYB Library