Why it's better from scratch
July 18, 2014 by Jane
Ivy Manning is a Portland, Oregon-based food and travel writer, food stylist, and cookbook author. Her work has been featured in magazines such as Cooking Light, Sunset Magazine, Fine Cooking, and Bon Appétit. Although her home base is in Oregon, Manning travels the globe studying the cuisines of diverse countries including Thailand, Italy, France, and Mexico. The author of last year's book on homemade crackers is back with a new book featuring recipes that you may be able to use on those crackers. Better from Scratch (Williams-Sonoma) includes dozens of do-it-yourself recipes inspired by everyday food products that most of us purchase instead of making. The cookbook also includes advice on storing foods and tips on making food gifts, trendy sodas and cocktails, and completely homemade snack platters. (You can enter our contest for your chance to win one of three copies of the book.) We asked Ivy about the inspiration for the book and which recipes are her favorites:
How did you come up with the idea for this book? What was the light bulb moment?
I started making crackers while working in catering and was amazed at how easy and delicious they were. Later, I wrote a book called Crackers and Dips. Since then, I've been looking at how to make everything from scratch, especially things that we would never thing of. It's great fun to reverse-engineer packaged foods, take out all the junk, and make them better just by doing it yourself.
What is the "from scratch" recipe that you think will surprise readers? The one that they might never have considered making themselves?
Bacon! It's takes a few minutes to put together, and then a few weeks of curing, and smoking on a gas grill is so easy! And the results? Let's just say I have a lot of new friends that "drop by" whenever I mention I'm making bacon.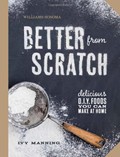 Were there any products that you tried making from scratch and decided it just wasn't worth the effort?
Miso. I love the stuff, but messing with koji (the mold used to ferment the soybeans), stirring, and storing the stuff for months in the fridge proved a little too technical. Plus, there's an artisan miso maker in my city, so I'm set.
And any that you tried and decided the store-bought product really couldn't be improved on?
That depends on your subjective taste. I love the chipotle ketchup and classic ketchup recipes in my book, but my friend's little kids wanted the sweeter, saltier stuff in the squeeze bottle because that's all they've ever known. I blame it on "happy meals."
What are the top three reasons that you think make homemade products better than store-bought?
First, homemade just tastes better! The ingredients are fresher and better quality because when you're making small batch from scratch foods you're not worried about your bottom line and shareholders. Second, you don't need to use scary preservatives, anti-caking agents, and food coloring when make homemade foods. If you're at all concerned about what you're putting into your body (and you should be), it's better to control as many of your own food sources as possible. Third, it's fun! Homemade Cracker Jacks, good quality chocolate Ande's candies, scratch sriracha, Better From Scratch is full of fun little projects that are perfect for folks who love to putter around in the kitchen. That said, I was shocked at how easy it is to make so many of these things. Time and again I said, "Why haven't I made this before? It's not hard and it's so much better!"
What is your current favorite homemade food/drink to give as gifts?
It's berry season, so I've been making homemade nutella and bringing it with pints of ripe berries to dinner parties as a hostess gift. The homemade margarita mix has been a big hit at barbecues.
The cocktail trend is huge right now and it is very expensive to stock a bar with all the cordials and liqueurs you might need. What homemade bar items do you use?
I make my own tonic syrup and it makes all the difference in my gin and tonics. I also make my own limoncello and clementinecello and serve it chilled as a digestif. Oh, and my spiced cranberry-pomegranate syrup makes the best cosmos in the world.
This is your fourth cookbook. What do you have coming up next?
I just finished up another book for Williams-Sonoma called Weeknight Vegetarian that comes out in January. It's a book on how to make really satisfying meals quickly on meatless Monday, or any other day of the week, for that matter.