David Lebovitz takes us to Paris
April 11, 2014 by Jane
David Lebovitz has certainly kept busy since leaving a successful career as a pastry chef in San Francisco to move to France and begin a career in writing. His seventh cookbook, My Paris Kitchen, has just been released and promises to be another bestseller. (You can win a copy of the book by entering our contest.) On the eve of his book tour, David sat down with EYB to answer questions about the cookbook and his life in France. You can read even more about the writing of his current book on his blog.
————————————————————————————————-
This is your seventh book. How do you carve out the time when you also have a blog, you're busy on social media, you conduct Paris culinary tours, write articles, etc.?
Because I spent most of my life working in restaurants, I am used to working a lot, especially at insane hours, and am particularly adept at multitasking. So I also love what I do – writing books is very interesting for me as it allows me to delve deeply into a subject, and blogging is fun because it's more immediate and I love the interesting feedback from readers – and everything I do (books, blog, social media) is integrated into my life. So it's not a chore, but a pleasure.
However I have learned what my limits are. And amongst the many things I've learned from the French is how to say "Non." There's a reason that they are able to value leisure time more than we do and it's because they are better at balancing life over work, and saying no to things they don't have (or don't want) to do. So I've learned when to dial back, and to only do what I can do – otherwise, I'm spending all my time doing things other than writing cookbooks, testing recipes, blogging, and more importantly, visiting chocolate shop and bakeries!
You have been living in Paris for many years. How difficult was it to whittle down your favorite Parisian recipes to the 100 or so in the book?
When I started writing My Paris Kitchen, originally I had thought that I would have recipes from some of the young Paris chefs and write about the current culinary scene. But then I realized that many of those dishes are not something anyone would be able to recreate at home, as many are the "personal" visions of the chefs. And they often feature complex plates with tiny greens, a few slices of smoked fish, a garnish with four cubes of various different root vegetables, and a scribble of sauce made with a reduction of quail essences. The French are naturally pretty good cooks and people in Paris like to go out for food they can't get or make at home, and those kinds of dishes fit the bill.
I wanted to write recipes that people could make at home, anywhere in the world. And with so many lovely ingredients available worldwide it's possible. So I decided to concentrate on home cooking and my own cuisine. I wanted to include how I shop for ingredients at the outdoor markets, what I get in the specialty shops – such as at the butchers and cheese shops, and also featured bits and pieces of the multicultural neighborhoods, which are lesser-known to people who come visit or overlooked in books about Paris, but I find them fascinating to visit and inspirational to the way I cook. I was also fortunate to have a wonderful photographer, Ed Anderson, who was particularly adept at getting pictures that capture the mood of Paris.
Which are the recipes that resonate most with you and why?
I am a big fan of "apero hour", the time in France when you relax at the end of the day over a glass of cool rosé – or something more ambitious, like an apéritif. So I'm particularly fond of the salted almond crisps, which are inspired by the wispy, salty crackers from Provence that are laden with almonds and olives. Another favorite recipe is the Parisian Gnocchi, which I am pretty sure I made every week this winter. It's a dish that not really well-known outside of France (or even Paris), and is a simmering gratin dish of pâte à choux (cream puffs) nestled in creamy béchamel sauce, baked under handfuls of cheese. When it comes out of the oven, the top is deeply bronzed. It's hard not to scrape the entire dish clean! (Especially when washed down with a lovely Sancerre or Sauvignon blanc.)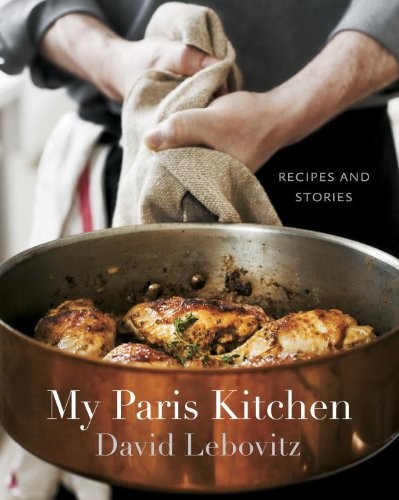 I'm also a big fan of chocolate and confiture de lait (dulce de leche), so these two flavors play big in the dessert chapter of the book. I can't help using them as much as I can. And I often add a sprinkle of sea salt, such as fleur de sel, to them which gives the chocolate – confiture de lait tart, or warm chocolate cakes with the confiture de lait in the center, a certain je ne sais quoi. But the recipe that is probably the most special to me is the last one, the Bûche de Noël, or Christmas Cake. It's perhaps my most requested recipe and I thought it was perfect to feature at the end of the book (which is not just a recipe book, but is part storybook, with tales that mirror my life) not only to wrap up the book, but to tie up the connection between my former life in San Francisco and my current life in Paris.
Do you think an immigrant to Paris ever feels truly "at home"?
It's been said that you never feel more American than when you leave America, and that's certainly true. Like other big cities, Paris can be a tough place at time. And it's very difficult to integrate into the culture. Fortunately I have an advantage, and that's that people are always interested in pastry chefs, and writing is considered a noble profession. So those have helped.
I also have a French partner, so I do a lot of things that a typical American (or foreigner) might not get to experience. Plus being here a while, I've made close friends. But still, I'm not sure I'll ever feel exactly "at home" here. Cultural ties are very strong and there are things about the United States I still miss: Sharpies, organic crunchy peanut butter, and customer service, come to mind. But there are things about Paris that make up for it. (Although customer service isn't one of them.)
Your blog is immensely popular (and indexed on EYB). How difficult is it to keep your best recipes back for your books (or maybe you don't!)?
I think certain recipes are better on blogs while others work better in books. I cook a lot of Asian foods at home, and some Mexican, and it's hard to pop those in a book about Paris. Desserts with several components work better in books so people can have a book in the kitchen with them.
Books are part of a long, more thoughtful process than the blog, which is meant to be more spontaneous and casual. In My Paris Kitchen (as well as The Sweet Life in Paris), the recipes are part of a longer story, so they work with the text to help me communicate with readers, which I do with both working together.
Are you frustrated by the long, slow process of book publishing now that you can publish recipes so quickly on your blog and get instant feedback?
Writing a book is vastly different because you're creating a document that people will refer to for years to come, so you need to be especially careful that the text and recipes are exactly what you want to say because they can't be changed. Whereas a blog is more of a diary and running commentary, and tends to be more casual. You're right that the process of writing a book is slow, but in this age of "get it out there – quick!" it's nice to spend the time working on something that will have lasting value. (Folks write that they still bake from my first book – Room for Dessert – which was released in 1999, which shows that people still value cookbooks as much as ever.)
The process of writing a book is much more measured than writing a blog. People often don't realize how many stages a book goes through. Writing a book takes at least a year (I spent two years writing and testing recipes for My Paris Kitchen). To me, writing and recipe testing is almost a 24/7 job, and when I'm working on a book, that's almost all I think about as it becomes a major part of my life. The next stage, editing, is tough because someone else is scanning your words and thoughts, asking for revisions or following up. Then there is taking the pictures (which is one of my favorite parts), then the book goes into production with designers and so forth. It takes a while, yes. But when you hold that finished book in your hand, well, I can't think of anything that feels better.
When writing the recipes, how much did you need to adapt ingredients, bearing in mind it may be hard for your readers to get some of those you find in Paris?
Fortunately the range of what is available in America has expanded greatly and thing that are common in France and used in French cooking, like Swiss chard, Comté cheese, frisée, shallots, bittersweet dark chocolate, Dijon mustard, and olive oil, can be found in most supermarkets. For this book, I called butchers in America to find out about what cuts of meat were common, and I have my recipes tested in the US with products available there since they can be different from those in France. Most people are pretty adept at using the internet and you can really find anything you want, although I still try to stick with ingredients people can get fairly easily, because not everyone wants to wait for a delivery to make dinner.
You will shortly be doing a book tour to promote the new book. How can your fans find out where they might meet you?
I put events on the Schedule page at my website and in my newsletter, but I also put them on my Facebook page and Twitter stream, which are more immediate ways to let people know where I will be. I always want to go everywhere because I love meeting people.