Deliciously gluten-free
September 4, 2014 by Jane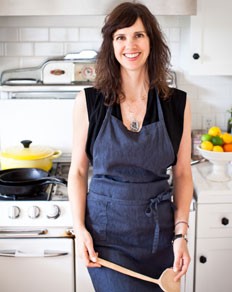 Erin Scott describes herself as an "unabashed home cook, photographer, and Berkeley dweller who has always been obsessed with food." After being diagnosed with celiac disease several years ago and discovering that both of her children were gluten-intolerant, Erin began the task of removing gluten from the family's diet. While initially disheartened, she soon began to use this change as motivation to expand her cooking horizons. This led to her blog, Yummy Supper, and now to a cookbook of the same name. Both the blog and cookbook feature Erin's stunning photography. (You can enter our contest for your chance to win a copy of Yummy Supper and check out details of Erin's book tour in our events calendar.) Erin shared an excerpt from her cookbook with EYB. Discover her thoughts on healthy and delicious gluten-free living:
————————————————————
Nourishing food is a pleasure we can have every day, gluten-free or not. Our family lives by the simplest of all tenets: that a meal will only taste as good as the ingredients going into it. With little fuss, deliciousness can be had by using the best, freshest, most lovingly grown ingredients. Eat a perfect­ly ripe, organic tomato all by itself and it's really good. Add a sprinkling of salt and you have a treat. Splash on some good olive oil and roast the beauties at just the right temp . . . and you get magic.
 I urge you to seek out the best ingredients-neither the fanciest nor the priciest, but just the ones in season, abundant, or maybe even growing in your own backyard. Then we can play with flavor and texture combinations and discover ways for preparing and savoring these natural delights.
When we look at ingredients as a kitchen's palette, the world of food is endlessly rich and varied. For those of us who cannot eat gluten, we remove only three items (wheat, barley, and rye) and still have thousands of tasty edibles to enjoy.
In our wheat-laden culture, it's dangerously easy to pick up another slice of pizza, eat a quick sandwich, nibble on a bagel, or snack on crackers. Removing gluten from our kitchens makes it more difficult to fill our bellies with such empty bites-thank goodness. Without gluten, healthful whole foods such as fruits, nuts, alternative grains, cheeses, veggies, and eggs take on a more appealing and essential role than ever in our lives. Luckily, the world is crowded with a myriad of wonderful ingredients that happen to be naturally gluten-free.
I'm an omnivore by nature and gluten-free by necessity. I am neither a professional chef nor a dietitian, but I am an unabashed home cook, voracious eater, and photographer. I'm also a mother of two with a deep commitment to a whole- some and varied diet for my family. Meals need to be easy, satisfying, and full of flavor and good health: realistic meals for people who love real food.
I see our kitchen as a place of possibility, a place of play, experimentation, and delight. I write this book hoping to bring a little extra joy to all of our kitchens, to inspire us to cook for ourselves and our families, and to remember that cooking need not be laborious, overly complicated, or full of wheat to be delicious.
Feeding those we love should be inclusive and expansive, and I strive for the food in these pages to be nourishing, fresh, and tasty enough to please everyone's bellies. So many of us feel better eating less wheat, and everyone seems to have at least one friend or loved one these days who's gluten-free. I hope this book will become a dog-eared guide for any food-loving home cook, a valuable resource full of gluten-free recipes that make everyone happy and excited to eat. I hope we can all find comfort at our dinner tables by embracing the delectable abundance that's ours for the taking.