New bread baking cookbook strikes the right balance
June 14, 2015 by Darcie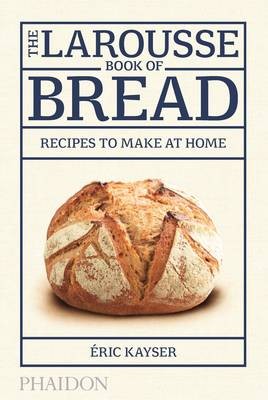 Bread baking cookbooks often have have a difficult time trying to balance the extremes between speaking down to readers or offering vague, cryptic instructions that make the process seem intimidating. But The Larousse Book of Bread is an example of how to write a bread baking cookbook right, says Jane Lawson of The Australian.
Lawson notes in her review that the book's recipes "have been carefully developed with the sensitivities of the dedicated home cook in mind and do not assume too much pre-existing knowledge, nor does the writer treat the cook as an ignoramus." The review praises the book's ability to break down technical information into smaller sections with step-by-step instructional images accompanying the beautiful shots of the finished product.
The cookbook, written by acclaimed Alsatian chef Eric Kayser in collaboration with the team behind Larousse Gastronomique, includes a large section with descriptions and explanations of ingredients, tools, and techniques. A unique "learning from mistakes" section "assures us that curiosities resulting from cooking with "live" ingredients in tandem with weather and oven variations are a happy part of the process."
Although the cookbook is geared toward home bakers, The Larousse Book of Bread includes a table for bulk conversion of many recipes. If this sounds like your kind of bread baking book, you'll be delighted to find that it is part of the huge 40% off sale offered by Phaidon to EYB Members. You'll have to order soon, however, as the sale expires on June 30.