Martha Stewart Living has a new owner
June 23, 2015 by Darcie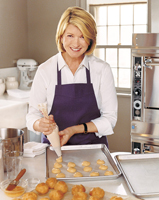 Martha Stewart, who pioneered lifestyle branding in the late 1990s, has sold her empire to Sequential Brands, Inc. in a deal announced yesterday. When Stewart took her company public in 1999, it was valued at $1.8 billion USD. The recent sale indicates how much more crowded the fields of cooking and decorating have become, as the Sequential Brands deal is valued at only $353 million, a fraction of the brand's former worth.
Once the most dominant name in cooking and decorating, in recent years Stewart has faced stiff competition from new "domestic divas like Rachael Ray and everyday bloggers who write about home decorating, cake baking and the like." The internet has contributed to this shift, as people have embraced getting advice, recipes, and ideas from multiple sources instead of one dominant brand.
Whether this transaction will revive the flagging company is unclear. Despite making major changes, Martha Stewart Living has reported annual losses every year since 2003 with only one exception (2007). But Sequential Brands thinks the brand still has life in it. Yehuda Shmidman, CEO of Sequential, points to "research that shows the Martha Stewart name has 96 percent awareness among women in the U.S." He also notes that 70% of women say that Stewart has or continues to influence them. The company also has a wide base, reaching about 100 million people.
Do you think this sale can revive the brand or is it destined to continue its decline? Is Martha Stewart Living still a go-to source for you?