Grade inflation
February 22, 2015 by Darcie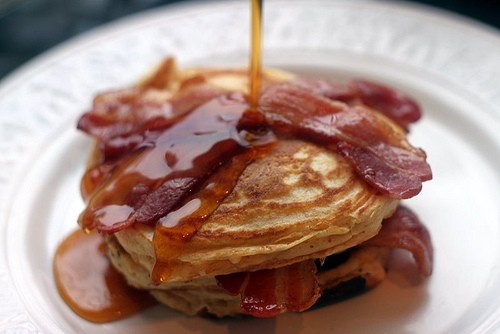 Last month, a USDA rule change went into effect with relatively little fanfare. The agency adopted rules that change how maple syrup is graded in the United States. Part of the reason for the change was to bring the US in line with international standards, but consumer preferences also played a significant role.
Consumers have been gravitating toward dark syrup, formerly known as Grade B, which connotated that it was inferior to Grade A. "We've seen a real interest in the dark, strongly flavored syrups using a system that downgraded that by calling it Grade B, just didn't make sense anymore," said Matt Gordon, executive director of the Vermont Maple Sugar Makers Association. Vermont adopted the new grading system a year before the USDA made it mandatory for all states.
Canada, which is the world's top producer of maple syrup, is still holding onto it's number 1 and 2 grading system. However, change is on the horizon there as well. The provinces of Quebec and Ontario are currently working through the process of changing to the international system, and Gordon believes "they're looking at probably a two year phase in for the new grades."
We found a link to a handy infographic that explains the new system. All retail grade maple syrup is now Grade A, but with descriptors for variations in color and strength. For example, what was formerly Grade A Light Amber is now Grade A Golden Color, Delicate Taste. The maple syrup formerly known as Grade B is now called Grade A Very Dark Color, Strong Taste. It seems a little fussy to me, but perhaps this will clear up any confusion over the quality of maple syrup variations.
Photo of American style pancakes with bacon & maple syrup from Eat Like a Girl by Niamh Shields