February 2015 cookbook roundup
February 25, 2015 by Susie
Every month Susie Chang reviews new cookbook releases and notes trends in the United States. And she may also occasionally throw in a review of a "not-quite cookbook." And for our non-U.S. members, Jane and Fiona provide similar reviews for new Canada, U.K., Australia, and New Zealand releases.
US
February is the usual prolific jumble of in-between season books: diet books, fast books, ethnic books, any books that don't have an obvious season and don't need a massive media blitz to launch. One odd new product is popping up in the books – the "spiralizer," a device which turns vegetables into noodles and has become a darling of paleo and gluten-free followers. I saw at least three spiralizer cookbooks this month, and I'm sure that's not the end of it.
The Cabot Creamery Cookbook: Simple, Wholesome Dishes from America's Best Dairy Farms, by Cabot Creamery (Oxmoor House, $22.95) The Vermont-based cooperative releases a cookbook chock-full of cheddar.
The New Passover Menu by Paula Shoyer: Shoyer's innovative collection of 65 recipes celebrates culinary freedom while still honouring the holiday's dietary rules.

The Great Big Pressure Cooker Cookbook by Bruce Weinstein and Mark Scarbrough: The intrepid pair of cookbook veterans explore a universe of recipes under pressure.
How to Braise by Michael Ruhlman: The popular author is back with the second volume of his "how to" series.
Inspiralized: Turn Vegetables into Healthy, Creative, Satisfying Meals by Ali Maffucci: The appliance of the month gets some star treatment by a Big Six publisher.
Make it Paleo II: Over 175 New Grain-Free Recipes for the Primal Palate by Hayley Mason and Bill Staley (Victory Belt Publishing, $34.95) A sequel to the very popular and successful 2011 book.
Luke Nguyen's Greater Mekong: A Culinary Journey from China to Vietnam by Luke Nguyen: A personal exploration from a fervent exponent of Southeast Asian foodways. This is a US release of a previously published Australian book.
Mastering Homebrew: The Complete Guide to Brewing Delicious Beer by Randy Mosher: A thorough and well-illustrated handbook for the aspiring brewmeister.
Brown Eggs and Jam Jars: Family Recipes from the Kitchen of Simple Bites by Aimée Wimbush-Bourque: The "Simple Bites" blogger and urban homesteader releases a highly anticipated first book.
Virgin Territory: Exploring the World of Olive Oil by Nancy Harmon Jenkins: The Mediterranean-cooking expert focuses in tight on the primary staple of her craft.
Soul Food Love: Healthy Recipes Inspired by One Hundred Years of Cooking in a Black Family by Alice Randall and Caroline Randall Williams: A mother and daughter go on a mission to make a delicious heritage a healthier one.
Against the Grain: Extraordinary Gluten-Free Recipes Made from Real, All-Natural Ingredients, by Nancy Cain: Cain does away with the xanthan and guar gums and crafts a gluten-free world out of natural ingredients.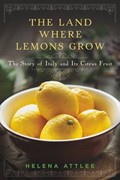 And just for reading…
The Land Where Lemons Grow: The Story of Italy and Its Citrus Fruit by Helena Attlee: A culinary and cultural history of Italy's relationship with citrus..
February trends include diet books marketed towards men, ethnic Paleo, smoothies, juicing, raw vegan sweets, and DASH diet books.
UK


Rachel Khoo's Kitchen Notebook by Rachel Khoo: A tie-in with Rachel's latest TV series, this book has Rachel moving back to her native London from Paris. The book combines recipes, travel notes and her own sketches. See our excerpt from the book and enter our contest to win one of two copies of the book.

Tea & Cake With Lisa Faulkner by Lisa Faulkner: Celebrity MasterChef winner Lisa wants you to sit down and relax with a cup of tea and something yummy to eat. But first you have to make the something yummy and Lisa provides the recipes.

The Hummingbird Bakery: Life is Sweet by Tarek Malouf: The latest book from the popular London bakery, which specialises in American-style home baking. This book contains re-worked classics plus old favourites.

Gennaro: Slow Cook Italian by Gennaro Contaldo: Gennaro shows you how to prepare good Italian food with minimum effort by letting the oven or hob do the work. Slow cooking draws out flavours and softens the texture of food to create delicious, impressive, often inexpensive meals with little fuss.


Mary Berry's Absolute Favourites: It can seem like there is a new Mary Berry book every couple of months, with reissues and GBBO tie-ins. This one is a new book, a tie-in to her new 6-part BBC2 TV series. These are Mary's most favourite recipes – for family meals, entertaining and of course, baking.

My Busy Kitchen: A Lifetime of Family Recipes by Alex Hollywood: We have seen cookbooks from Great British Bake-Off winners, runners-up, judges plus numerous show-related GBBO books. And now here comes a book from the wife of a judge, Paul Hollywood. This book isn't about baking but everyday family cooking – quick & simple for weeknights and slow & simple for weekends.

White Heat: 25 by Marco Pierre White: A new edition to celebrate the 25th anniversary of the classic cookbook from the brilliant and fiery chef. Contains new contributions from many other chefs plus new photos. Read an interview with the enigmatic White via The Guardian.

Kew on a Plate with Raymond Blanc: A tie-in with a new TV series, Blanc explores how British vegetables arrived in the country, how they are grown and how they are used in cooking. He uses a new kitchen garden at Kew Gardens as illustration and draws on his own three deciades of experience in the kitchen garden at Le Manoir aux Quat' Saisons.


Sesame & Spice: Baking From the East End to the Middle East by Anne Shooter: Inspired by her Jewish family and by Middle-Eastern ingredients such as cinnamon, honey, dates, almonds, apples and pomegranate, Anne Shooter produces recipes for modernized classics and her family favourites.

Secrets From my Indian Family Kitchen by Anjali Pathak: Anjali is from the family who make the well-known Indian sauces and chutneys so her family kitchen saw a lot of experimentation and testing. Her recipes cover authentic Indian dishes and modern creations.

Dim Sum by Helen & Lisa Tse: Sisters Helen and Lisa are also producers of sauces, their's being Chinese. In this book they offer everyone a chance to experience the popular Sweet Mandarin Cookery School dim sum masterclass in their very own kitchen.

The 5 O'Clock Apron by Claire Thomson: Claire has become well-known in the UK, through her blog and Guardian column, for providing solutions to the daily dilemma of what to feed the kids.

Canada
Canadian Living: Sweet & Simple: The Canadian Living Test Kitchen has rounded up 100 of their easiest Tested-Till-Perfect desserts, treats and snacks.
Australia & New Zealand
My Abuelo's Mexican Feast: A Life and Love of Mexican Food by Daniella Germain: Following the successful My Abuela's Table, Daniella's latest book is an illustrated journey back to Mexico's past, tracing the life of her Abuelo (grandfather) and his love affair with food. The chapters of based (chronologically) around the different stages of her Abuelo's life. From Street Food to traditional Ranch Food to Mexican Sandwiches, providing an authentic look at the food of Mexico, going beyond trendy tacos and to the soul of Mexican cooking and family life.
Amina's Home Cooking by Elshafei Amina: MasterChef favourite Amina Elshafei is draws on her family ancestry of both Korea and Egypt to take you on a unique culinary adventure, exploring the best cuisine from both cultures. You'll find recipes for traditional Middle Eastern dishes such as Lamb, Prune and Fig Tagine and Korean staples such as Kimchi, as well as exciting new recipes, such as Sumac-crusted Trout with Heirloom Tomato Salsa and Harissa Chicken.
Taking You Home: Simple Greek Food for Friends & Family by Helena Moursellas and Vikki Moursellas: My Kitchen Rules finalists, Identical twins Helena and Vikki take you home to the simple Greek food they love to eat with their friends and family. From simple recipes for tzatziki and marinated olives, through to a slow-roasted pork belly and a twist on a classic Greek dessert like Sticky Baklava Fingers.
Two Dads: Food for Family and Friends by Blair Tonkin and Paul Bullpitt: Another cookbook from My Kitchen Rules contestants to share simple and healthy recipes, many with an Indonesian influence, that the whole family will enjoy and without breaking the budget.
One-Dish Dinners: Easy all-in-one meals by Penny Oliver: Using just one pot, pan, bowl, baking dish or casserole, Penny shows you that cooking fabulous meals doesn't require complicated recipes and a multitude of pots and pans. Using aromatic spices and fresh herbs, she shows you how to prepare a slow-cooked hearty casserole that can be prepared a day ahead, a simple one-tray bake or a last-minute tossed-together summer salad, arranged according to the single cooking vessel you'll prepare them in.