Review of Aperitivo by Marisa Huff
May 24, 2016 by Jane
Today we are starting a new feature – Jenny Hartin will be reviewing a new cookbook every week. Jenny is an enthusiastic home cook who lives in Colorado, owns the website The Cookbook Junkies and runs the Facebook group also called The Cookbook Junkies. The Facebook group is a closed group of 30,000 cookbook fans – new members are welcome.
Jenny's first review is Aperitivo: The Cocktail Culture of Italy by Marisa Huff.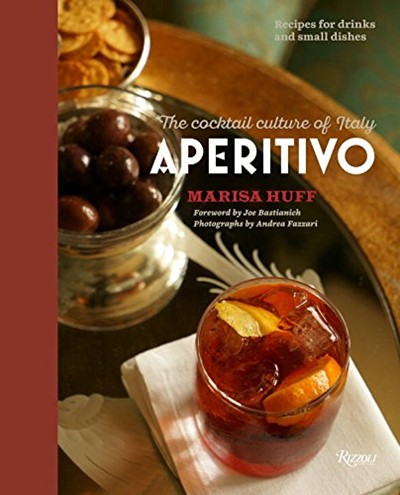 Aperitivo is a lovely journey through the rich cocktail culture of Italy. Each chapter highlights a specific region or city, focusing on the libations and small plates that are prominent in that locale. Stunning photography of the streets of Italy, its people and their drinks and dishes are plentiful throughout the book.
We begin in Turin where the arrival of vermouth gave birth to the Italian aperitivo. The historical and informative narrative that begins each chapter, followed by instructions for various cocktails and recipes for tasty bites, is fascinating and reads like a good novel. Recipes from Turin include Grissini Torinesi (breadsticks), Fresh Goat Cheese and Pink Peppercorns and Mascarpone and Hazelnut Tramezzini. These recipes are beautiful in their simplicity, something the Italians accomplish very well.
Milan is the next destination where Campari is king. Recipes include Lemon Potato Croquettes, Fried Shoestring Vegetables and Lamb Chops Alla Milanese. Pages are devoted to Focaccia with variations including Rosemary and Olive, Whole Wheat and Potato and Vitello Tonnato and Capers. Florence is visited as well, with recipes for Chicken Liver Crostini, Negronis and Tuscan Kale Chips. Each turn of the page draws us into this fascinating country and its food and drink. I made the Lemon Potato Croquettes – they were spectacular and a breeze to pull together. Leftover mashed potatoes will now be an exciting dish the next day. They received much praise from my family and friends. Special thanks to Rizzoli for sharing this recipe (below) with Eat Your Book members.
Padua, a small town in north-eastern Italy, is the subject of Chapter 3. This city's aperitivo of choice is the Spritz with its vibrant colors from the red Campari and orange Aperol that are combined with wine and soda water. Huff states that most times an aperitivo is served with a bowl of chips but that recently Padua has begun to serve Pane Carasau with Olive Oil and Herbs, the traditional flatbread of Sardinia. There are several recipes in this chapter including Radicchio Chicken Salad, Broccoli Rabe and Ricotta Salata Crostini. Tramezzini and Francobolli are detailed – tramezzini are Italian tea sandwiches which are wildly popular in northern Italy. In Venice, they serve mini tramezzini – which are called francobolli ("postage stamps"). An outline is shared with variations of the tramezzini so that we may create these little sandwiches which are perfect nibbles for a party, a snack or just because.
Padua's section of this book is vast with many details of the people and familiar dishes served there. A peek at Rome with Baked Semolina Gnocchi, Summer Tomato Bruschetta and a discussion on Italian Craft Beer completes the chapter.
The final stop on our tour is Venice which the author describes as an aperitivo wonderland. Giuseppe Cipriani of Harry's Bar in the 1930's gave birth to the Bellini and another outline of variations on the bellini theme is shared. Recipes for White Fish Pate and Crispy Polenta, Fried Sardines with Salsa Ruggine and Harry's Bar Polpettine round out this chapter before Harry's Bar Martinis and Other Batched Cocktails are set out for us.
There is a helpful guide at the end of this book which provides the addresses, phone numbers and open hours of each of the bars or restaurants mentioned.
Aperitivo truly is a fascinating look into the Italian bar scene. If you love cocktails, small plates and Italy then this is the book for you. When I get to Italy, this book will surely be a great travel reference – until then I will have to make the cocktails, create the dishes and dream.
Lemon potato croquettes
(Makes 6 to 8 aperitivo servings)
In Italy, wasting food could arguably be classified as the eighth deadly sin. Should an Italian cook end up with leftover mashed potatoes, croquettes are their salvation. A simple squeeze of lemon will leave your guests wondering about your secret ingredient, as well as coming back for more.
4 cups mashed potatoes
2 tablespoons grated Parmigiano Reggiano
2 teaspoons lemon zest
1 tablespoon fresh lemon juice
Fine sea salt
Freshly ground black pepper
1 cup all-purpose flour
2 large eggs
1 1/2 cups fine breadcrumbs
Oil for frying
In a large bowl, mix the mashed potatoes with the grated Parmigiano Reggiano, lemon zest, and lemon juice; season with salt and pepper.
In a shallow bowl, stir together the flour, a pinch of salt, and a couple grindings of pepper; in a second shallow bowl, whisk together the eggs with a tablespoon of water; place the breadcrumbs in a third shallow bowl.
Form the potato mixture into 2 by 3/4-inch logs. Roll the logs in the flour, shaking off the excess, dip in the egg wash, then roll in the breadcrumbs to coat. Heat 1-1/2 inches of oil in a shallow heavy-bottomed pan over medium-high heat. You can test if the oil is hot enough for frying by dropping a cube of bread in the oil. It should sizzle and float to the top immediately.
Fry the croquettes in batches until golden brown on all sides, about 1 minute per batch, turning halfway through cooking time. Drain on paper.
Recipe reproduced by kind permission of Rizzoli
Seen anything interesting?
Let us know
& we'll share it!