Sharing the flavours of her childhood
May 26, 2016 by Jane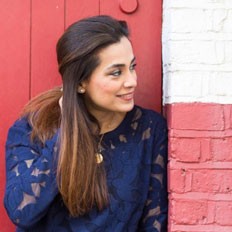 Sumayya Usmani was born and raised in Karachi, Pakistan and has lived in the UK for 10 years, first in London and now in Glasgow, Scotland. Always passionate about her heritage cuisine, she has grown up cooking the food she knows as Pakistani with the women of her family, and this kindled her love for cooking from an early age. Sumayya read her Masters in Law and practiced as a solicitor for 15 years, while still writing recipes on her own website mytamarindkitchen.com and regularly contributing to UK and international food publications such as The Guardian, Delicious, The New York Times, and BBC Good Food. She also teaches cookery classes in London's Divertimenti Cookery School and many other cookery schools across the country. Sumayya has just published her first cookbook, Summers Under the Tamarind Tree. (Enter the EYB contest for your chance to win a copy of the book.) Sumayya agreed to share a portion of the book's introduction with EYB Members:
Summers Under the Tamarind Tree

Memories of my childhood come flooding back when I conjure up an image of a lofty tamarind tree. This arbor stood regally in my grandmother's garden and offered both sanctuary and solitude, and I spent so much of my youth under its branches and lounging on the cool earth above its deep roots. The fruit it bore was enveloped in a crusty brown shell, yielding a rather ugly, pulpy flesh, which at first bite would send shivers down my spine. The tamarind certainly wasn't the most attractive fruit in that garden, but its sour flavour was always the most inviting to me as a child, and despite endless warnings of side effects (ranging from a sore throat to the early blossoming of womanhood!) I'd still venture to pick another fruit, or even chew on the tree's little bittersweet leaves. Then I'd curl up underneath its boughs and read my book knowing that the tamarind tree's intoxicating tang would soon tempt me again.
As a child I couldn't fully appreciate the power of tamarind to balance taste sensations and its Midas touch when it comes to flavour enhancement. My first inkling of its magic abilities came while eating lashings of tamarind chutney piled on to chaat (a spicy chickpea snack) at one of Pakistan's many roadside stalls. There was also my favourite summer drink – a spiced tamarind nectar which brought calm to hot summer days. It's the umami quality of tamarind that has grown to inspire much of my Pakistani cooking, and it finds its way into my recipes. When I moved to the UK, I was struck by the fact that despite a large Pakistani diaspora, our cuisine never found its individual voice. My patriotic spirit and passion for the food I grew up cooking and eating sowed the seeds for this book. I hope that the flavour of my heritage comes through in each recipe I share…
Childhood tales: Growing up in the kitchen
Almost all of my memories of growing up involve food, and just like Pakistani produce, each is seasonal. I remember helping my Nani (maternal grandmother) tend to her garden in spring, looking after her fragrant motia (jasmine) flowers and picking bhindi (okra) that was full of earthy freshness. By summer, I'd take shelter from the sun under mango trees before climbing them to reach the fruit. As summer ended, balmy monsoon showers brought the chance to lie on the flat roof of my family home, breathing in the smell of damp earth and eating hot pakoras. And mild southern winters meant curling up with my mother under soft woollen blankets while sipping hot cardamom chai. I grew up with a sense of pride in being Pakistani – and the belief that flavour was paramount.
My most treasured memories are of the hours spent in my family kitchen, unknowingly learning cooking styles and recipes steeped in Muslim heritage from the women in my family. I would watch my grandmothers, mother and aunts in the kitchen, and I learned through smelling and tasting food (rather than from written down recipes) how to make authentic family dishes. We celebrate recipes handed down through the generations, and at home everything is cooked by 'andaza' (estimation). Think of andaza as sensory cooking: learning to taste, breathing in aromas, to find the recipe right for your taste buds. I was taught never to be a slave to a recipe, so feel free to make these your own by experimenting with the flavours of Pakistan that I share. This is the foundation of my cooking style instilled from a young age, and it is one I follow to this day.
—
Photo of Chickpea batter okra (Crispy bhindi) from Summers Under the Tamarind Tree by Sumayya Usmani
Seen anything interesting?
Let us know
& we'll share it!