Review of Summers Under the Tamarind Tree: Recipes & Memories from Pakistan by Sumayya Usmani
June 14, 2016 by Jenny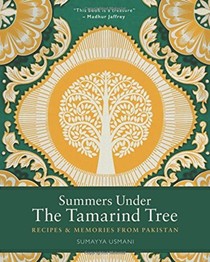 If you have been reading my previous reviews, it is no secret that I am a fan of uniqueness in a cookbook. A book that will transport me to another country or cuisine, where I will be held captive by the traditions, food and people of this new land. If you are a true cookbook lover and have the heart of a cook, you want to stretch your culinary talents and create dishes that your circle of family and friends likely have never experienced before. Summers Under the Tamarind Tree does just that and more. Between the covers of this book lies more than a mere collection of recipes in its pages: it is a love letter to Pakistan.
The author shares tales of her childhood and her passion for her country with her lovely narrative. We learn of the hours spent in her family's kitchen absorbing her Muslim heritage by smelling and tasting the food made by the female hierarchy in her family. Usmani feels that home cooking should always be approached as 'andaza' which means, in essence, estimation. The hope is that we will embrace andaza as well as sensory cooking – tasting, smelling and experimenting with the flavors of Pakistan and never feel confined or restricted by a recipe.
We dive into "the spirit, the passion, (and) the flavour" of Pakistan with instruction on cooking methods and techniques used by the Pakistanis. Spices are detailed and a breakdown of her family's masala blends are shared. By the time we reach the recipes we are in the midst of the congested streets of a Pakistani city ready to arouse our senses with a breakfast feast which is typically scrambled eggs with tomatoes, coriander and green chilies), cholay ka salan (chickpea curry) and a potato dish – all to be soaked up with deep-fried puri breads. Thankfully, Usmani shares all these recipes with us.
One of the most exciting discoveries in any cookbook, is when an author shares details of the street food that is commonly found in their country. Usmani paints a picture of the vendors with her words that pull me in and gives this reader the feeling of being dropped into an exotic story with the benefit of delicious photos of tantalizing food. The bonus is that we have the recipes and instructions to bring those flavours into our own kitchens. Hyderabadi-style Samosas filled with red onion, mint and green chilli and Bhutta, barbecued corn with chilli and lime are fine samples of street food cuisine. The author's mother's Apple Pakoras Spiced with Chaat Masala are shared as snacks are contained in the Street Food chapter.
I tested two recipes from this title for a dinner party with friends. The first recipe was for Mummy's Nutty Saffron Rice. I love a rice dish that is full of textures and spice. This rice dish was phenomenal but I believe the cooking time is way off – or perhaps my error because I used brown basmati rice and doubled the dish. It took almost thirty minutes to forty minutes to finish the dish and I needed to add more liquid as the liquid reduced considerably. I will make this dish again and again but be aware of checking for doneness.
The second dish was Baluchi-Style Chicken Sajji (Roast Chicken with Fennel and Mango Powder) using the authors chaat masala recipe blend which was aromatic and brightened the flavors of the dish. The chicken turned out perfectly – moist and delicious – and I drizzled the garlic scented oil and drippings over the chicken after carving.
We love that the author titles her recipes with a nod to the family member responsible for same: Dadi's Turnip Kebabs (paternal grandmother) and Nani's Salted Lemon Preserves (maternal grandmother) which to me speaks to the strength of her family bonds. The title is organized well from Breakfast to Desserts and Hot and Cold Drinks. A full index of the recipes in Summers Under the Tamarind Tree can be found here.
One of the most valuable revelations gleaned from this title, is that we are all more alike than different. We all have memories of meals shared and family memories ingrained into our hearts. Even though we are worlds apart, we are all closer than we think. Embrace the difference in other cultures, even if start by embracing the cuisine of a new land first.
Photos for tested recipes by Jenny Hartin.
Jenny Hartin is an enthusiastic home cook who lives in Colorado, owns the website The Cookbook Junkies and runs the Facebook group also called The Cookbook Junkies. The Facebook group is a closed group of 30,000 cookbook fans – new members are welcome.
Special thanks to Frances Lincoln for sharing the recipes for Karachi-style chicken tikka and Green chutney.
Karachi-style chicken tikka on the bone with red chilli masala
As night descends on Karachi, the air is weighty with the day's humid heat and
wafts of coal smoke tempting anyone nearby with an aroma of red chillies and spices. Who can resist a fresh, hot chicken tikka? These are perfect with puri breads and green chutney.
5-6 dried red chillies
1½ tsp salt
1 tsp each of garlic purée and grated ginger
juice of 1 lime
½ tsp freshly ground pepper
½ tsp ground turmeric
1 tbsp brown sugar
½ dry-roasted coriander seeds
½ tbsp tamarind paste
1 tsp dry-roasted cumin seeds
1 tbsp sunflower or corn oil
1 whole chicken, without skin, quartered
Preparation 10 minutes + 50 minutes soaking & marinating | Cooking 25 minutes | Serves 4
Soak the chillies in warm water for 20 minutes, then drain. In a mortar and pestle, grind the red chillies with the salt. Add the remaining ingredients, except the chicken, and grind to make a marinade. Put the marinade in a bowl, add the chicken and turn until the chicken is coated. Cover and marinate in the fridge for 30 minutes, or overnight.
Light a barbecue or preheat a griddle pan. Remove the chicken from the marinade and cook for 20-25 minutes (you can do this on skewers if you like, or until the chicken is cooked through then serve.
Green chutney (coriander, coconut and chilli)
This is a classic green chutney, aromatic and exotic, and with many uses. You can make it as dip, side sauce or marinade, or with fish dishes – if you want a lighter, less spiced option, just mix with 2-3 tablespoons of plain yogurt.
1 large bunch of coriander (cilantro) leaves
10-12 mint leaves
1 small green chilli, deseeded (optional)
½ tbsp brown sugar or jaggery
½ tsp ground turmeric
1 tsp dry-roasted cumin seeds
1 tsp salt
2 tbsp unsweetened desiccated (dry) coconut
juice of ½ lime
4 tbsp water
Preparation 5-7 minutes | Makes about 150-200ml/5-7 fl oz/ 2/3 -scant 1 cup
Blitz all the ingredients in a blender until it is smooth. This is best used immediately but can be stored in an airtight container in the fridge for up to 4-5 days.
Photos with sample recipes by Joanna Yee
Don't forget we have 5 copies of this cookbook in our giveaway, which expires June 23.