German classics finding new audiences
June 20, 2016 by Darcie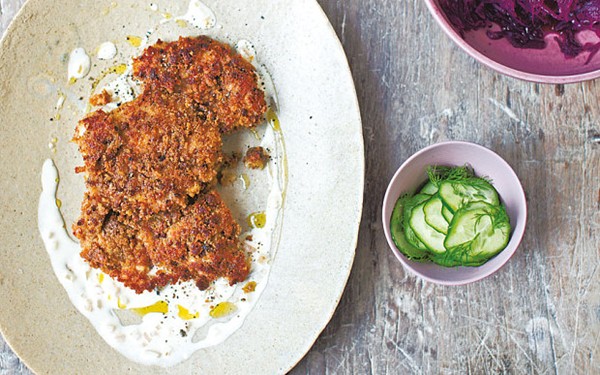 If you are wondering what's next after the rise in Nordic cuisine the past few years, the answer may lie just to the south of Scandinavia. Classic German dishes like spätzle , sauerkraut, and schnitzel are finding their way onto menus in some surprising places, says Nation's Restaurant News. These classics are being presented in both traditional and non-traditional ways.
While wienerschnitzel is traditionally made with veal and sometimes pork, chicken seems to be the protein of the moment in the schnitzel resurgence. Atlanta seems to be a hotspot for chicken schnitzel, where each restaurant puts on its own touches. Seed Kitchen's schnitzel "gets extra depth of flavor from miso mustard and oven-dried tomatoes, while 1Kept's version is accompanied by caramelized onion cream," according to author Nancy Kruze. But the twists don't stop there. A restaurant called Seven Hens offers seven different chicken schnitzel sandwiches, including curry cucumber, ginger teriyaki and chipotle cilantro.
Spätzle, German for "little sparrows", can be found on menus across the US from New York to Nashville to Denver and all points in between. The interpretations of this simple dish are quite varied. At Freud in New York City, you'll find dark rye spätzle with cheddar and cauliflower, while Denver boasts an inspired sweet potato-celery version.
Sauerkraut is riding both the New Nordic and fermented foods waves. It's making appearances on menus as a pizza topping, in tacos, and as a burger garnish, as well as being a side dish to serve with other German foods. If you don't see any of these traditional German items on menus near you, the EYB Library can help. You can find a dizzying array of items there, including these Member favorites:
Spätzle from Beard on Pasta by James A. Beard
Rye spaetzle gratin from A Good Appetite at The New York Times by Melissa Clark
Pork schnitzels from Falling Cloudberries by Tessa Kiros
Chicken rye schnitzel with mustard sauce from A Bird in the Hand by Diana Henry (pictured top)
Sauerkraut from French Feasts by Stéphane Reynaud
Braised sauerkraut from The Way To Cook by Julia Child