Review of Mexican Today by Pati Jinich
June 28, 2016 by Jenny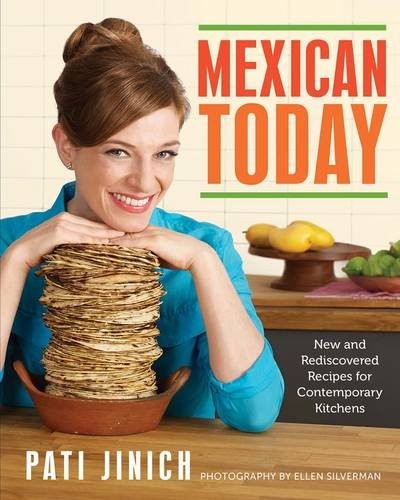 Pati Jinich's first book, Pati's Mexican Table, received accolades including the Best in Books from the New York Times, listed in Best Cookbooks of the Year from the Washington Post, and Top 20 Best of the Year Cookbooks from Amazon. It was well received with good reason: fresh, no fuss recipes that can be thrown together quickly and still be delicious and good for you. Jinich is back now with her second title, Mexican Today: New and Rediscovered Recipes for Contemporary Kitchens. This cookbook's focus is on new flavors and traditions from other parts of the world while still sharing generations-old recipes from Mexico.
I have learned over the past few years that Americanized Mexican food is totally different from authentic Mexican cuisine. With Jinich's recipes, minimal frying is involved and heavy sauces and excessive cheese are avoided. The recipes in Mexican Today are typically lighter dishes utilizing fresh ingredients and produce. I also find her recipes can be made relatively quickly so that they can be created on a busy weeknight. The chef herself is a mom of four and has a tight schedule – she can appreciate that the person cooking family meals has the same type of busy days.
The author provides tutorials on Mexican breads, cheeses, chiles and other ingredients. There are other helpful tips including how to find the right achiote paste. For instance, her thoughtfulness in pointing out that we need to choose achiote paste in bar form and not in the jars helped me at the grocery and is beneficial to anyone not familiar with Mexican ingredients. Recipes that stood out as I paged through the book were, Garlic Shrimp with Fennel, Orange and Avocado Salad, Shredded Beef with Vegetable Salad, Potato and Chorizo Tortas with Quick Pickled Onions, Shrimp Mango and Avocado Rolls and Meatballs in Guajillo Sauce with Zucchini – all can appear on our weeknight dinner tables. A full index of recipes can be found here.
Examples of recipes that play on the fusion aspect by combining flavors from other countries include Chipotle Peanut and Sesame Seed Salsa, Mexican Pizza with Poblano Rajas, Corn, and Zucchini, and Creamy Mac "N" Cheese Mexicano. I love to experiment with different cuisines coming together in one meal – it results in delicious unique flavors.
Chapter Four is my favorite chapter – Spreads, Guacamole, Salsas, Adobos and Garnishes. These can add flavor and something special to any menu – a salsa on top of a grilled chicken breast can elevate the dish. Drunken Prune Salsa with Pasillas and Orange sounds like a great accompaniment to a pork tenderloin for another quick meal.
Desserts are sometimes not featured in some international cookbooks, at least not in equal coverage, but in Mexican Today there are fourteen tempting treats for us to try: Five-Spice Plum and Apricot Empanadas, Chardonnay Mango Cinnamon Rolls and Cajeta and Pecan Cinnamon Rolls are some of the offerings.
I tested the Fast-Track Chicken Pibil and the Pickled Cabbage and Onion and was incredibly surprised at the depth of flavor in such a relatively quick dish. The pickled cabbage and onion – seriously the best pickled onion and cabbage I have eaten. It's comforting to know that after a roasted Sunday chicken, Monday can hold this meal. You can pick up a rotisserie chicken and a few fresh ingredients and make this dinner tonight (special thanks to Houghton Mifflin for sharing this recipe below). I made tacos out of my pibil but the next time I will serve it with rice and black beans. The pibil sauce will show up in other dishes because it truly is wonderful.
Mexican Today is an exciting new look at Mexican food keeping it fresh and flavorful.
Photo for tested recipe by Jenny Hartin. Jenny is an enthusiastic home cook who lives in Colorado, owns the website The Cookbook Junkies and runs the Facebook group also called The Cookbook Junkies. The Facebook group is a closed group of 30,000 cookbook fans – new members are welcome.
Fast-Track Chicken Pibil – and Day-After Thanksgiving Turkey Pibil (Pollo Pibil Rápido)
Serves 4-5
8 ounces ripe tomatoes
¼ red onion
3 garlic cloves, unpeeled
½ teaspoon kosher or sea salt, or to taste
2 cups chicken broth
2 tablespoons canola or safflower oil
¼ cup freshly squeezed grapefruit juice
¼ cup freshly squeezed orange juice
¼ cup freshly squeezed lime juice
¼ cup distilled white vinegar
½ teaspoon dried oregano, preferably Mexican
¼ teaspoon ground allspice
1⁄8 teaspoon ground cumin
Freshly ground black pepper
2 tablespoons chopped achiote paste (the one that comes in a bar, not in a jar)
6 cups cooked shredded chicken
Pickled Onions and Cabbage (recipe follows)
1. Preheat the broiler. Line a small baking sheet or roasting pan with foil. Place the tomatoes, onion, and garlic cloves on the foil, set under the broiler, 3 to 4 inches from the heat, and broil for 4 to 5 minutes, until charred on one side. Flip over and broil for another 4 to 5 minutes, until the skin is blistered and completely charred; the tomatoes should be very soft with the juices beginning to emerge. Remove from the heat.
2. Once they are cool enough to handle, quarter the tomatoes and place in a blender, along with any juices in the pan. Peel the garlic cloves and add to the blender. Add the onion, salt, and 1 cup of the broth and puree until completely smooth.
3. In a casserole or soup pot, heat the oil over medium heat until hot but not smoking. Pour in the puree, cover partially, as the sauce will sizzle and jump, and cook, stirring occasionally, for 7 to 8 minutes, until the sauce thickens and darkens considerably.
4. Meanwhile, combine the grapefruit juice, orange juice, lime juice, vinegar, oregano, allspice, cumin, pepper to taste, achiote paste, and the remaining 1 cup broth in the blender and puree until completely smooth.
5. Stir the juice mixture into the tomato sauce, bring to a simmer, and simmer for 5 minutes.
6. Add the chicken, stir together well, and cook, uncovered, until the meat has absorbed most of the sauce, about 5 minutes. The dish should be very moist but not soupy.
7. Serve the pibil with pickled onions and cabbage (recipe follows).
Pickled Onions and Cabbage (Cebolla Morada y Col en Escabeche)
Makes a generous 4 cups
1 large red onion, halved lengthwise and thinly sliced (about 2 cups)
¼ cup extra-virgin olive oil
2 jalapeño chiles or to taste
¼ cup freshly squeezed grapefruit juice
¼ cup freshly squeezed orange juice
¼ cup freshly squeezed lime juice
¼ cup unseasoned rice vinegar
1¼ teaspoons kosher or sea salt or to taste
¼ teaspoon freshly ground black pepper
3 cups finely shredded green cabbage (about 12 ounces)
1. Place the onion in a small bowl, cover with cold water, and let sit for 10 to 15 minutes; drain well.
2. In a small skillet, heat the oil over medium-low heat. Add the jalapeños and cook, turning a few times, for about 2 minutes, or until lightly browned on all sides. Remove from the heat and let cool slightly.
3. In a large bowl, combine the grapefruit, orange, and lime juices with the vinegar, salt, and pepper. Add the oil from the skillet and whisk to combine well. Toss in the onion and cabbage and mix well. Add the jalapeños and toss. Let the mix pickle at room temperature for 20 minutes to 1 hour, then cover and refrigerate.
Text excerpted from Mexican Today, © 2016 by Pati Jinich. Reproduced by permission of Rux Martin Books/HoughtonMifflin Harcourt. All rights reserved