Recipes for a life filled with food and love
June 29, 2016 by Jane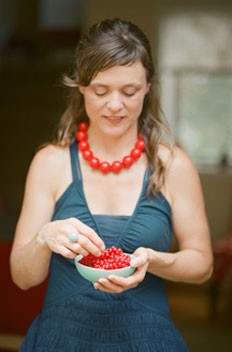 Béatrice Peltre is a food writer, stylist and photographer working out of her home studio in Boston. She is a regular contributor to the Boston Globe Food Section, and her work has appeared in many publications. Her indexed blog, La Tartine Gourmande, is popular with EYB Members. Beatrice has just published her second cookbook, My French Family Table: Recipes for a Life Filled with Food, Love, and Joie de Vivre. (You can enter our contest for a chance to win a copy of the book.) Béatrice was kind enough to provide us with an excerpt from the book's introduction:
When our daughter, Lulu, was born – she is now six – a new chapter opened up for me. It was my turn to become a mother and learn more about how to feed my family. I knew that I loved to cook, so cooking would not be an issue. But would I intuitively know what dishes to prepare? Would my cooking style change because of her? Would I need to simplify it? Would I have enough time to cook? And most important, would Lulu enjoy the food I made and our family meals?
Against this background, I knew one thing right away: food was going to be an essential part of her education. It was in my genes because, being French, I had been brought up to think that a healthy relationship with food is essential to happiness. And that really starts at home.
My mother showed me how to love food. She has also handed down to me one of her strongest skills – she made me see how much love and care a cook can demonstrate when he or she prepares and shares food. I don't know that she is aware of this. To be honest, for the longest time, I didn't know that she was going to influence me so strongly in both my adult life and the kitchen.
When I'm asked about my mother, I often describe her as a woman of few words, rather réservée (shy) in fact. She has never been comfortable sharing her feelings, unlike my father, who is the chatterbox in the family. Instead, she prefers to cook and show how much she cares through her food. "C'est bon?" ("Is it good?"), she invariably asked anxiously when we were children and sat down to eat a dish she'd brought to the table. "Je t'ai gardé lespremières fraises du jardin!" ("I kept the first strawberries for you!"), she said when the season came for strawberries to ripen in her vegetable garden. Her desire to please us with food was and is heart stirring. I spent a lot of time watching and cooking with her in the kitchen. And I saw that by making sure her family and friends were happy around the dining table with her delicious foods, she was expressing her love through actions rather than words.
Hence, gathering around food was essential in my family. Part of this was setting up the table together, making sure it looked inviting for both special occasions and everyday meals. My brother and I loved our daily pre-meal routine of arranging plates, cutlery, and glasses on the dining table. We each had a task to accomplish, and we were extremely diligent about it. When dinner was ready, my mother would call, "À table!" ("Dinner is ready!") from across the room. These words worked like magic as all of us hurried to come and sit down.
Everyday foods didn't need to be elaborate. Yet as simple as they were, our meals gravitated around being équilibrés (balanced) – with a main course comprising vegetables and meat or fish, a salad or soup, and a dessert. As children, we ate what our parents ate. We were taught to respect food and enjoy the moments created around it, even if that meant sometimes we didn't like one food or another. The motto was Il fallait au moins goûter (You must at least taste it).
Good table manners and eating habits were also the norm. We ate lunch together à midi (at noon), which sometimes still seems fairly formal to many of my foreign friends when they come to visit; we ate ungoûter (a snack) at 4 P.M. after school; and dinner was served around 7 P.M. Mealtime was sacrosanct – no phone calls, television, or any other distraction. Once we were seated at the dining table, what mattered was our time together enjoying food.
At first, I didn't realize that I was training Lulu to think about meals in these terms too. Then one day when she was four, she was sitting at the dining table. Neither Philip, my husband, nor I were yet ready to sit down with her. I asked her to start before her food got cold. But she protested, "Mais non, maman, je vous attendspour manger! Je veux que tout le monde soitassis à table avec moi pour manger" ("No, Mummy, I am waiting for you before I start! I want everyone to sit down at the table with me to eat"). On hearing those words, I must have beamed. Clearly, something magical had just happened.
When I started to think about the recipes I wanted for this book, I thought about Lulu's words. Togetherness resonated deep and strong. Essentially, what I wanted most were delicious recipes that would give enjoyment to little ones and adults alike, together as a family for everyday meals or with friends for celebrations.
The recipes here are nutritious, because I've always cared about being healthy – although I don't like to be extreme about it. They are also flexible, allowing room for simplification and personal interpretation as needed. So sometimes an everyday meal can be turned into a more dressed-up food experience – I like clothes that are that way too.
For the most part, the recipes take their inspiration from French cooking because that's what I know best and prefer. Tell me we are eating a strawberry clafoutis or chocolate petits pots de crème for dessert; a vegetable tart for lunch; or stuffed potatoes for dinner, and you will see me smile. But you will also find recipes using more exotic (for traditional French cooks) ingredients – my mother still does not use coconut milk, eat corn on the cob, or make labneh. My more diverse approach comes from having been lucky enough to travel globally and from living an expatriate life.
I have organized the book around the rhythm of our family meals: from morning foods with breakfast and brunch to light dishes (soups, salads, and tarts); from children's snacks (with the traditional French after-school goûter) to recipes Lulu and I enjoy cooking together; and finally, from family dinners to tempting desserts that seal our meals. These are the foods I cook for Lulu and Philip, and now my young son, Rémy. My family. Our friends. To express my care and love.
I hope you will want to go back to those recipes that appeal to you and cook them again and again for your family and friends. These foods are meant to make you happy and inspire you to cook more of them.
From My French Family Table by Beatrice Peltre, © 2016 by Beatrice Peltre. Reprinted by arrangement with Roost Books, an imprint of Shambhala Publications Inc., Boulder, CO. www.roostbooks.com