Dumplings pack flavor in a small package
September 24, 2016 by Darcie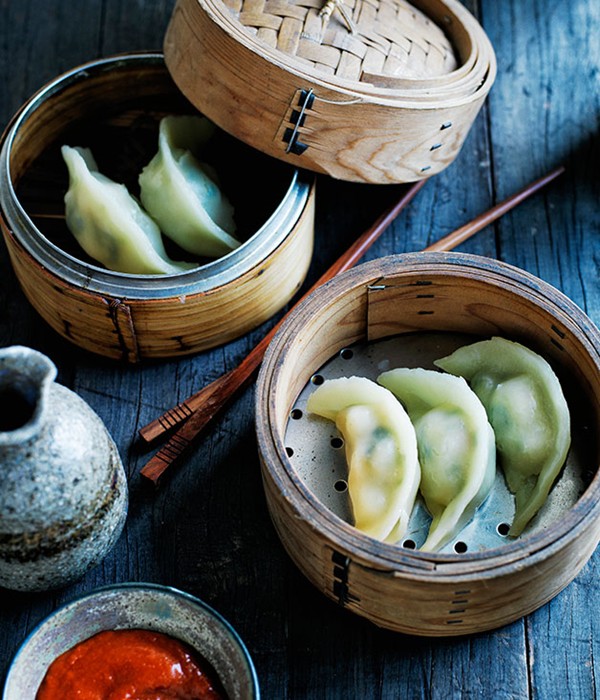 It seems that almost every culture enjoys dumplings, whether filled or just pillowy clouds of deliciousness. What's not to love? Today we'll focus on the filled variety; petite packages containing a variety of savory (and even a few sweet) fillings that liven up a meal, whether you find them in a soup or on your dinner or dessert plate. Australian Gourmet Traveller is currently featuring seven different ways to make dumplings, including the Jade prawn dumplings pictured above.
If you are in the Chicago area, you might want to check out Dumpling Fest, which will be held October 15. Created by the man who brought Baconfest to the city, this three-hour event will feature over a dozen Chicago-area chefs, and a musical component called "Wrappers Delight" with "old-school" hip hop.
Can't make it it to Chicago? The EYB Library is chock full of great dumpling ideas to make at home. Here are a few Member favorites:
Sichuanese wontons in chilli oil sauce (Hong you chao shou) from Every Grain of Rice by Fuchsia Dunlop
Pork-and-cabbage dumplings from Martha Stewart Living Magazine
Spring vegetable potstickers (with scallion dipping sauce) from Smitten Kitchen by Deb Perelman
Chard dumplings in chive broth from EatingWell Magazine
Momo dumplings from 101 Cookbooks by Heidi Swanson
Meaty dumplings (Mandu) from Korean Food Made Simple by Judy Joo
Afghan dumplings with lamb kofta and yogurt sauce from The Food52 Cookbook, Volume 2 by Amanda Hesser and Merrill Stubbs
Seen anything interesting?
Let us know
& we'll share it!