Danielle Walker's Against all Grain Celebrations
September 30, 2016 by Jenny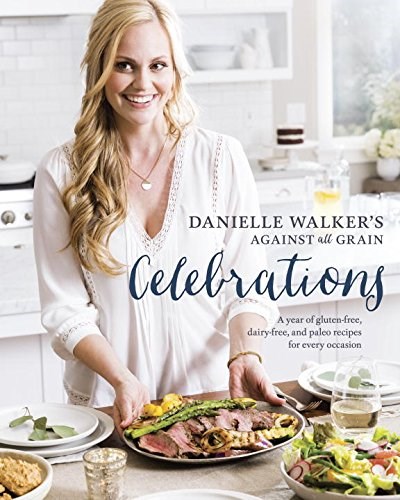 Danielle Walker's Against all Grain: Celebrations is the popular blogger's third cookbook. Walker has built an impressive following delivering gluten-free, dairy-free, and paleo recipes to her readers. Against all Grain: Delectable Paleo Recipes to Eat Well and Feel Great and Against all Grain: Meals Made Simple were both New York Times best sellers and we're sure Against all Grain: Celebrations will make that best seller status a trifecta.
With helpful hints for menu planning, preparation and twelve month's worth of recipes organized by calendar year, this title is perfect for the entertainer in all of us. Beginning with New Year's Eve (I vaguely remember being awake for New Year's Eve many years ago) and ending with Christmas treats, your party and holiday menus are covered. Lavender-Rosemary Leg of Lamb, Knife-and-Fork Pork Ribs, Chicken Salad Biscuits, and Berry Tart with Vanilla Bean Custard are a few examples of the range of recipes that woud be perfect for a dinner party or backyard barbecue. Full page photos accompany many of the recipes along with the author's personal notes before each celebration menu.
Thanks to Danielle and Ten Speed Press for allowing us to share two tasty recipes perfect for your Thanksgiving or fall menus. Be sure to
enter our giveaway
for a chance to win one of three copies of this title.

MAPLE PUMPKIN PIE
This is my favorite dessert of the season, and I cannot wait for the excuse to make it every year. A little secret: my favorite way to eat it is cold, straight from the fridge, and sometimes for breakfast!
MAKES 1 (9-INCH) PIE; SERVES 8 TO 10
Pastry
Basic pie pastry, frozen for one hour (recipe below)
1 egg yolk
1 tablespoon full-fat coconut milk
Filling
2 cups fresh pumpkin puree or 1 (15-ounce) can pure pumpkin
3 eggs
1⁄2 cup full-fat coconut milk
1⁄2 cup pure maple syrup or light-colored raw honey
1 teaspoon ground cinnamon
1⁄2 teaspoon ground ginger 1⁄2 teaspoon ground nutmeg 1⁄4 teaspoon ground cloves
1⁄4 teaspoon ground cardamom
1⁄2 teaspoon finely grated lemon zest
1 teaspoon pure vanilla extract
1⁄4 teaspoon kosher salt
Whipped coconut cream (page 320) or whipped cream (page 330), for serving
Preheat the oven to 325°F and line a baking sheet with parchment paper. Reserve one-fourth of the dough to make decorative toppings. Press the remaining dough into the bottom and up the sides of a 9-inch pie plate, using the palms of your hands to ensure the crust is even throughout. Press together any breaks in the dough, then crimp or flute the edges with your fingers. Cut a round of parchment paper to fit the bottom of the crust and fill with pie weights or dried beans. Freeze until firm, about 15 minutes.
Bake the pie shell for 10 minutes, remove the weights and parchment paper, and bake for 5 minutes more, or until the crust is golden. Cool completely on a wire rack.
Roll out the reserved pie pastry between two sheets of parchment paper. Use cookie cutters to cut out shapes. Make an egg wash by mixing
together the egg yolk and coconut milk and brush onto the pastry shapes. Transfer to the prepared baking sheet and bake for 15 minutes, or until the shapes are golden. Cool completely on a wire rack.
Increase the oven temperature to 350°F. Place the pie shell on a rimmed baking sheet and brush the edges with the remaining egg wash.
To make the filling, whisk together the pumpkin, eggs, coconut milk, maple syrup, cinnamon, ginger, nutmeg, cloves, cardamom, lemon zest, and salt. Pour the filling into the prepared pie shell. Bake for 15 minutes, then cover the crust with foil and continue baking for 20 minutes, or until the custard has set but still jiggles slightly in the center. Turn off the oven and leave it cracked open for 30 minutes while the pie cools.
Cool to room temperature on a wire rack, then place the decorative cut-outs around the perimeter of the pie and place it in the refrigerator to fully set, about 2 hours. Serve with the whipped coconut cream or whipped cream.
make it ahead: This pie keeps well, covered tightly with plastic wrap, for up to 3 days in the refrigerator and actually gets better with time.
Pie Pastry (one-9 inch single pie crust)
2 1⁄2 cups blanched almond flour
1 cup arrowroot powder
1⁄4 cup coconut sugar
2 eggs, chilled
3 tablespoons cold water
1⁄2 teaspoon fine sea salt
4 tablespoons palm shortening, chilled
To make the pie dough, combine the almond flour, arrowroot, coconut sugar, eggs, water, and salt in a food processor. Process for 10 seconds, or until combined. Add the palm shortening, spacing out where the tablespoons are dropped into the dough. Pulse 4 to 5 times, until pea-size bits of dough form.
Gather the dough into a tight ball and flatten it into a disk. Wrap tightly and freeze for 1 hour.
Transfer the dough to a 9-inch pie plate and press it into the bottom and up the sides of the plate, using the palms of your hands to ensure the crust is even throughout. Press together any breaks in the dough, then crimp or flute the edges with your fingers.
GREEN BEAN CASSEROLE WITH CRISPY SHALLOTS
Thanksgiving just doesn't feel the same without this creamy casserole, so I have re-created it Against all Grain-style, without the heavy cream, MSG, or gluten. I could eat the mushroom sauce in this dish by the spoonful.
SERVES 10 TO 12
1 cup (about 150g) whole raw cashews
2 tablespoons ghee (page 325) or extra-virgin olive oil
8 ounces cremini mushrooms, halved
1 shallot, peeled and chopped
1 clove garlic, crushed
2 tablespoons sherry (optional)
1 cup water
1 3⁄4 cups chicken stock, (page 327)
1 1⁄2 teaspoons fine sea salt
1⁄2 teaspoon freshly ground black pepper
1 teaspoon fresh thyme leaves
2 pounds haricots verts (thin green beans), ends trimmed
topping
1⁄2 cup palm shortening, bacon fat, or ghee (page 325), for frying
2 shallots, peeled and thinly sliced into rings
Place the cashews in a bowl and cover them with boiling water. Soak for 1 hour.
Meanwhile, heat the ghee in a skillet over medium heat. Add the mushrooms, shallot, and garlic and sauté for 10 minutes, or until the mushrooms and shallot have softened. Pour in the sherry and simmer for 5 minutes to reduce the liquid.
Drain and rinse the cashews, transfer them to a blender, add the water, and blend until very smooth.
Add the mushroom mix, half of the stock, and the salt, pepper, and thyme to the blender and pulse a few times until the mushrooms are bite size. Pour the mixture into a bowl and stir in the remaining stock. Set aside to cool for 15 minutes.
Preheat the oven to 350°F.
Combine the mushroom mixture with the haricots verts and spoon into a casserole dish. Bake, covered, for 30 minutes, until the beans are tender and the sauce is bubbling. Uncover and bake for 15 minutes more.
Meanwhile, to make the topping, heat the palm shortening in a small, deep saucepan over medium-high heat. Working in batches, panfry the shallots for about 5 minutes, until golden brown. Drain and cool in a single layer on a plate lined with paper towels.
Top the casserole with the crispy shallots and serve warm.
make it ahead: Since this dish involves a few steps, it's helpful to do it in stages ahead of time. Make the sauce up to 3 days in advance and store in an airtight container in the refrigerator. Trim the haricots verts and store in a bowl of water, tightly covered, in the refrigerator for up to 5 days. Prepare the assembled casserole up to 2 days in advance, cover, and store in the refrigerator. Bring to room temperature, and bake as directed.
Seen anything interesting?
Let us know
& we'll share it!