The Grain Bowl – Author Article and Recipe
October 12, 2016 by Jenny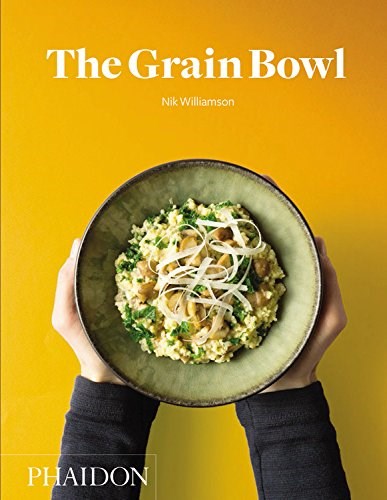 Nik Williamson's debut cookbook, The Grain Bowl, is a collection of 90 heart-healthy recipes made with a variety of grains, seeds, rice and superfoods. Williamson is an expert on grains and creator of the now shuttered Porridge Café in London. He continues to innovate in the world of pop-up food events with his Three Bears Brunch.
This title features sweet and savory recipes using 15 super-grains and seeds that promise to surprise us with ingredients such as slow-cooked meats, roasted vegetables, fresh fruits and sugary treats.
Lovely photos entice us to create good-for-us bowls that are tempting as well. With recipes such as Oats with Banana, Peanut Butter and Blueberries; Barley, Rye with Papaya, Apple and Chia Seeds, and Quinoa, Oats, and Buckwheat with Oreo Cookies, Frozen Berries, and Salted Caramel – I see grain bowls in my future.
The book begins with a helpful illustrated guide to cooking all different kinds of grains and outlines the basics of time, portion size, liquid-to-grain ratio, and cooking method. This is the perfect introduction for those of us less familar with cooking grains as we will have no reason to be intimidated. The guide is followed by chapters organized as follows: Healthy Sweet Bowls, Meat Bowls, Vegetable Bowls and Indulgent Sweet Bowls and finishes up with a glossary.
Special thanks to the author and Phaidon for sharing a recipe for a tasty bowl with us. Remember Eat Your Books members receive a 30% discount on all books purchased using our Phaidon link. After the recipe, read my Q & A with the author and be sure to enter our contest for a copy of this book which is open to U.S., Canada, U.K. and New Zealand members.
OATS AND WHEAT WITH CLEMENTINE, MANGO, BLUEBERRIES, AND RASPBERRY COULIS
Serves: 2
Preparation: 5 minutes
Cooking: 8 minutes
INGREDIENTS
½ cup (2¼ oz / 60 g) raspberries
½ teaspoon confectioners' (icing) sugar, plus extra for dusting
2 tablespoons whipping cream
¼ teaspoon vanilla bean paste
½ cup (2 oz / 50 g) rolled oats
½ cup (2 oz / 50 g) wheat flakes
1½ cups (12 fl oz / 350 ml) coconut milk beverage
5-6 clementine segments, peeled
½ mango, thinly sliced
2 tablespoons blueberries
1 tablespoon pistachios
INSTRUCTIONS
Put the raspberries and confectioners' (icing) sugar into a mini blender or food processor and pulse until you get a smooth coulis. Set aside.
Put the whipping cream into a small bowl and whisk with an electric mixer or whisk until it forms soft peaks. Add the vanilla bean paste and whisk until combined. Set aside.
Put the oats and wheat flakes into a medium pan, pour in the coconut milk beverage and 1½ cups (12 fl oz / 350 ml) water and place over high heat. Bring to a boil. Once the liquid has begun to reduce, stir quickly to prevent the porridge from sticking. Reduce to medium-high heat and cook for 8-10 minutes or until the porridge reaches the desired consistency. Remove from the heat.
Divide the oats and wheat between 2 bowls. Top with the clementine segments, mango, blueberries, pistachios, and vanilla cream. Drizzle with the raspberry coulis and dust with confectioners' sugar to serve.
The author was also kind enough to answer a few questions for Eat Your Book members. After reading our author interview and recipe share be sure to enter our giveaway for a copy of this book.
Nik, thank you so much for answering a few questions for our members. We are excited that The Grain Bowl is going to be released soon, as I am sure you are. Your fascination and focus on whole grains, how did and when did that begin?
When I began researching ideas for the Porridge Café which I ran in March 2015, I started to experiment with different grains that would bring more texture and alternative flavours to the dishes I was creating. I wanted to know the nutritional benefits of each grain to understand a good balance of flavour vs nutrition.
How did the transformation of grains being made into gorgeous gourmet bowls come about?
I've being running a catering company for a few years now and I've often served risotto. The leap from rice to other grains isn't a huge one, but I still had to make little changes to compliment the grain to the flavours being added.
What types of recipes can we expect to find in The Grain Bowl?
There are no compromises, it's a book of great tasting sweet and savoury bowls with lots of different grains to choose from. There is a naughty indulgent section in which I had a chance to offer recipes for those who want a treat at the weekend or for an alternative once a week.
What advice would you offer to cooks who have picky eaters – how can they simply incorporate more whole grains into their family's diet? (I hesitate to ask this question because some of the photos I have seen of your creations don't seem to need any coaxing to eat.)
Start with a grain like oats, they are highly nutritious and an amazing carrier of flavour. On the savoury side I really love flaked barley, it has a great texture and is easily used in place of rice.
Are there any other cookbooks in the works?
Yes I have something I have begun some work on but its very much in its infancy at this point.
Are there any chefs that are an inspiration to you? Any favorite to-go cookbooks on your shelves?
I've admired the work of Jason Atherton for a long time, his food is spectacular while being based on some core principles. My favorite cookbook is a book called Heimat by Tim Malzer, it's a collection of German recipes which cover the entirety of Germany. My mother is German so I love to cook recipes from my heritage.