Special Cookbooks from my Shelf
October 15, 2016 by Jenny
Loving cookbooks as much as I do, I am always surprised to find titles that aren't overly pubicized that are deserving of a coveted spot in my collection. Today, I wanted to share a little about six such titles.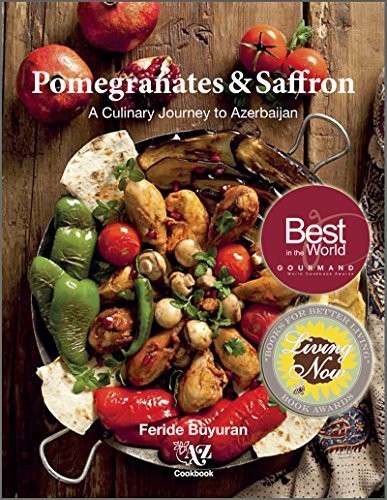 Pomegranates & Saffron: A Culinary Journey to Azebejian, Feride Buyuran's award winning cookbook, is a vibrant, personal journey sharing the bounty and beauty of Azebejian. Feride's culinary journey began when she moved to the United States. In order to quell her Turkish husband's cravings for the food of his homeland and her own, she began creating their native dishes. It was at that time she discovered her passion for cooking. She states, "Food we realized, connected us to our homes."
Photographs of marketplaces, the stunning faces of the people of Azerbaijan and its food are plentiful throughout this title. 200 diverse recipes, as diverse as the history and people of this unique country, are written clearly and with great detail. Azerbaijani Meatball Soup, Saj-Fried Lamb with Vegetables, Stuffed Potatoes, Ganja-Style Chicken with Eggs, Lemony Sturgeon Bughlama, Gakh-Style Pleated Dumplings and Shekerbura (a stunning pastry filled with a sweet-spicy mixture of nuts, crimped into a work of art) are some of the examples of the 200 dishes in this recipe collection. Pomegranates & Saffron, is a thoughtful, loving in-depth study of Azerbaijan covering its cuisine, people and their traditions. It won the Best in the World Gourmand award as well as several other awards and deservingly so.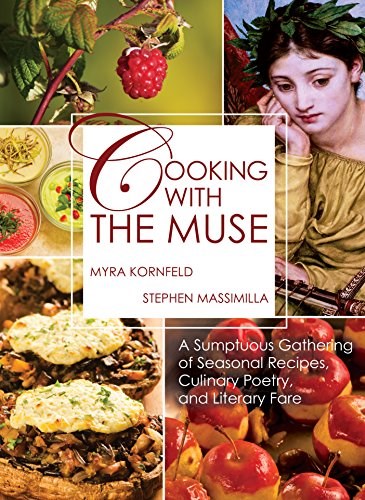 Cooking with the Muse: A Sumptuous Gathering of Seasonal Recipes, Culinary Poetry, and Literary Fare by Myra Kornfeld and Stephen Massimilla is a book blanketed with poetry, packed with historical facts about food writing and ingredients, and the recipes are a varied collection of comfort food, elegant offerings and everyday fare. There are dishes that contain an international flair such as Medallions of Dukkah-Crusted Chicken Breasts Stuffed with Spinach, Moroccan Braised Lamb Shanks or Short Ribs, and Creamy Carrot-Coconut Soup with Hot and Sweet Coconut Cashews. Desserts that will have you preheating the oven in no time include Fudgy Nibby Brownies, Chocolate Tart with Salt, Pumpkin Pie Soufflé and Caramelized Pecans and Capri Peach Tart. Yam Waffles with Maple-Pecan Butter, Shepherd's Pie with Colcannon Topping and Moroccan-Spiced Bastilla with Chickpeas Turnips, Cabbage and Vermicelli – every page holds something delectable to excite your palate or to engage your mind.
Five Morsels of Love by Archana Pidathala is a book that caught me by surprise with its touching story of the author's love for her grandmother and the unfinished cookbook ammama had left behind. "Her incredible culinary art and a lifetime of cooking had been captured in a rather modest looking Telugu cookbook", Archana was not a cook herself but vowed to finish this labor of love and what an amazing job she did.
Vibrant photographs of the dishes that dance from the pages accompany each recipe. Sweet Potatoes in a Jaggery-Infused Tamarind Sauce, Stir-fried Plantain in a Spiced Lentil Powder, Raw Mango Rice and Meatball Biryani tempt us to break out of our comfort zones and create these dishes warmed with spice and the love of Archana and her grandmother.
Myrtlewood written by Andrew Barton with stunning photography by Peter Schweitzer is a self-published cookbook celebrating home cooking from the Pacific Northwest. Chapters are organized as follows: Soups, Salads, Sandwiches, Dinner, Pasta, Seasonal Staples, Breakfast, Accompaniments, Snacks and Sweets. With recipes such as Black Pepper Fettuccini with Aged Pecorino and Oregano, Rye, Caraway, Black Pepper Biscuits with Mushroom Gravy, and Pulla (Finnish Cardamom Pastry) – this book offers unique, elevated homespun fare. Myrtlewood is a gorgeous book that will please any cookbook lover whether you live in the Pacific Northwest or not.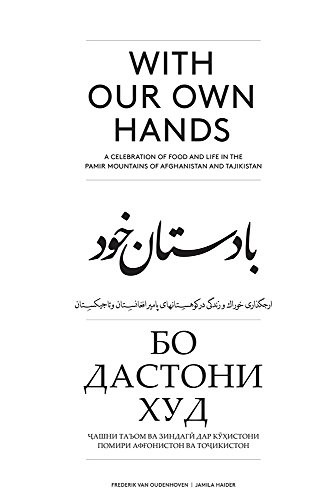 With Our Own Hands: A Celebration of Food and Life in the Pamir Mountains of Afghanistan and Tadjikistan by Frederik Van Oudenhoven and Jamila Haider is an intimate portrait of the Afghan and Tajik Pamiri people and the forbidding mountains that are their home. Darcie covered the book back in August. Through the lens of ancient recipes, stories and essays, and accompanied by the work of three award-winning photographers, the book tells about Pamiri food and agricultural traditions, people's daily lives, their struggles and celebrations. This is a massive tome that I am proud to own and am working my way through. It is written in three languages: English, Dari and Tajik. The choice to make a book in which these three languages are combined was inspired by the authors' commitment to return a copy to each of the 1800 communities, schools and libraries in the Pamirs. Everyday recipes and fare for special occasions such as Kulcha or Kolcha Rughanin, (rich wedding bread); Shir-Birinj (rice porridge), and Piyobai Kholi and Piyobai Kosa (a hearty bread dish with walnut oil, onions and egg) are shared. You will find yourself immersed in the people of the Pamirs and their cuisine as I have been. Essays and countless photographs of the faces, land and food complete this nearly 700 page book.
The Indecisive Chicken by Prajna Desai shares the stories and recipes of eight Dharavi cooks. The book's title comes from one of the contributors who did not cook chicken because her husband thought it was a "silly bird" and eating it would make one stupid. The title grabbed my attention, the story grabbed my heart and opened my eyes.
This book was brought to life as a result of a culinary seminar offered by Prajna Desai, who is by trade an art historian. Desai did not want to impart her knowledge in this seminar, she wanted her attendees to be the teachers. Eight Dharavi women who attended each session are featured in this book. The Indecisive Chicken delivers a look into the everyday world of Indian working class families – what they cook and what they eat. This bi-lingual book which is written both in English and Hindi is packed with photos of both the beautiful women behind the stories as well as photos of the dishes and preparation photos. These are recipes not found in Indian restaurants – these are recipes shared from the heart of Dharavi – the home kitchen. Recipes for Phara (channa, urad, and rice flour dumplings – a photo of these delectable bites is shared in the NPR story above), Bakheer (sugarcane rice), Besan Bhauri (stuffed puri) and Dhapate (healthy parathas) are examples of what you will find in this one-of-a-kind book.
The Indecisive Chicken is not only a wealth of information about Indian home cooking – it is much more. India does not seem so far away now and we are all more alike than different. Home cooks strive to bring delicious food to their families – a force to bring families together at the table. Oceans and miles do not separate us – we all share the love of food, family and have the need to share our stories.
This book is a must have – you will fall in love with the women in this book and their recipes as I have. The most important lesson I gleaned is to embrace the world's differences and to learn as much as we can about each other – and food is the perfect conduit.