October 2016 Cookbook Roundup
October 25, 2016 by Jenny
I am still here happily wading through hundreds of cookbooks, selecting and reviewing all the best new releases of U.S., Canada, U.K., Ireland, Australia, and New Zealand cookbooks (and this month one from Germany). The only thing left for you to do is to add them to your Bookshelf (and maybe buy another bookcase!)

Cookbooktober! Oh, how I love this time of year and its flood of cookbook releases that fill my mailbox. This month we have cookbooks from the icons (Dorie Greenspan, Ina Garten and Nancy Silverton), cookbooks written by future icons (Vivian Howard, Asha Gomez and Meike Peters), a great deal of spectacular baking titles and a wonderful mix of books that whisk us away to foreign locales with their recipes and photographs (Far Afield, Land of Fish and Rice and Italian Street Food).
If you are planning to purchase any of these books for yourself or as gifts, please use the Buy book link as we will receive a small affiliate fee that will allow us to index more books. You will find the Buy book link (pale blue box to the right of Bookshelf) when you click on the book titles highlighted in this post (or any post) – your support is very much appreciated.
USA
Art of the Pie by Kate McDermott is the pie book of 2016. Kate covers all the classics and provides over a dozen crust recipes, including vegan and gluten-free options as well as traditional fillings and unexpected flavors such as chai. A few unique offerings are the Banana Rum Caramel Coconut, Angel Food, and Sausage and Apple Pies. Savory pies such as Italian nettle sausage and big clam can be what's for dinner. Be sure to enter our giveaway to win a copy of Art of the Pie – every baker has this book on their holiday list.
Breaking Breads: A New World of Israeli Baking by Uri Scheft, owner of Breads Bakery and Lehamim, is perfection. The information packed into this title along with the beautiful photographs and recipes is astounding. Berry and Ricotta Brioche Buns, Potato Burekas, delicate Cheese and Herb Mutabak and Savory Potato Hamantaschen are just a few examples of the varied recipes from this book. Many step-by-step technique photographs of folding and shaping for the more complicated recipes, as well as very detailed instructions, in an approachable tone, makes this a bread book that every baker must own. I will be preparing a more detailed review and a promotion piece soon.
Classic German Baking: The Very Best Recipes for Traditional Favorites, from Pfeffernüsse to Streuselkuchen by Luisa Weiss delivers a beautiful book with recipes for dazzling German desserts and bakes. Her first book, My Berlin Kitchen, is happily on my shelf. There are 120 recipes in Classic German Baking including those for Mandelhörnchen (chocolate dipped almond crescents), Käsekuchen (classic quark cheesecake – with several variations) and a gorgeous Zitronenbiskuitrolle (lemon cream roll). My only minor negative (and it is hard for me to find something negative about this book) is that there are four to five photographs of the finished recipes per chapter. Photographs are not deal breakers for me and I understand the cost involved in providing 120 styled food photographs but having shots of desserts that I am not familiar with is always a plus. That being said, those photographs that are included are stunning and Luisa's instructions are detailed and approachable. Luisa has a number of events planned and be sure to enter our contest for a chance to win a copy of this gorgeous book and read my full review which shares two recipes that you can try now. And don't forget we have more than 500 recipes from Luisa's blog, The Wednesday Chef indexed – you can add all those to your Bookshelf in one go.
How to Bake Everything: Simple Recipes for the Best Baking by Mark Bittman shares over 2,000 baking recipes and variations including recipes for ice cream, icebox cakes, candies and custards. Each chapter starts with simple recipes and then offers multiple ways to change it up including more complex versions: for example, basic Chocolate Cake to Baked Alaska. No photographs are found in this title but there are illustrations which help to perform challenging prep work. This title is perfect for the novice baker or anyone who wants to perfect their baking skills. Every dough imaginable is covered in detail and I love the recipes with an international touch: Hungarian Plum Dumplings, Black Bean and Cheese Empanadas, and Afghan Snowshoe Naan.
Dorie's Cookies by Dorie Greenspan is a cookie lover's dream. Everyone's favorite baker is back with a truly spectacular book. The vibrant purple cover, inside covers that are wall-papered with cookie illustrations, and full-page photographs provide a visual feast for the eyes. Dorie has written 170 cookie recipes that are not your typical same-old same-old. Preheat the oven, grab an icy-cold glass of milk and dive into this book. With recipes for Pink Peppercorn Thumbprints, Greek Honey Dainties and Matcha-White Chocolate Mini Mads – your cookie jar and those who raid it will be thankful. Dorie has a number of events planned so make sure you check her schedule. We will be posting a contest and Q & A with Dorie coming up soon – be sure to keep your eyes open.
The Sprinkles Baking Book by Candace Nelson is the celebrity baker's debut cookbook sharing 100 secret recipes from her kitchen. In 2005, Candace opened the first cupcake-only bakery which makes her somewhat of a pioneer. Créme Brûlée Cupcakes, Salted Butterscotch Pudding, and Peanut Butter, Pretzel & Banana Cake are examples of some of the tasty treats in this title. I particularly love the Special Occasion Cakes and Birthday Cake chapters that share some pretty amazing looking cakes including a recipe for the Sprinkles Sprinkle Cake.
Panetteria by Gennaro Contaldo is being released in the U.S. this month. The U.K. version launched last month as Gennaro's Italian Bakery. Bread books are hot (no pun intended) and I am thrilled to see this beautiful book devoted to the art of baking Italian bread join the collection. Gennaro was born to bake and is said to be the chef that inspired Jamie Oliver. In Panetteria, he shares his knowledge of flours, yeast, and biga in the first three chapters. The remaining chapters are organized as follows: Pane, Focaccia, Pizze, Torte Salate, Pan Dolci, Crostate, Biscotti and Tortes. Lovely photographs are shared for a majority of the 120 classic Italian breads and baked goods.
The Aleppo Cookbook: Celebrating the Legendary Cuisine of Syria by Marlene Matar is "a loving tribute to a little-known cuisine rich in flavors and traditions." Aleppo was a food capital long before New York, Paris or Rome thanks to its fertile soil and location between the Mediterranean and the Euphrates – at the intersection of the Silk Road. Syria's largest city has an incredibly rich and dynamic cultural heritage. The recipes contained within the pages of this special book were obtained from the kitchens of prominent families, cherished restaurants and great chefs, states Matar, who is a highly accomplished chef and cooking instructor. Matar starts with the basics – the fundamentals of Middle Eastern cooking and builds up to more complex dishes. Over 200 recipes – all of which can be easily replicated in our kitchens include Meatballs in Sour Cherry Sauce, Red Pepper Bread, and Arabic-Clotted Cream Pancakes. The photographs of the food, the landscape, the people – are beautiful and reinforces the simple human truth that we are all so much more alike than different. I am deeply moved by The Aleppo Cookbook and I trust that you will be as well.
Soframiz: Vibrant Middle Eastern Recipes from Sofra Bakery and Cafe by Ana Sortun and Maura Kilpatrick is an endearing selection of 100 recipes from their popular Cambridge cafe. The authors have spent a great deal of time experiencing Turkey and the Middle East in order to research the spices and flavors. Those experiences are reflected in the dishes they create for Sofra Bakery and Cafe. Exotic, yet approachable, sweet and savory dishes for everyday cooking and entertaining are shared such as Morning Buns with Orange Blossom Glaze, Brown Butter Pecan Pie with Espresso Dates, Apricot Halawa with White Chocolate Ganache and Turkish Simit (sesame-coated bread rings). There are many savory dishes included as well. This charming book beautifully conveys the atmosphere of the markets and kitchens of the Middle East in easy accessible dishes. There are classes offered at the bakery should anyone be interested. Please be aware of one major correction to mark in your books: the Revani recipe on page 193 has a typo: Instead of 2 cups of all-purpose flour it should be 2 Tablespoons of all-purpose flour.
Homemade: Finnish Rye Feed Sack Fashion and Other Simple Ingredients from My Life in Food by Beatrice Ojakangas is out this month. The legendary cookbook author delivers her memoir (including recipes) in this lovely title that celebrates her recipes and reflections on growing up in a big Finnish family in northern Minnesota. Beatrice was profiled by Darcie in her article which I learned a great deal from – did you know that Jeno's Pizza Rolls were made by the queen of Scandinavian baking? I did not.
Traditional Jewish Baking: Retro Recipes Your Grandma Would Make if She Had a Mixer by Carine Goren is a charming collection of decadent treats. Photographs pop off the pages and as I am writing this late in the evening I'm trying to wrangle a way to make The Slip-Slider Cake without waking up the household. Curses to you, Carine Goren! Every recipe looks killer good – a stunning Babka – Just as it Should Be; Gerbeaud – A Hungarian Layered Cake, and Sfenj (fried, sponge like doughnuts) are calling me…excuse me while I go heat up some oil. Any baker, of any experience, would love this book! I have hundreds and am quite happy to add this title to my collection.
Sweet Sugar Sultry Spice: Exotic Flavors to Wake Up Your Baking by Malika Ameen is the pastry chef's debut cookbook overflowing with bold, interesting recipes that I found unique and enticing. You can read more about this book in my review post where we share a recipe for Malika's Perfect Pumpkin Pancakes. Also be sure to enter our contest and Roost's bonus giveaway. Malika has a number of events and classes in the Chicago area.
French Country Cooking by Mimi Thorisson is the follow up to the blogger's first title, A Kitchen in France. Just as stunning as her first, this book is packed with photographs taken by her husband, Oddur, of the food and countryside. Mimi delivers recipes such as: Guinea Hen Ravioli, Black Peppered Filets Mignons with Cognac, Mimolette and Comte Mac and Cheese, and Plum Pain Perdu. Thorisson's France is perfect, serene, spilling over with bountiful tables of food as it should be.
Cooking for Jeffrey by Ina Garten ties in to her new season of the Barefoot Contessa show on the Food Network. In her introduction she writes, "For me, cooking has always been as much about making people happy as it has been about satisfying a hunger pang." This rings so true for most cooks. Her book is lovely, as are all her titles, and contains her well-tested recipes (has anyone ever had an Ina fail?) of all the classics, old and new. Personal stories and a page listing Jeffrey's all-time favorite dinners along with a notation as to which cookbook holds that recipe are also shared. Plentiful photographs of the food and their lives together complete this book. Ina has events planned to celebrate this release – be sure to check if she is in your area.
The Red Rooster Cookbook by Marcus Samuellsson is the sixth book from the celebrity chef (not counting his memoir – Yes, Chef) and is far more than a cookbook. Essays and interviews along with archival and contemporary photos chronicle all that is Harlem. All these factors are reason enough to covet this book, but then we have the recipes: Aunt Maybel's Ham Buns with Chocolate Gravy; Steamed Bass, Fiery Noodles, Long Beans; and Andouille Bread Pudding which are just a few examples of Samuelsson's greatness. This is a book to get lost in, sitting next to the fire and allowing yourself to be engulfed in the past, present and future of this dynamic region of New York City. A love story to Harlem, The Red Rooster Cookbook, is not to be missed. The author has numerous events planned to promote this title.
Big American Cookbook by Mario Batali with Jim Webster is a culinary travelogue of the food of the United States. With over 250 recipes from across the country, there is something to make everyone happy. This is a book that contains traditional recipes that are easily replicated. I particularly love the ethnic recipes such as Runzas, Cheese Buttons (or Kase Knoephla) and Lefse (Potato Crepes) that are shared. St. Louis is my home town (even though I consider myself a New Yorker after 15 years there) and I was thrilled to see Gooey Butter Cake, Ozark Pudding and Black Walnut Ice Cream to remind me of home. If you love regional American cooking, this is the book for you.
The Adventures of Fat Rice: Recipes from the Chicago Restaurant Inspired by Macau by Abraham Conlon, Adrienne Lo and Hugh Amano shares 100 recipes exploring the vibrant food culture of Macau – an east-meets-west melting pot of Chinese, Portuguese, Malaysian, and Indian foodway. Abraham and Adrienne are co-owners of the popular Chicago restaurant, Fat Rice, and is on my bucket list of restaurants I want to visit. They have created a cookbook with touches of comic book elements, pieces of history and modern funky food. Baked Pork Chop Rice, Fat Noodles with Mushrooms and Egg and Rabo De Boi Estufado (Stewed Oxtail with Tomatoes and Portuguese Wines) are a few of the types of recipes you will find here. Powerful photos by Dan Goldberg and illustrations by Sarah Becan complete this must-have book for the true adventurer. Events are planned to celebrate this release and please do check back – we will be running a promotion on this fun title.
Everything I Want to Eat: Sqirl and the New California Cooking by Jessica Koslow brings us a taste of the California cooking renaissance in this, her debut cookbook. 100 recipes utilizing fresh ingredients are shared that can be customized for any dietary restrictions. This book focuses on composed dishes that are easily accomplished at home. Charred Tomato Soup with Mint and Croutons, Red Flannel Hash with Horseradish Crème Fraîche and Ramos-style Short Ribs and Vegetables in Beef Consommé are examples of dishes from this modern book. With a fun layout and beautiful photographs of the food, people, and all that make up the farming landscape that keep our kitchens stocked and our bellies full, this book is enchanting.
Cúrate by Katie Button features 125 recipes celebrating the flavors of Spanish cuisine with a dash of Southern charm taken from her award winning restaurant in Asheville, North Carolina – Cúrate. With recipes for Ham and Cheese Stuffed Fried Pork Chops, Ribeye Steak with Blue Cheese Sauce, and Almond Cake with Cream Sherry and Brandy, I am excited to cook this book. Check back soon for a full review and promotion on this gorgeous title. Katie Button has a number of events planned around the country.
Mozza at Home by Nancy Silverton is a book that is a no-brainer – Silverton is a must-have author. The award winning chef and owner of six restaurants in two continents found little time to cook for family and friends as she was so busy cooking professionally. A visit to Italy to rejuvenate her spirit found her enjoying the country's abundance of produce and soon she was cooking for pleasure. The book is beautifully arranged with 19 menus packed with easy to follow recipes and following each menu there is a two page photo spread of the dinner table ladened with those dishes. Recipes for Glazed Onions with Agrodolce, Polenta Cake with Buoni Topping, Croissant Bread Pudding with Creamed Spinach and Ham, and Baked Japanese Sweet Potatoes with Fried Sage Leaves and Bacon offer a varied range of dishes that are accessible for all levels of cooks.
Deep Run Roots by Vivian Howard has proven to be well worth the wait. This highly anticipated title focuses on modern Southern Cooking and contains 200 recipes which are blanketed with Howard's charming stories. Howard co-created and stars in the PBS series, A Chef's Life, and since that first show, I have been counting the days until this book was released. Deep Run Roots is a stunning work that is truly a labor of love from the author. Raw Corn and Cantaloupe Salad with Red Onion and Roasted Poblano; Summer Vegetable Scallion Pancakes; and a Peaches and Cream Cake that will change your life (at least from the looks of that photograph) are examples of some of the dishes in this special book. Vivian has a full schedule promoting Deep Run Roots. A full review with recipe and promotion is coming up soon.
My Two Souths by Asha Gomez is certainly worthy of all the buzz. Asha takes the flavors of India and puts them to work in dishes from her Southern kitchen. This cookbook combines two of my loves – Indian and Southern cuisine and I've been longing for this book since it was first available for pre-order. I love taking something familiar and switching it up and creating a dish that is new and exciting. This title is sure to be a winner with recipes like Nutmeg Scented Crêpes filled with Coconut and Jaggery, Banana Beignets and Chervil Lime Lobster Roll. My Two Souths surely is a must have for 2016.
Adventures in Chicken by Eva Kosmas Flores, the popular blogger behind Adventures in Cooking is a must have for those of us who love chicken and are looking for creative ways to punch up dinner. I have been a fan of Eva's blog for a while now and was thrilled to see that she had written a cookbook. Adventures in Chicken is filled with photographs and recipes that fully reflect Eva's talent and style. Varied ways to turn up the wow factor of the humble bird include Curried Chicken Samosas, Korean Barbecue Drumsticks with Ginger-Pear Sauce and Thai Pan-Fried Chicken Salad. There is something to please everyone and with Eva's innovative ways to master poultry you will never have to hear "chicken again?"
Appetites: A Cookbook by Anthony Bourdain is the celebrity chef's first cookbook in a decade, This book is a collection of recipes that encompass forty years of cooking and traveling and represents personal favorites of the chef. The recipes are perfect for the home cook and will surprise you. There are the expected international dishes such as Banh Mi, Korean Fried Chicken and Do Chua Salad with Herbs, Scallions, Sprouts and Egg but also recipes for Mortadella and Cheese Sandwich, Lasagna Bolognese and Roast Chicken with Lemon and Butter. Be aware, Bourdain, the once bad boy of the culinary word, still writes with salty language. Pass over the expletives and treat yourself to this title – Appetites: A Cookbook is Bourdain at his best. Bourdain has a number of events planned around the country.
Central by Virgilio Martínez is an absolute chef's dream. This title on Peruvian cuisine from the accomplished Martínez is for the experienced cook and those of us who love to learn more about international cuisines and their background. What I love are the chef's stories and narrative providing historical information on the ancient cuisine of Peru. Many of the ingredients would be impossible to procure for most of us. However, this book is more about inspiration and knowledge than being able to recreate the dishes. Please remember Eat Your Book members receive 30% off Phaidon titles when using the link provided.
Land of Fish and Rice: Recipes from the Culinary Heart of China by Fuchsia Dunlop is another masterpiece from one of my favorite authors. Dunlop is a gifted writer with intriguing recipes that work. I have every one of her titles and if the woman wrote a book about how to stir a pot of water, I would buy it. Gorgeous photographs, haunting narrative, and recipes you will not find anywhere else: Hangzhou "Blanched Slice" Noodles, Mrs. Song's Thick Fish Soup, and "Toothless" Glutinous Rice Dumplings with Pork and Leafy Greens are all reasons why this author is a treasure. Her glossary of ingredients and advice on planning a cohesive menu are bonuses. This book was published in the UK in July.
Eataly: Contemporary Italian Cooking from Phaidon features modern Italian recipes created in collaboration with the largest and most prestigious Italian marketplace in the world, Eataly. This epic tome brings 300 landmark recipes into our kitchens which highlight the best of Italian home cooking. Excellent, fail-safe recipes and new ideas with beautiful photographs, approachable modern recipes using fresh, lighter ingredients, clear instructions, helpful tips and a visual produce guide – make this a must-have book of the fall. There are Phaidon books that we love for inspiration and their beauty and then there are Phaidon books that we can utilize every day in our kitchens. This title will be a work-horse. Eat Your Book members receive 30% off Phaidon titles.
Far Afield written by Shane Mitchell with photographs by James Fisher is simply stunning. Repeatedly, I have written that food brings people together and this brilliant work chronicles the different ways people join forces and prepare food across the globe. Profiles of farmers, fishermen and herders (the stewards) are shared along with 40 recipes. You will get lost in this lovely book, as I have, and will find yourself longing to wander to faraway lands. I am totally in love with Far Afield and I think you will be as well.
Eat in My Kitchen by Meike Peters is a stunner of a title being released in the U.S. and U.K. this month. Meike is a blogger who resides in Germany and her culinary style is influenced by her mother, the flavors of Malta (where her boyfriend's family is from) and joins them together in her Berlin kitchen. I'm so excited to cook from this book and blown away by the gorgeous photographs taken by the author herself. Recipes that caught my attention were: Persimmons, Mozzarella, Prosciutto di Parma and Basil and Maple Vinaigrette; Cabbage and Pear Salad with Balsamic Bacon; Mediterranean Potato and Fava Bean Salad with Arugula and Lemon Pesto; Crispy Fried Potatoes with Fennel; and Maltese Lemon and Ricotta Pasta with Basil. I have made three recipes from this title already and they were all spectacular – the Wild Mushroom Spaghetti with Orange Butter, the Bavarian Beer-Roasted Pork, and the Potato-Sauerkraut Latkes. What struck me the most was her Meet in the Kitchen chapter where she shares profiles of other writers and one of their recipes. What a generous spirit this new author radiates and I will say it now – she is one to watch. Meike has an event in New York this week.
The London Cookbook: Recipes from the Restaurants, Cafes, and Hole-in-the-Wall Gems of a Modern City by Aleksandra Crapanzano is a marvelous book that will be appreciated by travel, food and cookbook lovers alike. Nearly 120 recipes from London restaurants, profiles of the chefs that created the relatively recent surge of culinary greatness and Aleksandra's research and charming narrative make this book a must have in our collections. You can read more information in my review and recipe post and also enter our contest for a chance to win a copy of this book.
Molly on the Range by Molly Yeh is the popular blogger's debut title sharing recipes and stories from her "unlikely life on a farm". Molly's book is full of stories, illustrations and photographs with recipes divided into four chapters: Breakfast and Brunch, Mains, Snacks + Celebrations and Desserts. Combining her wit and charm with recipes such as Schnitzel Bao with Sriracha Mayo and Sesame Pickles; Everything Bagel Bourekas with Eggs, Scallions, and Cheese; and Marzipan and Sea Salt Mandel Bread all equate to a wonderful book that needs to be devoured from cover to cover. Molly has a number of events planned.
Food52: A New Way to Dinner by Amanda Hesser and Merrill Stubbs is a playbook of recipes and strategies for planning menus for the week ahead. Food52 titles have always held a spot on my shelves – I have them all. Food52: A New Way to Dinner tackles the age-old question: "What's for dinner?" With game plans, shopping lists and recipes for a week's worth of seasonal dinners, this book is a winner. Recipes for Chicken Cutlets with Charmoula and Preserved Lemons, Grilled Shrimp with Arugula and Garlic Scape Pesto and Overnight Roast Pork ensure everyone will be happy once meal time rolls around. Check back soon for a full review and promotion on this title.
Italian Street Food: Recipes from Italy's Bars and Hidden Laneways by Paola Bacchia from Smith Street Books is a stunner. Dazzling photographs of the streets of Italy and her people fill this book. I love books that focus on street food and I was thrilled to learn of this title this month. Panzerotti, Suppli al Telefono con Ragu, and Pan di Ramerino are a few examples of the recipes. And then there is the chapter devoted to sweets: gelatos, fried doughnuts, cookies and more. This title is a trip to the streets of Italy, its neighborhood bars and gelato shops without needing a passport.
Lucky Peach Presents Power Vegetables!: Turbocharged Recipes for Vegetables with Guts by Peter Meehan and Editors of Lucky Peach "presents original vegetable (but not vegetarian) recipes that are often stupid-simple and always craveworthy". What I love about this book are the four rules of engagement (information upfront that we need to know about the book). Number one, no pasta recipes (the authors love pasta – but wanted to give us a slate of recipes that would provide new ideas about dinner. Number two, no egg-on-it dishes; no grain bowls (see comments number one) 3) Fish and dairy are okay with us (they kicked meat out of the book but wanted to keep fish and dairy). 4) Fruits are vegetables ("did you want the book to be all potatoes?"). A totally quirky Lucky Peach-esque book with knock out recipes. The author has an upcoming event in Brooklyn on November 1st.
V Street: 100 Globe-Hopping Plates on the Cutting Edge of Vegetable Cooking by Rich Landau and Katie Jacoby is a dazzling collection of more than 100 innovative vegetable recipes from the beloved chefs of Philadelphia's nationally acclaimed restaurants Vedge and V Street-full of bold spices and adventurous flavors inspired by the great ethnic and street foods of the world. In this title, the authors offer creative vegan riffs on street food from across the globe-drawing from the culinary traditions of Asia, the Middle East, South America, and more-in a diverse range of dishes including: Dan Dan Noodles, Kung Pao String Beans, and Potato Pakora with Tamarind Sauce. The photographs are drool-worthy as are the recipes. The authors have an event planned on October 27 at Barnes & Noble in Philadelphia.
Skinnytaste Fast and Slow: Knockout Quick-Fix and Slow Cooker Recipes by Gina Homolka and Heather K. Jones is the follow up to the popular blogger's New York Times bestselling, The Skinnytaste Cookbook: Light on Calories, Big on Flavor. This new title offers 140 new recipes that come together fast or are made in the slow-cooker. With recipes like Brussels Sprout Hash with Bacon and Eggs, Korean-Inspired Chicken Lettuce Wraps and Vanilla Bean Cheesecake Shooters – it will be hard to believe that these recipes are better for us. We have indexed more than 1,200 recipes from Gina's blog Skinnytaste on EYB – you can add the blog to your Bookshelf as if it were a huge cookbook.
Soup Nights: Satisfying Soups and Sides for Delicious Meals all Year by Betty Rosbottom is a book we need to help us through the winter. Mushroom Soup "En Croûte", Fennel & Carrot Brodo Over Red Quinoa, and Coconut Soup with Chicken, Lemongrass & Spring Vegetables are examples of the soul-warming comfort in this title. Sandwiches, salads and desserts are included. Check back as I will be doing a promotion on this title.
Recipe Revival: Southern Classics Reinvented for Modern Cooks by The Editors of Southern Living Magazine revisits many of time-tested recipes and offer you so much more: Over 200 recipes encompassing breakfast and brunch, cocktails, dinner, desserts and more, both old and new. The notion of "recipe revival" is more than just turning up the flavor of an iconic dish by substituting a novel ingredient. A new generation of Southern cooks has become far more inventive with the way Southern ingredients are used today. With a wink to tradition, the rich coastal flavors of traditional Maryland crab cakes reappear as inspired crab-filled hush puppies. The cool sweet-and-sour brightness of vintage tomato aspic translates into a colorful high-summer pairing of heirloom tomatoes with field pea-nectarine salsa. Classic lemon bars achieve new and elegant heights as a delicious cheesecake with rustic shortbread crust. A promotion is planned for this title.
Thug Kitchen 101 by Thug Kitchen is the new title from the controversial, but popular, couple behind the Thug Kitchen website. Promising to deliver fast comfort food, one-pot meals and other easy, plant-based dishes to pack your plate.
Knives & Ink: Chefs and the Stories Behind Their Tattoos (with Recipes) Behind Their Tattoos (with Recipes) by Isaac Fitzgerald and Wendy MacNaughton features the tattoos of more than sixty-five chefs from all walks of life and every kind of kitchen. Each tattoo has a rich, personal story behind it: Danny Bowien of Mission Chinese Food remembers his mother with fiery angel wings on his forearms, and Dominique Crenn of Michelin two-starred Atelier Crenn bears ink that reminds her to do "anything in life that you put your heart into." Like the dishes these chefs have crafted over the years, these tattoos are beautiful works of art. This book delves into the wide and wonderful world of chef tattoos and shares their fascinating backstories, along with personal recipes from many of the chefs.

The Chef's Library: Favorite Cookbooks From the World's Greatest Kitchens by Jenny Linford is a cookbook collectors dream book. Featuring a comprehensive collection of the cookbooks that are highly rated and used by more than 70 world-renowned chefs. This is a dangerous title as I find myself searching for some of these books to add to my own collection. Beautiful photographs and profiles of the chefs round out this book.
Cook's Science How to Unlock Flavor in 50 of Our Favorite Ingredients by Gus Crosby and Cook's Illustrated Magazine highlights 50 of their favorite ingredients and the science behind them in a short, informative essay before moving onto an original experiment, performed in their test kitchen and designed to show how the science works. Cooking techniques such as sous vide, dehydrating and fermenting are also included.
The Best of America's Test Kitchen 2017 is the annual from America's Test Kitchen. Including their best recipes of the year, compiled from the hundreds of recipes that appeared in print in their magazines, books and television shows. Also, this month brings the The Complete America's Test Kitchen TV Show Cookbook, 2001-2017: Every Recipe from the Hit TV Show with Product Ratings and a Look Behind the Scenes by America's Test Kitchen Editors which contains 1,100 recipes from all 17 seasons including 2017.
The Encyclopedia of Spices & Herbs by Padma Lakshmi is an A-to-Z compendium of spices, herbs, salts, peppers, and blends, with beautiful photography and a wealth of explanation, history, and cooking advice. While I am admittedly a Cookbook Junkie, I love books that help me better understand all the elements involved in cooking and this book is sure to provide a wealth of information.
The Short Stack Cookbook: Ingredients that Speak Volumes by Nick Fauchald, Kaitlyn Goalen, and the contributors of Short Stack Editions is organized by 18 ingredients, including Apples, Bacon, Brussels Sprouts, Butter, Cheddar, Eggs, Tomatoes, Greek Yogurt, Honey, Hot Chile Peppers, Kale, Lemons, Sourdough, Whole Chicken, and Winter Squash, The Short Stack Cookbook takes readers though staples found in the kitchen and presents new ways to cook with everyday items. To read more about this cookbook and the Short Stack volumes please read our review and recipe post. Be sure to enter our giveaway for a copy of The Short Stack Cookbook along with a trio of Short Stack editions
One to Five: One Shortcut Recipe Transformed into Five Easy Dishes by Ryan Scott shares his time-hack techniques to get dinner on the table. Using canned biscuit dough, canned cream soups, rotisserie chickens and the like he delivers recipes such as Lesley's Biscuit Chicken Turnovers, Rogue Pot Pie and San Francisco Giants Pizza Balls. There are many from-scratch recipes that appeal to me Black Pepper-Bacon and Honey Scones, California Sweet Garlic-Almond Shrimp and San Francisco Vietnamese Pork Salad. I plan on making some of his scratch recipes and using scratch ingredients to replace some of the processed items because they really look tasty.
The Gourmet Kitchen by Jennifer Farley is the newest title from the creator of the food blog, Savory Simple (448 recipes indexed on EYB). In this title she takes home-cooked meals and elevates them with unique and bold flavors. With recipes for Spicy Gochujang Chicken Wings, Asparagus and Sun-Dried Tomato Lasagna and Andouille Corn Chowder – Jennifer's book is sure to be a hit. The Sweets and Treats chapter will blow up your apron — jeweled toned Blood Orange Curd and Concord Grape Curd pop off the page, Mini Peach Amaretto Cream Cakes and Chocolate Brownies with Salted Tahini Frosting are a few stunners from that section. Jennifer has a few events scheduled. Also, I will be doing a full review and promotional piece soon so check back in.
A Recipe for Cooking by Cal Peternell will be covered in a promotional piece soon where I will share a full review and we have a Q&A with the author. Until then, I will share a little about this title and his first title, Twelve Recipes. Twelve Recipes was an instant classic as it covered all the basic techniques and essentials for home cooking. In his newest release, he goes beyond the basics and shares strategies for relishing time spent in the kitchen preparing meals for your family and friends. The holidays are fast approaching and this book will be a valuable tool to breeze through the sometimes stressful cooking marathons. You cannot go wrong acquiring Peternell's titles in your collection – they are the perfect gift for the cook in your life. The author has a number of events around the country check to see if there is one near you.
Rustic Spanish (Williams-Sonoma) by Paul Richardson features more than 100 easy-to-follow and delicious recipes and delivers authentic Spanish cuisine to home cooks. Rustic Spanish presents a robust collection of authentic Spanish dishes, including both traditional favorites and contemporary fare, along with suggested wine pairings and ingredient guides. Six comprehensive chapters are filled with a diverse range of beloved Spanish fare, and accompanied by beautiful and descriptive full-color photographs and illustrations.
Amaro: The Spirited World of Bittersweet, Herbal Liqueurs, with Cocktails, Recipes, and Formulas by Brad Thomas Parsons is the first book to demystify this ever-expanding, bittersweet world, and a must-have for any home cocktail enthusiast or industry professional. Starting with a tour of bars, cafés, and distilleries in Italy, amaro's spiritual home, Brad Thomas Parsons – author of the James Beard and IACP Award-winner Bitters – will open your eyes to the rich history and vibrant culture of amaro today. With more than 100 recipes for amaro-centric cocktails, DIY amaro, and even amaro-spiked desserts, you'll be living (and drinking) la dolce vita. Beautiful photographs throughout and the desserts – those Amaro-etti Cookies are going to be made very soon – and gluten free! The author has events planned to promote this title.
100 Days of Real Food Fast & Fabulous by Lisa Leake is the follow up to her successful debut title 100 Days of Real Food. While the first book focused on how they accomplished the real food challenge, what they learned and shared 100 recipes this book addresses the need for time management. Fast & Fabulous focuses on giving fans what they want: quick and tasty-favorites such as Easy Fish Tacos, Parmesan Crusted Chicken and Creamy Mac and Cheese. Everything from breakfast to dinner and snacks in between are covered without any processed ingredients. I'm headed to order her first title.
Upscale Downhome by Rachel Hollis delivers her debut cookbook packed with delicious and easy comfort food that's sure to wow at both family suppers and the fanciest dinner parties. Rachel puts a gourmet twist on classic American favorites in sections that include recipes for balsamic bacon-wrapped meatloaf, bacon and green chili mac n' cheese and banana pudding parfaits. This is the kind of food that we all like to indulge in, served up with a chic twist.
L.A.'s Legendary Restaurants: Celebrating the Famous Places Where Hollywood Ate Drank and Played by George Geary is a fun book that loves food and Los Angeles. Profiles of all the legendary restaurants along with recipes and countless photographs will have you entertained for hours. I love the menu and advertising reproductions and the photos of Hollywood's icons. Recipes for Chasen's Carrot Soufflé, The Zebra Room's Creamy Tomato Soup and Hamburger Hamlet's Custard Lulu will have you in the kitchen to try a taste of the past.
Table Manners: How to Behave in the Modern World and Why Bother by Jeremiah Tower is an authoritative and witty guide to modern table manners for all occasions by one of the world's most acclaimed chefs and restaurateurs. Answering questions such as: When can you photograph your food? What do you do when you're running late? What can you eat with your hands?
Turkish Delights by John Gregory-Smith is being released in the U.S. this month. It was previously released last year in the U.K. From the sumptuous buttery pide of Samsun on the Black Sea to the fiery kebabs of the east, Turkish cuisine is regional, seasonal, and steeped in history. With inspiring and exciting dishes covering everything from Turkish breakfasts and salads to delicious kebabs and exquisite seafood, plus sweet dishes the author shares a world of Turkish delights with us.
Food Freedom Forever: Letting Go of Bad Habits, Guilt, and Anxiety Around Food by the Co-Creator of the Whole30 by Melissa Hartwig offers real solutions for anyone stuck in the exhausting cycle of yo-yo dieting and the resulting stress, weight gain, uncontrollable cravings, and health complaints. "Food freedom" is defined as being in control of the food you eat, instead of food controlling you. I'm looking forward to The Whole30 Cookbook coming out this December.
Black Trumpet A Chef's Journey Through Eight New England Seasons by Evan Mallett is a dazzling book with recipes from the celebrated Portsmouth, New Hampshire restaurant. Recipes such as Pretzel and Chestnut Crusted Meat Tarts, Ryeberry Risotto and Cider-Braised Pork Osso Buco inspire me to get creative in the kitchen. The desserts alone are worth the cost of the book: Peach Brioche Bread Pudding with Ginger Bourbon Caramel Sauce; Fried Sour Cream Pound Cake with Whipped Mascarpone, Macerated Blueberries and Lemon Curd; and Apricot Crepes with Tahini Caramel, Lemon Balm Cream and Sesame Crub are just three examples. Black Trumpet is so well organized with suggested menus, a glossary and sourcing information chapter, a recipe index by course, and a full index – and Mallett's knowledge is generously reflected in each page.
Bourbon: The Rise, Fall and Rebirth of American Whiskey by Fred Minnick traces bourbon's entire history, from the 1700s with Irish, Scottish, and French settlers setting up stills and making distilled spirits in the New World through today's booming resurgence. He also lays out in expert detail the critical role this spirit has played throughout the cultural and even political history of the nation – from Congress passing whiskey-protection laws to consumers standing in long lines just for a glimpse of a rare bottle of Pappy Van Winkle – complemented by more than 100 illustrations and photos. And most importantly, Minnick explores the mystery of who most likely created the sweet corn liquor we now know as bourbon.
Buxton Hall Barbecue's Book of Smoke: Wood-Smoked Meat, Sides, and More by Elliott Moss features the recipes from the popular Asheville, North Carolina restaurant. Learn how to make their deep-fried smoked catfish, smoky pimento cheese, turnip soup with charred onions, or slow-cooked collards. Other recipes give the inside scoop on how a barbecue restaurant makes use of a whole hog with a waste-nothing approach: Brussels sprouts with crispy cracklin', classic South-Carolina style hash, chicken bog, and much more. Finish the meal with Buxton's take on classic southern desserts like banana pudding pie, grape hull pie, or s'mores with homemade marshmallows.
Betty Crocker Cookbook: 12th Edition Everything You Need to Know to Cook from Scratch The name Betty Crocker has been trusted by cooks since 1928. This Fall, a fully revised and updated 12 edition will hit the shelves. This updated classic contains 1500 recipes, including new and classic favorites, full nutritional information and takes a modern approach: each recipe is from-scratch and the book boasts 1,000 photos. This is not your grandmother's copy of Betty Crocker (although many people cherish their worn, well-loved copies). Clear-cut instructions that are well formatted and organized will make this book your well-used copy to pass down.
Guy Fieri Family Food: 125 Real-Deal Recipes: Kitchen Tested, Home Approved by Guy Fieri and Marah Stets is the Food Network star's latest release. Family meal planning couldn't be easier with Guy's tips, fun-filled ideas, and best-loved recipes. Influenced by his Californian background, this full-color cookbook is packed with fresh, flavorful recipes, fabulous photos, and, of course, Guy Fieri flair. Every family favorite is here, from burgers and sandwiches to grains and greens to pasta and noodles. Guy even includes chapters like One for the Week, a budget-friendly big weekend cook "that keeps on giving through the hectic workweek"; All Hands on Deck, with Kebab Night, Pizza Night, and a Chili Bar that get the kids involved; and Under Pressure, where hearty dishes are made in the pressure cooker in a fraction of the time they usually take.
Homestead Kitchen: Stories and Recipes from Our Hearth to Yours by Eve Kilcher and Eivin Kilcher share their expert knowledge in sustainable living. Homesteaders by choice, the couple has had to use their self-reliance skills to survive harsh winters in the Alaskan wilderness and raise a thriving family. In their debut book, the Kilchers share 85 original family recipes and advice on gardening, preserving, and foraging. The tips and techniques they have cultivated from their family and through necessity will help anyone looking to shrink their environmental footprint and become less dependent on mass-produced food and products. Stunningly photographed in and around their handmade home and farm, Homestead Kitchen illustrates that taking on small-scale sustainable projects is not only possible in a suburban/urban setting, but ultimately a more responsible and gratifying way to live.
The French Chef in America: Julia Child's Second Act by Alex Prud'homme it the enchanting story of Julia Child's years as TV personality and beloved cookbook author – a sequel in spirit to My Life in France – by her great-nephew. This follow up is every bit as entertaining, inspiring, and delectable as the first installment.
Donna Hay – Simple Recipes Menu Planners – Christmas by Donna Hay features simple recipes and menu planners for a traditional Christmas, a speedy Christmas and for treats throughout the season. As a bonus, Donna includes timesaving tips and a 10-page planning section to record notes, handy hints, and things to remember. This is a book that will become a keepsake to treasure for years to come
Celebrate Everything!: Fun Ideas to Bring Your Parties to Life by Darcy Miller is packed with planning strategy and original ideas making it the ultimate guide to creating unforgettable special occasions. Darcy invites readers to dozens of parties she's thrown, and shares hundreds of chic and cheerful ideas for ways to make a celebration personal. It's a blueprint for making the best occasions in life even better, filled with fun ideas to inspire just in time for the holiday season!
The Dude Diet by Serena Wolf, of the food blog Domesticate-Me.com, delivers 125 outrageously delicious yet deceptively healthy recipes for dudes (and the people who love them), all accompanied by beautiful full-color photography. This is another one of those books that I judged by the title and I will admit that I was wrong. The author modified our most indulgent pleasures and made them "clean-ish" – which is how she describes her healthier versions. Chicken Shawarma with Garlicky Yogurt Sauce, Sesame-Orange Chicken, Shrimp Pad Thai and Fiesta BBQ Chicken Nachos (from the cover) are examples of the flavor-packed dishes found in this book. I think I'm headed for a dude diet.
Canada
Flapper Pie and a Blue Prairie Sky by Karlynn Johnston brings old-fashioned favorites paired alongside modern reimaginings from the author of the popular blog, The Kitchen Magpie. Learn how to bake time-honored desserts like Saskatoon Berry Pie, Grandma Marion's Honey Cookies, and No-Bowl Chocolate Vinegar Cake – then, mix things up with their modern twists: White Chocolate Saskatoon Galette, a Stuffed Skillet Cookie, and Root Beer Float Cupcakes. And, of course, there's the recipe that started it all: the (almost) lost prairie favorite, Flapper Pie. This baking book is suitable for bakers of all levels and features 125 recipes that are sure to be favorites for years to come.
Cin Cin Wood-Fired Cucina by Andrew Richardson is being released in Canada this month celebrating the 25th anniversary of the famous CinCIn Ristorante + Bar. This title focuses on fresh, local ingredients that are allowed to shine in recipes. Showcasing the restaurant's wood-oven cooking techniques and filled with spectacular photographs, each ingredient is highlighted by section. With recipes for Fried Zucchini Blossoms – Montasio, Goat Cheese and Parmesan with Arugula and Red Radish; Spaghetti al Ragu – 6-hour Bolognese, Veal and Pork with Pancetta, Parmesan; and Red-wine-braised Short Rib of Beef – Braised Carrots and Cannellini Beans – this is elevated restaurant cuisine that has been tailored for our home kitchens.
Araxi: Roots to Shoots Farm Fresh Recipes by James Walt is the follow up cookbook to Araxi: Seasonal Recipes from the Celebrated Whistler Restaurant, a Gourmand World Cookbook Award winner. Gordon Ramsay calls Araxi the best restaurant in Canada. This new release shares 80 classic recipes from Araxi's dining room and signature Longtable events, all adapted for delicious home cooking. The book is stunning with over-sized eye-popping photographs and recipes like Apple & Almond Tart with Whipped Sour Cream. Ricotta Gnudi with Peas & Mint and Spiced Lamb Meatballs "Bar Oso" will please every level cook. Walt is in line for another award with this title. Bravo.
The Firehouse Chef: Favourite Recipes from Canada's Firefighters by Patrick Mathieu is an account of Mathieu's culinary experience as a Canadian firefighter, preparing meals for his fellow firemen that have kept them well-nourished for over 15 years. With original recipes, as well as contributions by chefs from firehouses stretching from Newfoundland to British Columbia, this book is sure to spark some new ideas in your own home with recipes such as: Old South Classic FireHouse Pulled Pork, Cauliflower Steaks with Salsa Verde and Thai Drunken Noodles.
Vij's Indian: Our Stories, Spices and Cherished Recipes by Meeru Dhalwala and Vikram Vij is a cookbook for Indian home cooking, which is Meeru and Vikram's source of nourishment and health. They eat and enjoy meat, but at home they (especially Meeru) emphasize healthy, delicious vegetarian food, with meat curries served once or, at most, twice a week. Through the beauty of cooking with Indian spices, their vegetarian meals are so delicious that you won't even think of meat. Inside, you'll find an abundance of vegetarian recipes along with plenty of fish, poultry and meat recipes for everyone's enjoyment.
Storm the Kettle: Resetting the Newfoundland Table by Elaine Feore and Joanne Goudie celebrates Newfoundland's strong connection to the past with an eye to the culinary world beyond its shores, maintaining a centuries-old love of food and commonwealth, but, at the same time, infusing them with a contemporary sampling of recipes from around the globe. Recipes for Thai Beef Skewers, Greek Phyllo Chicken (with Lemon Béchamel Sauce), and Fattoush accompany the classic stew and seafood dishes that have long defined Newfoundland's unique culinary scene. Appetizers and sides like Turnip "Fries" with Crispy Prosciutto and Balsamic Dressing invite foreign tastes to time-honored staples. And for the purist, Feore and Goudie offer a generous helping of recipes that pay tribute to Newfoundland's essential export-cod-with selections such as Salt Cod Soup, Cod Tacos, and Poached Cod with Mixed Vegetables.
Bobbette & Belle by Allyson Bobbitt and Sarah Bell share their most loved recipes that fill their French-inspired Toronto pastry shops in this their first cookbook. Soft and Chewy Ginger Cookies, Dark Chocolate Brownie Fudge Cake, Caramelized Almond Torte and Mile-High Lemon Meringue Pie are examples of the recipes. Over 100 recipes and variations are shared so that we can create our own magical world of sweets at home. This title is also being released in the U.S. this month.
U.K.
Provence to Pondicherry by Tessa Kiros takes us on a fascinating journey across the globe to explore French culinary influences in far-flung destinations. Her journey begins in Provence, where Tessa first fell in love with French food, and explores the Mediterranean region's links between the indigenous ingredients, flavours, materials and traditions. She then takes the path of early French explorers, travelling to the island of Guadeloupe in the Caribbean; Vietnam in South-east Asia; Pondicherry on the Bay of Bengal, India; La Reunion, a French island in the Indian Ocean; finally returning to France and landing in Normandy, where the cuisine is so different from the South of France. In each destination, Tessa delves into the history and culinary traditions of the country (or region), discovering how French cuisine has become embroiled with local ingredients and traditions. The result is an intriguing collection of recipes that will appeal to all those with a broad interest in food and culture. Tessa Kiros' titles are treasured cookbooks in my collection and this latest release from the U.K. will surely find a spot.

Scandinavian Comfort Food: Embracing the Art of Hygge by Trine Hahnemann delivers 130 recipes that will have you embracing hygge. To describe hygge is difficult as it is embedded in Danish culture, the author states. It is a feeling or an expectation of comfort. Trine's kitchen is rarely without a cake, a boiling kettle or a freshly opened jar of jam making her the perfect hostess and invoker of hygge. The recipes in her new title reflect true comfort, vibrancy and more – Meatballs with Celeriac and Apples; Chicken Soup with Herbs and Root Vegetables; and a Winter Apple Layer Cake that quietly and beautifully communicates a welcoming warmth. The photographs are gorgeous and this is another title I am excited to read thoroughly and try many of the recipes.
The Five Seasons Kitchen is by Pierre Gagnaire who in 2015 was voted 'Best Chef in the World' by his peers and this year marks five creative and successful decades in the kitchen. To celebrate his outstanding career, Grub Street is publishing La Cuisine des 5 Saisons in English. For the first time, his recipes are made accessible for the home cook. Chef Gagnaire believes there are five seasons as he feels Spring must be divided in two as the same produce in March is not available in June. Accordingly, the recipes in this book follow the rhythm of the seasons and their bounty. Six menus with starters, main dishes and desserts are set out in each chapter. This book is a title for the serious cook in all of us.
El Celler de Can Roca by Joan, Josep and Jordi Roca shares recipes from the three Michelin starred Catalan restaurant in Spain by the same name. In 2015, it was once again named the best restaurant in the world by the Restaurant magazine. The Times restaurant critic A.A. Gill compared the restaurant to former restaurant El Bulli, which was once ranked as the number one restaurant in the world, saying that it was an 'outstanding kitchen, and part of the great confident wave of new Spanish food that is complex, technically exhausting, aware of the landscape, history and politics.' This edition is appearing in English for the first time. Fully illustrated in color throughout it gathers the thoughts of writer Josep Maria Fonalleras in 'A day at El Celler'. Here is the history, philosophy, techniques, values, sources of inspiration, creative processes, of this band of extraordinary chefs with over 90 detailed recipes, and a collection of the 240 most outstanding dishes from the 25-year history of this magnificent restaurant.
Spoon: Simple and Nourishing Breakfast Bowls by Annie Morris and Jonny Shimmin shares over 50 delicious breakfast bowl recipes to start your day off. Featuring a variety of granolas, mueslis, and porridges, Annie and Jonny share their tried and tested recipes that give you a reason to jump out of bed in the morning. Utilizing simple, good-quality ingredients, each recipe has a rich, luxurious flavor and is also packed full of antioxidants. These recipes require little preparation and are specifically designed for on-the-go mornings. Woven throughout are interviews with chefs and owners of independent coffee shops all over the world who provide their own tips for the perfect start to any day.
Sicily: Recipes from the Pearl of Southern Italy by Katie and Giancarlo Caldesi is a visual feast of Sicily's rich history with absolutely stunning photographs as vibrant and fresh as the food itself. Sicilian food has Italian as well as Greek, Spanish, French, and Arab influences. Rolled Stuffed Roast Beef, Rice Timbale, and Stuffed Agnolotti, Stuffed with Sea Bass are examples of the deliciousness you will encounter in Sicily. The beautiful people of Sicily, the artisans and landscape are wonderfully portrayed in this title. This couple never disappoint and yet, again, written a book that any lover of Italian cuisine must have.
Ingredient: Unveiling the Essential Elements of Food by Ali Bouzari is an entertaining, informative guide, from one of the leading experts in culinary science – a chef, consultant, and scientist who has worked with some of the biggest names in the industry. There are ingredients, and then there are Ingredients. An ingredient is a tomato, a tortilla, or some tarragon. An Ingredient (with a capital "I") is a fundamental building block or recurring theme that works behind the scenes in everything we cook. There are millions of ingredients, but only eight Ingredients: Water, Sugars, Carbs, Lipids, Proteins, Minerals, Gases, and Heat. This book was released last month in the U.S. and is being released this month in the U.K.
Bread Street Kitchen: 100 Delicious Recipes to Cook at Home by Gordon Ramsay and the Bread Street Kitchen Team covers breakfast to dinner and everything in between, this is a collection of 100 fresh new recipes from Gordon Ramsay who states that 'If you think you can't eat as well at home as you do in a restaurant – think again. I'm going to show you how to cook stunning recipes from Bread Street Kitchen at home.' Like the restaurant itself, the book is all about relaxed and sociable eating, using fresh ingredients, simple techniques all delivered with the signature Gordon Ramsay stamp so that you know it's going to be good. Recipes include Ricotta Hotcakes with Honeycomb Butter – perfect for a weekend brunch, Sea Trout with Clams or a Crispy Duck Salad for a weekday supper. For a weekend get together, get things off to a good start with a Bread Street Kitchen Rum Punch and Slow Roast Pork Belly with Apple & Cinnamon Sauce, followed by Pineapple Carpaccio with Coconut Sorbet or a super indulgent Coconut Strawberry Trifle.
Jamie Oliver's Christmas Cookbook by Jamie Oliver will be packed with all the classics you need for the big day and beyond. It's everything you need for the best Christmas ever. Oliver states, "I've got all the bases covered with everything you need for the big day and any feasting meals over the festive period, as well as party fare, edible gifts, teatime treats, cocktails and of course, exciting ways to embrace and celebrate those leftovers. You'll also find all the deeply important technical info you need, such as cooking charts, and wherever possible, I've designed the recipes to be cooked at the same oven temperature, so you can be efficient with time and oven space, and it'll be super-easy for you to mix and match the different elements and build your own perfect Christmas meal. I haven't held back. This book is the greatest hits, all wrapped up in one Christmas parcel, and I hope you have fun looking through, picking your recipes, and building your own plan."
Cinnamon Square: A Measured Approach – Precision Baking by Paul Barker shares recipes modelled on the popular bakery. From the signature multi-award-winning Cinnamon Square to the Ricky Sticky Bun and masterfully-made pastry Orange, Cinnamon Square has cemented itself at the heart of baking innovation. Now, home bakers can recreate the delights of Cinnamon Square in their own kitchens and learn the art of precision baking with this exquisite collection of recipes. Using a measured approach and traditional artisanal techniques, become immersed in the 'theatre of baking' with wholesome breads, delicate pastries, heavenly cakes and indulgent chocolates.
Nostalgic Delights: A Sophisticated Trip Down Memory Lane by William Curley recreates childhood memories by taking classic recipes and modernizing them with his own, unique creations. Creating top-quality confectionery, cakes and patisserie is often seen as something only a trained professional can do. However, with patisserie equipment now easily accessible to all, William hopes to produce a book where the reader can create classics at home and evoke their own nostalgic memories. William's ethos centers on using the best ingredients and techniques available, while making his recipes accessible to the home cook. Some recipes are simple to make with minimal ingredients, such as the Hazelnut Rocher and Bakewell tarts.
Gingerbread Wonderland: 30 Magical Houses, Cookies and Cakes by Mimi Sinclair is being re-released this year. This book is packed with fun cookies and sticky gingerbread cakes, plus handy tips on how to avoid mistakes, create edible glue, and utilize templates included within. The book includes all the traditional Christmas favorites such as a Hansel & Gretel House. There are also contemporary creations such as Mini Coffee Cup Houses, Glass Pressed Cookies, and a 3D Christmas Tree. Make perfect treats to slip into lunch boxes, serve up to friends at tea, give as gifts, or show off as your holiday centerpiece.
Eat. Live. Go. Fresh Food Fast by Donal Skehan is a collection of quick and easy recipes for busy and energetic lifestyles. Donal's healthy approach to eating provides big flavour, the optimum nutrition the body needs, plus delicious treats. Donal offers up brilliant recipes to cook at home, from everyday eating with family and friends, to restorative meals to nurture and nourish, including dishes from Donal's travels in Europe and South East Asia.
Deliciously Stella by Bella Younger is packed full of recipes, words of inspiration and yoga poses to help you #gettheglow in the time it takes you to massage your kale. This book will leave you feeling energized, happy and ready to hashtag your way to health.
Cakes, Bakes & Biscuits by The National Trust is a treasury of modern and classic recipes from the National Trust that you can create in the comfort of your own home, on a lazy Sunday or with the kids. From classic favourites like Victoria sponge and simple fruit cake to treats for children, perfect preserves and even savoury breads and bites, there are over 100 delicious recipes to make and enjoy. These recipes include a variety of cakes, muffins, flapjacks, fancies, scones, tarts, buns, cookies – and even custard cream biscuits! There's a section on savoury bakes too. This book also includes regional favourites such as Barm Brack from Wales, Bath Buns and Banbury Cakes. There are also recipes with fascinating connections to NT properties too – Secretary Tarts from Polesden Lacey and Kedleston Marmalade Cake. With tips and techniques to ensure you get a perfect result every time, this title is the perfect accompaniment to a classic British teatime.
Cocktail Cookbook by Oskar Kinberg presents 75 cocktails that will change the way you drink. The master barman shows you simple recipes for homemade bar ingredients such as nettle cordial, olive oil-infused gin and kiwi and avocado puree – and then how to incorporate them into original cocktails, all invented and tested at his destination drinking den Oskar's Bar in London. Get ready to reach for standard bar ingredients – cucumber, rhubarb and herbs – and more adventurous inclusions such as pine, peashoots and tonka beans. Then transform and mix into exciting, delicious drinks that are as tasty as they are impressive. Ideal for the curious and creative home cocktail maker, as well as adventurous cooks.
Classic Koffmann: 50 Years a Chef by Pierre Koffmann is a must have cookery title. The three Michelin-starred chef, who is the granddaddy of French cuisine in Britain is now celebrating 50 years in the business. The self-effacing Pierre has been coaxed out of the kitchen just long enough to write this superlative collection of his classic recipes. Ranging as you would expect from Entrées to Desserts, and everything in between, Classic Koffmann is a worthy successor to Pierre's Memories of Gascony, which earned him the prestigious Glenfiddich Award in 1990. As if its collection of over 100 star recipes from the master chef wasn't enough, Classic Koffmann is also beautifully illustrated with photography by master photographer, David Loftus. What's more, having been described as 'the chef of chefs' and 'the chef all other chefs look up to', it's no surprise that many of his protégés, the likes of Marco Pierre White, Gordon Ramsey, Bruno Loubet, Tom Aikens, William Curley, Helena Puolakka, Tom Kitchin, Eric Chavot, Paul Rhodes have declared themselves 'honoured' to contribute to this epoch-making book. This younger generation of chefs, who are all culinary luminaries in their own right, have added their own special stories of their training with Pierre, the insights they gained from him and, of course, their paeans of praise for the man who set them on their path in the world of cooking. Classic Koffmann offers a masterclass in all that's best in the French culinary tradition.
Gino's Hidden Italy: How to Cook Like a True Italian by Gino D'Acampo will introduce Gino's fans to 80 delicious new recipes, that will bring authentic Italian dining to your family table. It will accompany Gino's new 7-part prime time series Hidden Italy, coming to ITV this Autumn. Chapters include: Antipasti & Soups; Pasta; Risotto; Fish & Seafood; Poultry & Meat; Vegetables & Sides; Pizza, Pies & Bread; Desserts
The Cookbook: Fortnum & Mason's by Tom Parker Bowles is a contemporary, accessible recipe book that combines superb recipes and expert advice on ingredients, and will shine a light on the history of the best British cuisine, with delicious, contemporary Modern British dishes.
Good Taste Simple, Delicious Recipes for Family & Friends by Jane Green is a handbook on entertaining. In this title, she opens wide the doors of her stunning home to share tips on entertaining, ideas for making any gathering a cozy yet classy affair, and some of her favorite dishes, ranging from tempting hors d'oeuvres like Sweet Corn and Chili Soup, to mouthwatering one-pot mains like Slow-Braised Onion Chicken, to sinfully satisfying desserts like Warm Chocolate and Banana Cake. This book is Jane's perfect recipe for making a wonderful life complete with friends, loving family, and moments filled with good food, good times, and, of course, good taste.
Made in the Office: Tasty & Hasty Meals with Just a Kettle, Toaster & a Microwave by Rachel Maylor helps you reclaim your workday lunch (as well as breakfast and snacks) by showing you how to make simple and healthy meals in your office kitchen – all with just a kettle, microwave and toaster. The book shows you that you don't need to have a fully equipped kitchen to knock up avocado and poached eggs on toast (you can poach eggs in the microwave!); and you don't need chef training to make pesto courgette pasta. And you don't need to think ahead the night before, either. You can make 70 quick, simple and healthy dishes in your lunch break.
Persepolis: Vegetarian Recipes from Peckham, Persia and Beyond by Sally Butcher mostly draws on Sally's experience in Mediterranean and Middle Eastern cuisine, but once again she looks to all parts of the globe for vegetarian recipes (and stories). Persepolis brings you the most outstanding (and fun) ways of feeding without meat or fish, stopping along the way for a chat with the residents and a bit of sightseeing. 150 new recipes, including more vegan recipes/alternatives, offer a fantastic variety of ideas for the vegetarian cook.
Spice Health Heroes: Featuring recipes from José Andrés, April Bloomfield, Peter Gordon, Judy Joo and Lidia Bastianich by Natasha MacAller includes a detailed study of the history, myths and traditional uses of spices. Spice Health Heroes examines the culinary, nutritional and medical applications of everyday (and more exotic) spices found in your pantry. Medical and nutritional claims are backed by contributions from an impressive team of international medical professionals and institutions. With more than 80 recipes, including contributions from some 20 internationally renowned chefs from around the world, such as Jose Andres, April Bloomfield, Peter Gordon, Judy Joo and Lidia Bastianich, Spice Health Heroes takes you on a journey through the spice cabinet and will inspire you to add a fragrant
Salt is Essential: and Other Things I've Learned from 50 Years at the Stove by Shaun Hill celebrates one of the number rules in cooking: Food needs salt. The recipes range from Warm Rock Oysters with Spring Onion Butter Sauce to Pork in Shirtsleeves and Buttermilk Pudding with Cardamom. And although his commentary is undeniably witty, it's Shaun's knowledge and expert guidance that makes this book an invaluable tome for anyone who takes their food (but not themselves) seriously.
Regarding Cocktails by Sasha Petraske and Georgette Moger-Petraske is the only book from the late Sasha Petraske, the legendary bartender who changed cocktail culture with his speakeasy-style bar Milk & Honey. Here are 85 cocktail recipes from his repertoire-the beloved classics and modern variations-with stories from the bartenders he personally trained. Ingredients, measurements, and preparations are beautifully illustrated so that readers can make professional cocktails at home. Sasha's advice for keeping the home bar, as well as his musings, are collected here to inspire a new generation of bartenders and cocktail enthusiasts. Remember Eat Your Books members receive a 30% discount on all books purchased using our Phaidon link.
Quick, Quick Slow: A New Take on Slow Recipes Combined with Fun & Easy Quick Ones by Allegra McEvedy brings together a variety of tempos and cooking styles to create a unique collection of recipes all based around the rhythm of Quick-Quick-Slow. Each Slow involves an initial input of kitchen time, then the canny cook walks away and lets nature take its course, only returning to whip up the Quicks and make any necessary finishing touches to the long-loved slow. The Slow recipes are about more than low and slow stews bubbling away: they explore how time not only affects flavour and texture but allows for magic to happen. Allegra draws on pickling, proving, curing, pressing, marinating, infusing and preserving as inspiration for the time-takers that are at the heart of each triumvirate. With the slow element underway, Allegra matches each one with a couple of eye-catching Quicks: speedy dishes that can be created in minutes, designed and crafted to complement, and in some cases complete, the accompanying Slow. And it's this change of tempo within each threesome of Quick Quick Slow that keeps the energy and pace of first the book and then the food that comes out of it both varied and exciting. There are simple suppers, light lunches, plenty of face-free veggie recipes and family feasts; stylish recipes for when you have guests to impress, and fun, flavoursome kid-friendly meals too. With Szechuan Treacle Crusted Pork Belly, Jamaican Oxtail Stew, and Dark & Stormy Gingerbread with Angostura Honeycomb, Allegra's food foxtrot has the right moves for everyone
The Skills by Monica Galetti offers both amateur chefs and professionals basic cooking skills for cooking over 100 fabulous recipes. Building on her Masterchef: The Professionals' reputation as the expert in the kitchen, Monica takes the reader through a series of essential techniques including: jointing a chicken, preparing a rack of lamb, filleting fish, making basics such as sauces, mayonnaise, pasta, meringues, caramel and soufflés, and making breads and pastries. Once you've mastered Monica's foolproof methods you can cook her fabulous recipes such as Braised Artichoke with Bacon and Gin, Tartare of Salmon, Roast Lamb with Peppers and Olives, Salt Caramel Chocolate Ganache and Apricot Sabayon.
The Indian Cooking Course by Monisha Bharadwaj is the comprehensive guide to Indian cooking explores the myriad regional varieties of authentic, healthy, and exotic Indian recipes. With chapters broken down into Rice, Breads, Meat, etc., Monisha covers a varied range of dishes, with techniques and step-by-step masterclasses to help you recreate classic and popular recipes. Monisha encompasses the entire range of Indian cooking and offers a vivid insight into India's colorful traditions, from the earthy lentil dishes distinguishable in the North to the coconut-based curries that are a staple in the South. This is a course in home cooking, based on principles of good health, and touching on the values of Ayurveda, which provides a context to your cooking; from taste and appearance to history and culture. I will be cooking from this title soon and sharing a full review. It is absolutely beautiful.
The Grain Bowl
by Nik Williamson shares 90 recipes from healthy sweet bowls, meat bowls, vegetable bowls to indulgent sweet bowls – the author has us covered. For more information on the this book, please read our author article which includes a recipe from the title. Remember Eat Your Books members receive a 30% discount on all books purchased using our link. Our contest giving away five copies of this title is open to EYB Members in the U.S., Canada, U.K., Australia and New Zealand runs through November 12th. The Grain Bowl was also released in the U.S. this month.
How to Hygge: The Secrets of Nordic Living by Signe Johansen explores the culture of hygge, shares the secrets of Nordic living and shows you how to adopt these elements into your everyday life, wherever you are in the world. Hygge is central to the Nordic sense of well-being. Roughly translated as 'cosiness', it implies warmth, conviviality and community. With fifty recipes and glorious imagery, Johansen explains how to enjoy the outdoors the Nordic way, the joy of fika (coming together over cake and coffee), how to collaborate to achieve a sense of community and why alcohol is integral to the healthy hedonism of hygge. For those who have long admired the region's stylish design heritage, she reveals how to achieve Scandi-Cool in your own home, without breaking the bank. Explore the culture of hygge, and learn how to live your life to the fullest, Nordic-style
Istanbul Cult Recipes by Pomme Larmoyer is a compilation of tasty recipes from Istanbul cuisine and recommendations of where to go and eat when you visit. It is a beautiful book.
Ireland
The Cultured Club by Dearbhla Reynolds instructs the reader how to turn simple ingredients into superfoods using one of the world's oldest methods of food preservation. This title from Ireland begins with a brief history of fermentation and a guide to maintaining gut health, you will learn basic fermentation techniques using simple ingredients and discover numerous recipes for sauerkraut, kimchi, kefir, condiments, dips, tapenades, breads, nut cheeses and tonics that promise to restore vitality. Learn the simple art of fermentation, enjoy its delicious, vibrant flavours and watch your health flourish.
Neven Maguire's Complete Family Cookbook by Neven Maguire is the new definitive collection that gives you all the inspiration and help you need to make life in the kitchen easier and more enjoyable. This title includes lots of tips on how to wean the family off processed food for meal and snack times, how to plan for large family gatherings, how to cut down on food waste and how to bake the perfect celebration cake. Neven's insights from his sell-out Parent and Child Cookery Course at his cookery school in Blacklion, Co. Cavan, combined with his own experiences of being a dad to his four-year-old twins, result in 300 failsafe, tried and tested recipes that will be a godsend for busy parents everywhere.
Australia
At Our Table: 120+ Recipes and Entertaining Tips for Every Occasion by Delicious Magazine is the cookbook for those of us who love cooking for friends and family as much as they appreciate presentation. This book is from the award-winning team behind Australia's leading premium food lifestyle magazine delicious. and successful website delicious.com.au. With gorgeous photography, stunning design and more than 100 impressive but effortless recipes, and each chapter offering a flexible menu, as well as brilliant ideas for drink pairing and advice for setting the scene – including styling the table, colour palette inspiration, flowers, lighting and downloadable party invitations – this is the ultimate party planners' cookbook.
The Salad Book by Belinda Jeffery shares her trademark love of good food prepared simply – she is always on the lookout for new and surprising ways to bring seasonal flavours and textures together. And this imaginative new collection is no exception. These days, salads can go far beyond a quiet dish on the side. Belinda shows that they may be enjoyed at any time of the day, so whether you are looking for something pared-back and elegant or a riot of colour jumping off the plate, you are bound to find the right salad for every season.
Australian Fish and Seafood Cookbook: The Ultimate Kitchen Companion by John Susman and Anthony Huckstep and Sarah Swan and Stephen Hodges is just the handbook home cooks need to take the fear out of selecting, preparing and cooking fish and earns its place as an instant classic. Years in the making, this is the definitive guide to enjoying the fish and seafood, as has never before been attempted. Covering 100 species of fish and seafood; identification, handling and cooking guides; 150 recipes for the best ways to prepare it; case studies on best-practice fisheries and fishermen; guides to 20 key cooking techniques; as well as hundreds of produce identification photographs highlighting the best possible produce. Recipes include Bream with bok choy, parsley root and salted red chilli, Pan-fried john dory liver on toast, Smoked eel and green peppercorn pate, Pickled mackerel, Pan-fried squid hoods with rocket pesto and Grilled scampi with garlic butter. This stylish compendium is a labour of love by the most respected authorities on seafood in the business.
The Zen Kitchen by Adam Liaw, one of Australia's favourite foodie celebrities and former winner of Masterchef, delivers his newest title of easy-to-prepare Japanese recipes and philosophies for the home kitchen to guide you and your family to healthier, more enjoyable meal times.
New Zealand
A Free Range Life Celebrate Summer by Annabel Langbein features Annabel's tips for a stress-free menu and matching food with drinks, her foodie's guide to San Francisco and step-by-step instructions for making the hottest garden craze – kokedama bonsai balls – and prettying up your meals with edible petals. It's supported by shopping lists, how-to instructions, blogs and videos on Annabel's website. All 500+ recipes on Annabel's website A Free Range Life are indexed on EYB – add the complete set to your Bookshelf.
Little & Friday Every Meal by Kim Evans and Sophie Beck is the much-anticipated third cookbook follow up to Treats from Little and Friday and Little and Friday Celebrations, owner Kim Evans and chef Sophie Beck share the recipes that attract queues of diners to Little & Friday's Belmont, Ponsonby, Newmarket and central Auckland stores, as well as a selection of home-style dinners and irresistible desserts. With this cookbook you can now enjoy Little & Friday's most popular dishes at every meal.
Scrumptious by Chelsea Winter is the eagerly anticipated follow-up to Homemade Happiness, Everyday Delicious and At My Table. Chelsea Winter has become a life-saver in the kitchen. Discover why with this utterly scrumptious collection of recipes. Packed with irresistible recipes for mouthwatering lunches and dinners, indulgent baking and wickedly good desserts, Chelsea Winter's fourth cookbook is sure to become your new go-to for any occasion. There's even a section on Chelsea's festive favourites for Christmas! The 90-plus recipes are easy to follow, use ingredients on hand in your fridge or pantry, and will certainly earn you rave reviews from your family and friends.
Germany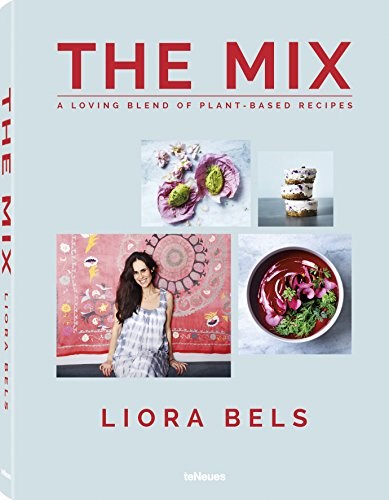 The Mix by Liora Bels, a specialist on healthy eating and wholesome living, offers vibrant, simple, and healthy everyday meals, that are rich in wholesome, natural, fresh ingredients and easy to make. Scrumptious smoothies, nutritious spreads and dips, tasty soups, bowls, and even sweets and treats are offered. Beautiful imagery allows a glimpse into a holistic lifestyle and Liora's inspiring sense for aesthetics. The Mix, released in Germany this month, is a treat for the eyes and taste buds and not exclusively for the health-conscious reader.