A Treasury of Great Recipes – Mary and Vincent Price
October 29, 2016 by Jenny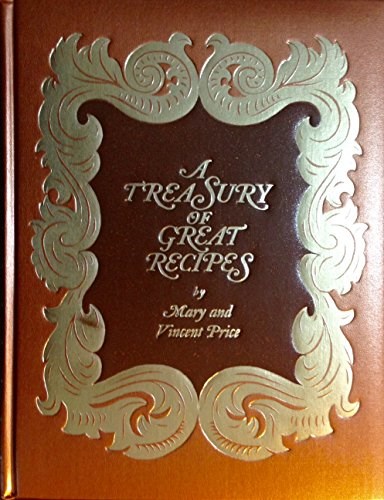 Halloween is the perfect time to talk about one of my favorite books: A Treasury of Great Recipes: Famous Specialties of the World's Foremost Restaurants Adapted for the American Kitchen by Mary Price and Vincent Price. The Master of Menace, Price, was well known for his horror films but he was also one of the first culinary/lifestyle experts before there was such a job description.
Last year marked the 50th Anniversary of this wonderful book and a long-awaited reprinting with sharper photos, a foreword by Wolfgang Puck and an Retrospective Preface written by the Prices' daughter, Victoria Price. For that occasion, I interviewed Victoria and wrote an article for TasteBook.
How did an actor famous for horror flicks come to author a cookbook? The idea was brought to life when Sears Roebuck approached the film star and asked him to acquire art for their stores. Sears was revamping their image into something more upscale. Price ended up procuring 20,000 pieces of art for Sears — all of which were framed by Mary Price, a designer, in the basement of their Los Angeles home. Mary was all about aesthetics and the frames Sears were providing were not to her standards.
Soon after the art project, executives at Sears returned to the actor, a gourmet famous for entertaining, and asked him to do a cookbook and hence the iconic cookbook was born. The book features recipes collected by the Prices as they traveled the world dining at the finest restaurants. Rumor has it that the couple flattered, then begged, famous chefs for these recipes. Those restaurant recipes would be recreated at their home and shared at lavish dinner parties that the Prices would throw for their friends. The parties were touted as a true experience – Vincent was an exemplary host and Mary, the visionary, saw to every detail. Just as she did with the frames on the Sears' artwork, Mary, who had a walk-in kiln, would copper-luster an entire set of dishes just for a dinner party. A Price dinner party was all about the people, the setting and delicious food.
The ambiance the Prices brought to their dinners is part of the appeal of the book, taking us back to the days when guests dressed for dinner and meals were an affair, where every detail was attended to. The cookbook is truly a tribute to a time when dinner parties were a regular occurrence and not just a special occasion. The Prices' personal stories about their travel and the restaurants where they enjoyed meals and obtained recipes give us a glimpse of their celebrity lifestyle.
Along with the procured recipes, original menus from the restaurants are reproduced in the book. Recipes are organized by country giving us a world tour of cuisine: France, Italy, Holland, Scandinavia, England, Spain, Mexico and lastly the United States, which is subdivided by cities. The famous leather cover was all Mary's doing, fashioned after her copper mold and cookware collection she collected while the Prices were stuck in France for six weeks on a film. The whole premise of the book was that gourmet is where you find it – whether it is a hot dog at the stadium or a five star restaurant in Paris. Blank pages are included to jot down your favorite recipes, record your favorite wines and record your events. The recipes are of such a wide range of basic to various degrees of difficulty that there is something for most everyone. The book appeals to cooks, historians, film buffs and other collectors.
Now 51 years later, how does the Vincent Price legacy continue on? A driving force is Victoria Price. She continues to bring the Vincent Price experience to fans across the world with her themed dinners and events. In April of 2015, I was able to attend a Vincent Price themed dinner with Victoria Price at Bistro Vendome in Denver along with other fans of the actor and the cookbook. Recipes from the book were served consisting of Quiche Lorraine, Mini Hot Dogs with Onion Soup Mustard, Dutch Asparagus with Ham, Egg and Butter, Dutch Pea Soup with Crispy Pig Tail and Crème Fraiche, Pan Seared Trout with Shrimp, Mushrooms, Truffle, Parsley and Lemon, Stuffed Quail with Chicken Liver Sausage and Sauce Diablo and Sorbets de Café or Raspberry Clafoutis. It was a stellar evening with wonderful food sitting across from the down-to-earth daughter of Mary and Vincent Price.
The fans I met at the dinner were varied in occupation and age range, with a cookbook author, Lee Clayton Roper, thrown in for good measure. Lee has become a good friend and I wrote a blurb for her second cookbook. At the dinner, I sat next to Betty who, as a new bride in 1966, received the First Edition as a wedding gift and has cooked many of the recipes over the decades. Her favorite dishes being the Boiled Leg of Lamb with Caper Sauce and Pig Roasted in Pit. Fans of Vincent Price vary in age, because of Victoria's efforts, films like Edward Scissor Hands, the Michael Jackson Thriller video and the allure of the horror films he made.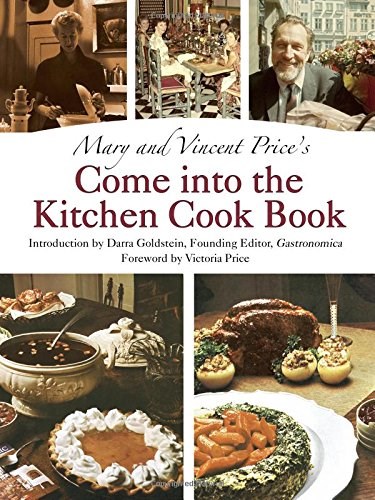 In November, another Price title, Come into the Kitchen Cookbook, is being re-released with a foreword by Victoria Price. I will be writing more about this title soon and am thrilled that the Price legacy will continue for generations.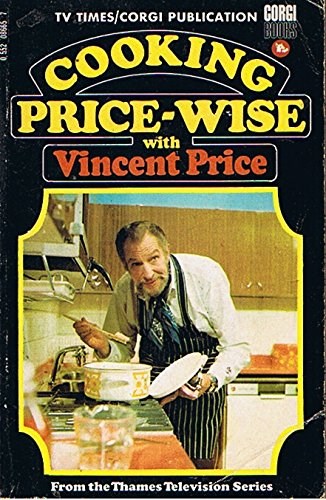 Cooking Price-wise with Vincent Price is the last of the cookery titles by the famous actor and one that I haven't been lucky enough to come across. One day I will find it -and it will join my collection. I think we need a re-issue soon!
Leave a comment and let me know if any of the Price cookbooks are on your bookshelves.
While you are here, have you entered all the current giveaways we have open. Be sure to check back next week for more!