Flavour – Ruby Tandoh
October 5, 2016 by Jenny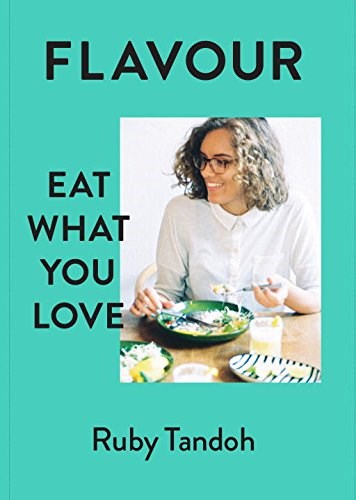 Ruby Tandoh is back with her second cookbook Flavour: Eat What You Love. I am a huge fan of Ruby's recipes and her first title Crumb: The Baking Book is brilliant (a little on that title below).
In Flavour, Ruby has divided the book into five chapters by ingredient: Vegetables and Herbs, Fruit, Eggs and Dairy, Meat and Fish, and Storecupboard. These chapters are further divided into smaller subsections by ingredient as well, This organization makes perfect sense as most of us cook a meal by what we are craving, what is on-hand or what is in season. Hence if we are craving root vegetables, we page through to the recipes utilizing root vegetables.
Crumb: The Baking Book concentrated on sweet and savoury baking which is something I love in a cookbook – savoury twists in baking is huge right now. A few recipes from this book are: Morning Muffins with Grapefruit; Orange and White Chocolate Loaf Cake, Butternut Squash and Mozzarella Tartlets with Herb Pastry, and Banana Thyme Tart. In Flavour, Ruby delivers more savoury cooking for meal preparation and, no worries, some tasty desserts as well.
The photographs are beautiful and the recipes are totally craveworthy. Ruby's spirit shines in this book – "food is good" "find an inspirational eater" (someone who eats with passion) and her carefree way of weaving a recipe convinces us cooking difficult – it's food and it's fun! This spirit that Ruby has is reflective of her style as a bake-off contestant – winging it with great success. Smoky Butternut Squash Stew with Chickpea Dumplings, Sticky Chilli and Peanut Fried Chicken, and Adèle's Spaghetti Bolognese (inspired by a film actress who is an inspirational eater, not the singer) are a few examples from the book that look so scrumptious.
Be sure to enter our giveaway which is open worldwide for a copy of this book. Special thanks to the publisher for allowing us to share two recipes that can be dinner tonight.
MEATBALLS WITH STICKY BLACKBERRY-ANISE SAUCE
You need something fruity to balance the comforting heft of these meatballs. Usually it'd be a redcurrant or lingonberry sauce, but I've opted for something a little darker: an inky blackberry sauce, spiked with anise for a gentle liquorice sweetness. You can make a sauce with a little beef stock and double cream, too, if you really want to go all out, but I don't think these meatballs need it. Glazed with dark blackberry and served with buttery mash, this is a comfort food dream without any overwhelming richness.
For the sauce:
350g blackberries
225g caster sugar
50ml water
3 star anise
1 dried bay leaf
2 teaspoons red wine vinegar
For the meatballs:
250g pork mince
250g beef mince
50g white breadcrumbs
2 shallots or ½ onion, finely chopped
2 teaspoons dried thyme
½ teaspoon nutmeg
½ teaspoon salt
75ml milk
Oil, for frying
First, prepare the blackberry sauce. Heat all the sauce ingredients in a small pan and simmer for 15 minutes, crushing the blackberries under the back of a spoon as it cooks. When the mixture is syrupy, strain out the blackberry seeds through a fine mesh sieve. Set the strained mixture back over the heat and simmer for 5-10 minutes, until sticky and thicker. Leave to cool and turn jammy, then add a little more water if the sauce is too sticky, or place back over the heat for a few minutes if it's not quite thick enough.
Set aside while you prepare the meatballs, re-warming it when the rest of the dish is ready. Combine all the meatball ingredients except the oil in a large bowl, and work together using your hands. Heat a little oil in a large frying pan. Shape the meatball mixture into 32 small balls and cook them over a high heat for 3 minutes, turning frequently. Reduce the heat to medium-low and cook for a further 10-12 minutes, until the meatballs are cooked through. Serve with the blackberry sauce – you can toss this through the meatballs in the pan, with a splash of water, if you want to glaze them all over – and heaps of smooth mash.
HOT AND SOUR RED LENTIL SOUP
Serves 4
2 tablespoons vegetable oil
6 tomatoes, diced
5cm fresh ginger, sliced
3 kaffir lime leaves
2 cloves garlic, sliced
1 stick lemongrass, bruised
2 tablespoons tomato purée
200g red lentils
1.25 litres boiling water
2 bird's eye chillies, thinly sliced
Juice of 2 limes
Salt, to taste
A hazy idea for this recipe came to me several weeks before I actually managed to make a palatable version of it. I knew I wanted a fiery red lentil soup: the opposite of the kinds of gentle soups I've traditionally made (like the lemony green lentil soup in the next recipe); one hot enough to blast a creeping cold from my system and so hearty that it's a meal in itself. I tried versions with charred red peppers, others stained ochre with smoked paprika and a particularly nasty version speckled with flecks of red kidney bean skin. It took a good ten attempts before I managed to settle on this incarnation of the recipe, inspired by Thai tom yum soups, freshened with garlic, lemongrass and kaffir lime to soften the punch of the chilli. It was so worth the wait.
Heat the oil in a large pan and gently cook the tomatoes over a low heat for 3-4 minutes, until they begin to melt into a very soft mass. Add the ginger, lime leaves, garlic, lemongrass and tomato purée and stir to blend everything together. Add the lentils along with the boiling water and simmer for 15 minutes, adding the chillies 5 minutes before the end of the cooking time. Stir in the lime juice at the last minute and season generously with salt.
Photographs by Charlotte Bland. Recipes reprinted with permission of Chatto & Windus, part of the Penguin Random House group of companies.