Dorie's Cookies – Dorie Greenspan
November 13, 2016 by Jenny
Dorie's Cookies by Dorie Greenspan has moved up to the coveted spot of my favorite cookie book of all time. From the royal purple cover, inside pages that are speckled with cookie illustrations and full-page photographs with a retro feel – this book is a visual feast for the eyes.
170 unique and classic cookie recipes fill the 500 plus pages. Some recipes are classics – Dories's classic brownies, chocolate chip cookies and, of course, The World Peace cookies which we all need to make and share. Dorie has also provided updates to some of her classics but the majority of the cookie recipes are new and inspired. Recipes for Fennel-Orange Shortbread Wedges, Pink Peppercorn Thumbprints, Greek Honey Dainties and Matcha-White Chocolate Mini Mads are just a few examples of the uniqueness you will find in this book.
A group from The Cookbook Junkies wanted to bake through Dorie's book so we have started a baking group to document our progress. Dorie was gracious enough to share her valuable time with me and answer a few questions that I prepared. After you read my interview with Dorie, be sure to go enter our contest for a chance to win a copy of Dorie's Cookies open to our members in the U.S. and Canada.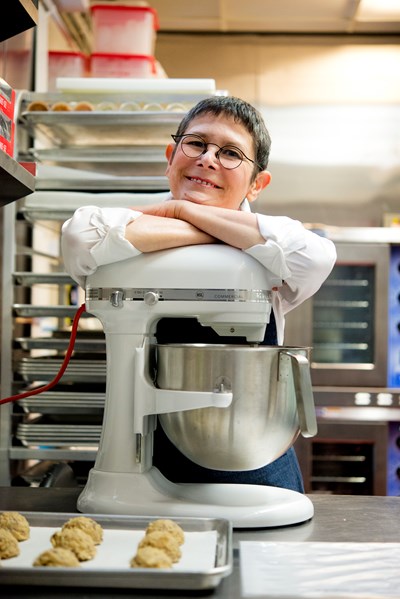 The baking world is eagerly anticipating the release of your new title, Dorie's Cookies. What prompted the focus on cookies for this book?
I have been a cookie lover since I was a small child. I came from a family of cookie lovers and I created a family of cookie lovers. It is my favorite kind of sweet and, while I'd created hundreds of cookie recipes, I wanted to see what else I could do. I wanted to see how I could stretch what we think of as a cookie and to see what new cookies I could create, sweet and savory.
There was speculation that a cookie book might be in the works after Beurre & Sel closed. Are any of Beurre & Sel's recipes for cookies shared? Are all the recipes in Cookies new or will we find some familiar favorites within its pages?
ALL of the Beurre & Sel recipes are here! And they're here with instructions for how to make them as we did in the bakery, in baking rings, and as I usually make them at home, in muffin tins. In seemed impossible to write this book without including some old favorites, such as (a slightly revised version of) World Peace Cookies – that's the cookie on the book's cover; My Favorite Chocolate-Chip Cookie (although there are a couple of new ones as well); and my Classic Brownies. But 90 + % of the recipes are new and I had so much fun coming up with these new cookies.
I love the idea of the #cookiesandkindness project and will be participating how did this movement come about and how has the response been so far?
Oh, thank you – it's a wonderful project and I'm so glad you're going to be part of it. It's so simple, so much fun and so sweet. All anyone has to do to be part of this little revolution to make the world sweeter is: Bake cookies/share your cookies/post what you bake and share. The posts should be tagged with #cookiesandkindness and if they're tagged @doriegreenspan and #Dories_Cookies I can find the posts.
I always bake to share and it's lovely for me and for those who I share with. And so, with so much going on in the world that's not so sweet, I thought it would be nice to encourage people to do something that would make them and others happy: to bake and to share. It's how I came to the idea of #cookiesandkindness The project is new, but the response has been terrific – I love seeing what people are baking and especially love learning about their acts of kindness.
If anyone wants to jump in, I have details about the project and info on how you can download adorable cookie tags, cards and stickers. Oh, and every month, I post a new #cookiesandkindness recipe from Dorie's Cookies.
How did your "three purple star" of approval begin? We know there are a great many that made the cut but how many cookie recipes didn't meet the approval system?
It's so funny … I started marking successful recipes with purple stars as a way to keep track of things. I'm not the world's most organized person and, while I always write my testing notes in a bound notebook, I don't always write only my recipes in the book – I 've got scribbles from phone conversations and shopping lists and random thoughts for articles and stuff all mixed up with my recipes. And so, to make it easier for me to find recipes and to know that I'd completed them, I began marking them with stars in purple – purple is my favorite color and I've got lots and lots of purple pens and pencils. After that, I added red check marks as a way of knowing that the recipe was successful AND that I'd transferred it from my notebook to a word doc.
I don't know how many recipes didn't make the cut – of course there were some. What I do know is that there could have been a lot more 'purple star' recipes if I hadn't had a deadline. I loved working on the cookies and probably could have gone on forever.
What is your favorite cookie recipe – besides the World Peace Cookie which is a favorite of many?
This is always the hardest question anyone can ask me. You're right, I'm crazy about the World Peace Cookie, but I also love the very simple French Vanilla Sablé. In some ways, I think of it as the perfect go-with-everything-make-everyone-happy cookie. And because it's the base of another of my most favorite cookies, The Classic Jammer, I love it even more.
What is next on your schedule besides events and possibly cookie baking? Will we see Cakes in the future?
Oh, Cakes, now there's a really good idea … hmmm.
I'm working on another book now. It will be called Everyday Dorie (which is both the name of the column I write for The Washington Post and the name of my website) and it will be a complete sweet-and-savory cookbook. I'm thinking of it as Around My French Table, but not French.
What is the best advice you can give to a new baker who wants to use the recipes in Cookies?
Just bake! The more you bake, the more comfortable you'll be in the kitchen and the happier everyone around you will be, since cookies are made for sharing.
For all us cookbook fans, can you share a few of your favorite titles both sweet and savory with us?
I just bought a bunch of new books that I can't wait to dive into, among them Charlotte Druckman's Stir, Sizzle, Bake; Naomi Pomeroy's Taste & Technique; Diana Henry's Simple; Genevieve Ko's Better Baking; Julia Turshen's Small Victories; Nancy Silverton's Mozza At Home; Kate McDermott's Art of the Pie; Food 52's A New Way to Dinner; and more and more and more. This is a great year for cookbooks!
Photograph of the beautiful Dorie by Davide Luciano.