Dali – Les Diners de Gala
November 2, 2016 by Jenny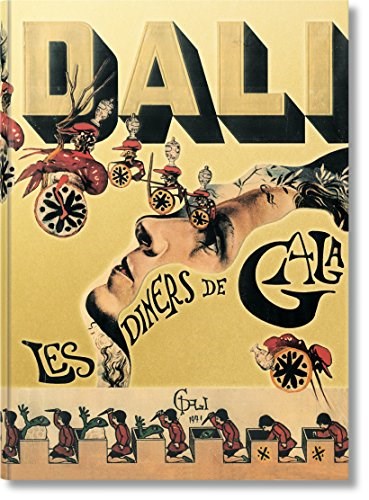 Words cannot adequately express how thrilled I was to learn that Salvador Dalí's Les Diners de Gala was being reissued by Taschen this month. Now collectors who have longed for this title can finally own a copy. (Check the Buy Book button for options to support Eat Your Books.)
Les Diners de Gala was not on my radar until a few years ago. My friend, Jackie, and I had a discussion regarding the wildly insane $500 to upwards of $1000 prices on used copies from third-party sites. Often, I would check the prices but it was never in my range – I was somewhat obsessed. As soon as I learn a book is coveted by others – my curiosity gets the best of me and I have to know more.
Salvador Domingo Felipe Jacinto Dalí i Domènech, Marqués de Dalí de Pubol was born in May of 1904 in Figueres Catalonia, Spain. Known simply as Salvador Dalí, he was a surrealist icon whose striking and bizarre images are easily recognized and his repertoire included film, sculpture, and photography.
Dalí attributed his "love of everything that is gilded and excessive, my passion for luxury and my love of oriental clothes" to an "Arab lineage". He was highly imaginative, and also enjoyed indulging in unusual and grandiose behavior. His eccentric mannerisms and public actions at times garnered more attention than his artwork, much to the ire of those who held his work in high regard.
One might wonder how someone as dynamic and eccentric to the art scene as Dalí would come to create a cookbook. It all stemmed from his childhood dreams, he states "When I was six years old, I wanted to be a cook."
The opulent dinner parties thrown by Dalí and his wife and muse, Gala, were legendary. In 1973, when the artist was nearing 70 years of age, he drew upon his childhood aspirations and the couple's grand affairs and brought Les Diners de Gala to life. The book reveals some of the sensual, imaginative, and exotic elements that made up their dinner gatherings and their life.
The cookbook contains all 136 recipes, divided into twelve chapters each covering a specific class of dishes all designed with his surrealist style, both gastronomically and aesthetically. I am in awe of the complicated, yet brilliant mind that was Dalí. I liken studying this book as falling down the rabbit hole. It's frighteningly exciting but totally cool. You are not sure you want to continue the spiral but you cannot pull yourself away.
This work is an impressive treasure featuring old school recipes taken from leading French restaurants of that time – such as the "Salad composed according to Alexandre Dumas" on page 236 which was given by Maxim's. The haunting illustrations and recipes are accompanied by Dalí's extravagant musings on subjects such as dinner conversation: "The jaw is our best tool to grasp philosophical knowledge." Art lovers and cookbook collectors alike will enjoy this piece of Dalí's work and the recipes can be recreated in today's kitchen – all we need is a well-stocked pantry and a vivid imagination.
"Les dîners de Gala is uniquely devoted to the pleasures of taste … If you are a disciple of one of those calorie-counters who turn the joys of eating into a form of punishment, close this book at once; it is too lively, too aggressive, and far too impertinent for you."- Salvador Dalí
Special thanks to Taschen for allowing us to share a few of the images of this fabulous work and for sending me a copy for review. © Salvador Dalí. Fundació Gala-Salvador Dalí, Figueres, 2016