Cookbook Giveaway – Smashed Mashed Boiled and Baked and Fried, Too!
November 20, 2016 by Jenny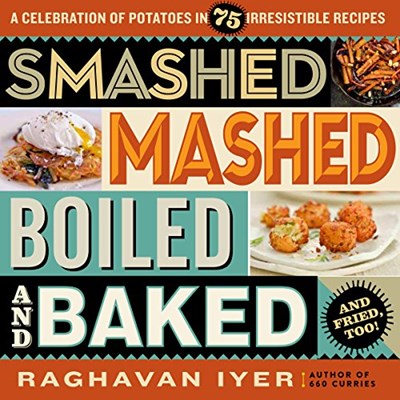 Smashed Mashed Boiled and Baked and Fried, Too! by Raghaven Iyer is indeed a Celebration of Potatoes in 75 Irresistible Recipes.
Award-winning cookbook author, Raghavan Iyer, pays tribute to his favorite ingredient (and one of mine!) in this global celebration of the humble potato. Beautiful photographs accompany recipes that are unlike any I've seen before: Ecuadorean Llapingachos and Sweet Potato Samosas for appetizers. Entrees include Canadian Lamb-Potato Tortiѐre, Moroccan Potato Stew with Saffron Biscuits, and Potato Lasagna. There are recipes for salads, gratins, sauces and condiments and even desserts. Chocolate Sweet Potato Pound Cake could be on your dessert table this holiday season!
To find our more about this totally crave-worthy title, please see our review and recipe post. The author has a number of events scheduled to promote Smashed Mashed Boiled and Baked and Fried, Too!
We are pleased to offer three copies of this title to our EYB Members in the U.S. One of the entry options is to answer the following question in the comments section of this blog post:
What is your favorite way to prepare potatoes?
Please note that you must be logged into the Rafflecopter contest before posting or your entry won't be counted. If you are not already a Member, you can join at no cost. The contest ends December 27th, 2016.