Eating her way through history
November 20, 2016 by Darcie
If you've ever leafed through historic cookbooks, you probably imagined what some of the more obscure recipes and ingredients tasted like. Sarah Lohman doesn't only imagine it, she creates the historical dishes. As a self-described "historic gastronomist", Lohman uses vintage cookbooks and other historical writings as a way to bring history to life.
Lohman just finished a week of eating the meals that an Italian immigrant family on the Lower East Side of Manhattan would have consumed in 1919. Previous stints have included cooking and eating like a 19th-century domestic servant, and drinking like a man in colonial America. Her research indicated that the typical male drank a half-pint of liquor on an average day. Lohman was drunk by mid-morning and hungover by midafternoon (she stopped drinking then and took a nap).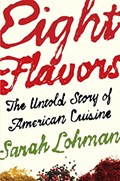 It was during this drinking bit that Lohman got an offer to write a book, because an editor at Simon and Schuster saw her blog post about the attempt. The new book is titled Eight Flavors: The Untold Story of American Cuisine. The work is a "culinary history of America that uses forgotten recipes to explain how eight flavors – black pepper, vanilla, curry powder, chili powder, soy sauce, garlic, MSG and Sriracha – helped shape American diets." In addition to blogging about the intersection of food and history, Lohman works part-time at the Tenement Museum in New York City.