Marbled, Swirled, and Layered – Irvin Lin – Author Article
November 30, 2016 by Jenny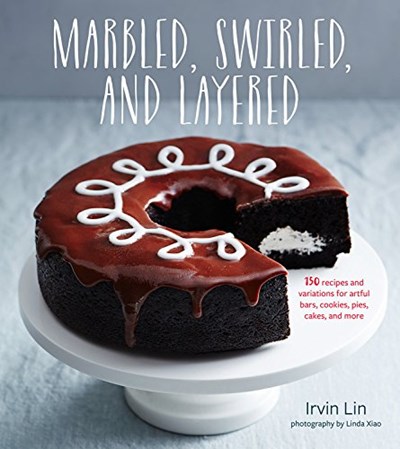 Marbled, Swirled, and Layered: 150 Recipes and Variations for Artful Bars, Cookies, Pies, Cakes, and More by Irvin Lin is the debut offering from the blogger behind, Eat The Love (which is indexed for our members -add the blog's recipes to your bookshelf in one click!)
I've covered this book for Sunday Supper Movement (see end of post) as well as talked with Susie Chang on her podcast, The Level Teaspoon. I was honored to be her tester for Irvin's book on Episode 13.  Marbled, Swirled, and Layered is one of my favorite baking books of 2016. Irvin has done an amazing job offering up innovative baked treats that surpass the ordinary. Do not be intimidated by the lengthly pages of instructions on some recipes – those detailed instructions are there to ensure our success.
I have baked two recipes from this baking gem – the Chocolate and Brown Sugar Buttercream Rolled Cake with Crushed Pistachios and the Double-chocolate chunk blondie bars with bourbon ganache . The desserts were excellent and I have plans to make so many more now that the rush of Cookbooktober has calmed. Online recipes to try can be found here.
Irvin was kind enough to share some insight into his blog and his book with us. After you read my Q & A, be sure to enter our giveaway for a chance to win a copy of Marbled, Swirled, and Layered!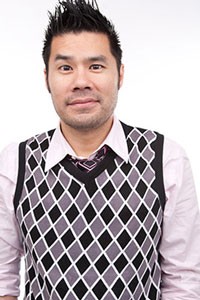 Irvin, you are the writer of the blog, Eat The Love. Can you tell us how Eat The Love received its name and what prompted you to start writing and sharing your recipes?
My secret origin story! So in 2010 I was working as a senior graphic designer at a firm where I was pretty unhappy. I had been there two or three years and it just wasn't a good fit for me. I was going home after long days at the office and just sitting on the couch and watching hours of television to try forget my unhappiness. I was slowly devolving into that burnt-out bitter person in the office and at one point I was complaining to a friend of mine. She suggested that instead of going home and marathon
watching Buffy the Vampire Slayer, I should do MORE work at home. But work that fed my soul and that I loved; a passion project. So I decided to take her advice and start a blog. I have a degree in English literature and I love writing. But I've never had the discipline to write consistently. I had started a blog before and but it never took as it didn't have a focus, rather it was just random stories from my life. I figured focusing on sharing recipes
and food (which I have always been passionate about) was the best way for me to get back to writing consistently. About 9 months after I started my blog it gave me the incentive and push to leave my job and go freelance. The best decision I ever made!
While I was trying to figure out a name for my blog, I remembered a story that my friend always told me back when I was a bookseller in St. Louis. My friend conformed to a very strict diet for his health. It was basically a vegan-paleo diet, though this was before the paleo movement. He refrained from eating wheat, refined sugar, meat, dairy and eggs as well as most grains in general. But whenever he went to visit his extended family in Arkansas he would ignore his diet. His grandmother would make the family fried chicken, collards with bacon and biscuits with White Lily flour. All the classic southern dishes you would expect a grandmother who lived in the south would make. And he would eat everything she made.
I remember asking him about this, why he didn't just ask his grandmother to make him food that he normally ate or just be more selective about the food offered. His response was "Because when I eat the food that she makes for me, I'm eating the love. I'm eating her love! This is her food!" And I just loved that concept. That food is love. So I took that story and decided to name that blog after it. I love making food, but more importantly, I love sharing my food with people. And so the name just made sense.
You feature savory and sweet recipes on the blog, do you prefer either cooking or baking and why?
I used to talk about how the food world is kind of split down the middle with people who love to bake and people who love to cook. Often they do not overlap. But I do love both cooking and baking. And they both function in different ways in my life.
I find myself more mentally engaged when I am baking. Baking is both a science and an art, where you are trying to figure out how to best problem solve a difficult real life experiment. If my cake is lopsided is it because I didn't cream the butter and sugar properly? Did I use too much or too little leavener or not blended it well enough? Or maybe my baking soda or baking powder is too old and doesn't give the right lift. Does my oven have crazy hot spots? Or are my baking pans warped and lopsided? There are so many variables when it comes to baking and I really love trying to figure them all out. I'm a natural problem solver and baking really engages my brain in that way.
But if I'm looking to be less engaged and want something more calming, I turn to cooking. The act of prepping ingredients, from chopping onions and mincing garlic, to stirring and tasting the food as it comes together on the stovetop is really meditative for me. I find cooking relaxing, while I find baking energizing. I love them both, but for very different reasons.
All that said, I really love making food for people, whether it involves cooking or baking. Initially my blog focused on baking because inherently baking involves sharing food with people. Most people don't bake a batch of cookies or brownies or a cake just for themselves. Baking involves sharing. And it's pure pleasure. You have to eat. You have to make food for your self. Cooking is something I did out of necessity. But you no one NEEDS desserts.
It's pure pleasure. So baking for me is pure pleasure as well.
My blog has since evolved, as have I. I'm definitely a home baker first, but as I started spending more time in the kitchen I also started to cook more. First basic meals. Then more complicated dishes. And once I started working on my cookbook, I found that I was baking so much, testing recipes and developing them for the cookbook, that I didn't have the bandwidth to also bake for my blog. So I started sharing recipes of meals I made as well. My readers really seem to respond well to them so I've continued. I actually reference my blog a lot when I want to make a dish for dinner and I forget exactly how to make it. So it's a great way to both share the recipe for folks and also archive it for my own personal use.
I was one of the most excited to learn that you were writing a cookbook and a funny tidbit was that I informed you when your book was available for preorder before you even knew. Can you share a little about how this cookbook came to life and how the process went for you?
Ha! I totally remember you telling me my book was up for pre-order and I was all "WHAT?" which is hilarious. I've been working on this cookbook for about 3 years and I feel like every time I turn a corner I'm CONSTANTLY surprised as to what is next for it! From coming up with the concept (I went through three or four different concepts before I landed on this one) to writing the proposal to finding an agent and then selling it, it's been a long
journey, one that has come in fits and starts.
Since it's my first cookbook, everything was new to me. Writing a cookbook for a major publisher is a lot different than writing for a blog. It's more than just a collection of recipes. It's been a huge learning curve. The biggest education for me was how much the book is not just my book but it's also a giant team of people's book as well. Everyone (including myself) thinks of a cookbook as something one person does. But there is a team involved, from the agent, to the editor (multiple editors actually) to food stylist and photographer to everyone that tests the recipes to the marketing and publicity team. So many people are involved!
My book was initially going to be 300 pages long, but I turnedin a manuscript that probably could have been a 500+ pages long. They cut 150 pages and then increased the size of the book to 350 pages. I have about 100 extra recipes that didn't make the cut, as well as 50 pages of front matter including a whole section on whole grains and ancient grain flours that just didn't fit in with the rest of the book. It was sad but I'll use that material
elsewhere.
What are a few of your favorite recipes from the book and why? Any family or sentimental recipes shared?
Picking favorite recipes is like picking children! I love them all. But some of my favorites include a Malted Chocolate Chip Reverse Chocolate Chip Cookie (which my partner AJ is obsessed with), a lemon blackberry chess pie that won me my first pie contest here in San Francisco, and a tomato and Parmesan garlic pretzel knot. I absolutely love that pretzel knot! It's one of the few savory baked goods in the book and though it's more of a
weekend project (there are numerous bowls involved) it's totally worth it once you bite into that soft pretzel.
Nearly every single person who has tasted my Rosemary Caramel Dark Chocolate Potato Chip Tart raves about it. And I think the Chocolate Peanut Butter Butterscotch Cookie is just fantastic as well as easy to make (even though it looks more complicated). Finally the Neapolitan Layer Cake with Fresh Strawberries is so much fun to make and serve! It's a very communal thing because there's no way to elegantly serve the cake. You just have to dive right into it.
And actually there are two recipes that inspired by my mom's desserts growing up. My mom isn't really a baker. In fact, she mostly did Asian style stir-fry dishes for dinner when I was growing up. But when she did need to bake, she made a marble bundt cake that she would bring to potlucks, as well as a cheesecake with a blueberry pie topping. I have a fantastic marble chocolate and vanilla swirled bundt cake in the cookbook (it's the cake slices you see on the back of the book) as well as a no-bake ginger and cinnamon cheesecake with blueberry sauce.
Are there plans for a second cookbook in the works?  What would you like a second title to cover? Sweets or savory? How about a book devoted to savory bakes?
Yes! I'd love to do another book and I have a lot of ideas for a second one. I hope this book is successful enough for me to write many more future cookbooks. I learned so much doing this cookbook and I hope to use all that knowledge in the future.
That said, it's funny you mention a savory baking cookbook. A friend of mine actually suggested that I do a Marbled, Swirled and Layered: Savory Edition cookbook! I'm not sure if I'm up for that concept yet. But we'll see. I'm so focused on trying to make this first cookbook a success that I haven't had a chance to really start thinking seriously about the second one despite the many concepts I have.
There are so many great cookbooks coming out this fall, including yours, which titles are you most excited about?
There's SO many coming out and I want them all!
I'm excited about Kate McDermott's Art of Pie book. I hear it's already gone into the second printing! It's such an amazing book. And Kate is the absolutely best person. If you have any interest at all in pie, it's the book for you. It's part memoir as well and Kate has lived such a fascinating life. I feel like this is going to be one of those books that you want to curl up and read in your bedroom or living room as well as use in the kitchen. I also can't wait see Molly Yeh's Life on the Range. Molly is so multi-talented and I can't wait to see her book. Her life story is so charming and compelling. I mean she went to Julliard and now lives on a farm where she blogs and makes food. How could you NOT fall in love with her, or at least be a little envious of how amazing she is?
For restaurant cookbooks, I'm curious to check out Everything I Want to Eat: Sqirl and the New California Cooking by Jessica Koslow. People rave about the hipster restaurant Sqirl and I was finally able to check it out
when I was in LA last spring for the annual IACP (International Association of Culinary Professionals) conference. It lived up to the hype. I'm definitely interested to see what their cookbook is like. I think it's supposed to be a combination of basic cooking techniques like how to poach eggs as well as recipes based on their menu of items that they serve. I'm tired of looking at restaurant cookbooks that are beautiful but utterly unapproachable or
impossible to execute in the home kitchen. I think this one will actually be useful for folks of all skill sets. And in the same vein, I'm looking forward to Anthony Bourdain's Appetites. It's been awhile since he's written a cookbook but I actually have and use his previous one, Les Halles Cookbook. Bourdain is a great writer with a very specific voice that I love. I can't wait to check his new cookbook and what he has to offer.
Recently I was able to get a sneak peak look at Alanna Taylor-Tobin's Alternative Baker cookbook. It focuses on gluten free flours recipes but more for the flavor that each flour brings to the recipe. I've always loved the idea of baking with alternative flours to bring MORE flavor to the final product. I actually talk a little bit about that in my cookbook. Taylor-Tobin
is a trained pastry chef, and she really explores how to use alternative flours to their maximum potential. And the book is gorgeous! On a similar note, I'm can't wait to check out Better Baking by Genevieve Ko. It focuses on using whole grain flours, nuts, seeds and natural sweeteners in baking. Not only are the baked goods better for you but they taste better as well. I'm all for anything that boosts flavor and if there is more nutrition, that's an added bonus.
Finally, I love Dorie Greenspan, and I know her Dorie's Cookies book is going to be spectacular. I can't wait to see. Same goes for Diana Henry's new Simple cookbook. I adore her. I know I'm going to adore her new one.
Review from Sunday Supper Movement as website revamped:
Irvin Lin's first book has just been published and it's definitely a keeper. I write "first book" because if this title is any indication of his abilities, there will be others in the works. Irvin writes the popular blog, Eat the Love and his debut cookbook, Marbled, Swirled, and Layered, is in a word – gorgeous. In this book, Irvin shares 150 recipes and variations for artful bars, cookies, pies, cakes and more. I have made several recipes from Irvin's blog which were totally delicious and I highly recommend his Turkey and Noodles recipe – so easy and so good and could be made for a weeknight supper given a little prep work in advance. Those noodles are everything – and are my go-to-homemade noodle recipe.
Smoky Butterscotch and Vanilla Cake, Rhubarb-White Chocolate Tart with Candied Kumquats, Rosemary Caramel and Dark Chocolate-Potato Chip Tart and Grapefruit and Earl Grey Bread are just a few examples of the unique recipes you will find in Irvin's cookbook. Stunning photographs accompany the recipes and his directions are detailed and well thought-out.
Every turn of the page reveals yet another tempting treat that has me wishing for more hours in the day: Jumbo Arnold Palmer Cookies, Cinnamon Honey Bun Cookies and Chocolate, Peanut Butter, and Butterscotch Layered Cookies are going on my holiday cookie list. And a perfect treat for fall are his Pumpkin S'mores with Maple-Brown Sugar Marshmallows and Dark Chocolate.
Irvin offers multiple variations for recipes as well as valuable information such as the "importance of color", ways to add color to our baked goods, including natural alternatives, details on starches, flours and more. Marbled, Swirled, and Layered is truly a comprehensive guide to help us deliver the wow factor into our baking.
I made the Chocolate and Brown Sugar Buttercream Rolled Cake with Crushed Pistachios because it looked like a showstopper and I wanted to challenge myself. There are multiple steps to this cake but it was relatively easy to create. I did make an error – I was rushing – I didn't have the book in front of me – and I rolled the cake incorrectly. However, I did manage to pull it together and make it a fairly pretty dessert. Clearly, it was not as stunning as the version in Irvin's book, but the flavors were delicious. I hoped to make it again but time ran out for me.
When I cut the four rectangles out, I somehow thought they were to be set up as four separate rolls. What I did to fix my mistake is used the cake that I cut off to even out the rectangle to decorate the top to disguise my mistake. What I was instructed to do was continue rolling the separate rectangles around each other in layers to end up showing that beautiful inner cross-section of a tree top. There is a lesson in this as well – cooking and baking while being necessities for our existence are creative outlets. If something goes wrong, improvise – most everything is salvageable. I will definitely be making this dessert again very soon for the holidays. I did have one issue with the buttercream. I have made this style of buttercream several times – and I believe my butter was too warm and it really never came together. I remedied that by adding some powdered sugar and it turned out fine.
I have the ingredients set out to make his Double-Chocolate Chunk Blondie Bars with Bourbon Ganache and will be making those in the next few days. While the book is full of interesting baked treats, there are some classic recipes such as Kouign Amann and Babka which are included with variations to change them up. Irvin has a gift with flavor combinations and for making the ordinary extraordinary.
If you love to bake or know someone who does, this is the book you will want to gift this season. Marbled, Swirled and Layered hits all my marks for a baking cookbook – unique, creative and beautiful and not a box mix recipe in the bunch!
Chocolate and Brown Sugar Buttercream Rolled Cake with Crushed Pistachios – Makes 1 rolled cake; 10 to 12 servings
My partner was turning forty years old, and I was at a loss as to what sort of cake to make for him. It had to be something special, but nothing outlandish, as we weren't throwing a party but celebrating at home—a nice home-cooked meal for just the two of us. Luckily, the cookbook Vintage Cakes by Julie Richardson came to the rescue, inspiring this rolled cake. This recipe is different from Julie's recipe, except that it uses the same technique, rolling the cake and then standing it on its end so you can see the layers spiral out on top of the cake. It's like a large jelly-roll cake turned on its end! Somehow, it also seemed fitting that the book Vintage Cakes inspired a fortieth birthday cake.
---
CAKE BATTER
1 cup (16 ounces or 170 g) chopped bittersweet chocolate
3 tablespoons vegetable shortening
¼ cup hot fresh brewed coffee
2 teaspoons vanilla extract
¼ teaspoon almond extract (optional)
½ cup (70 g) all-purpose flour
1 teaspoon baking powder
¼ teaspoon kosher salt
6 large eggs, separated
½ teaspoon cream of tartar
½ cup (100 g) granulated sugar
BROWN SUGAR BUTTERCREAM
6 large egg whites
1 ½ cup (330 g) packed dark brown sugar
1 teaspoon kosher salt
2 ¼ cups (510 g or 4 ½ sticks) unsalted butter, cool but not cold
TO ASSEMBLE
1 ½ cups (210 g) chopped unsalted pistachios, divided (if you can only find salted nuts, omit the salt in the buttercream)
MAKE THE CAKE BATTER
Preheat the oven to 350°F and coat a 12 x 17-inch rimmed baking sheet with cooking spray. Line the bottom with a piece of parchment paper and spray the parchment with cooking spray too.
Place the chopped chocolate in a large microwave-safe bowl and microwave for 30 seconds. Stir and microwave again for 30 seconds. Stir until the chocolate is melted, heating the chocolate in additional 15-second intervals in the microwave if necessary.
Add the shortening, coffee, vanilla, and almond extract (if using) to the warm chocolate. Stir until the shortening has melted and incorporated. Add the flour, baking powder, and salt and mix until the dry ingredients are absorbed. Let the batter cool until it is barely warm and then add the egg yolks. Mix with a whisk until blended and smooth.
Place the egg whites and cream of tartar in the bowl of a stand mixer fitted with the whisk attachment. Whisk on high speed until soft peaks form. With the mixer still on, slowly sprinkle in the sugar and continue to whip until the whites become glossy.
Add about a quarter of the egg whites to the cake batter and fold gently to lighten the batter. Add the rest of the egg whites in three batches, folding to incorporate completely before adding the next batch. Scrape the batter onto the prepared baking sheet and spread evenly. Bake until a toothpick inserted in the center comes out clean and the cake feels firm to the touch, 14 to 16 minutes. Let cool in the baking sheet for 30 minutes.
MAKE THE BROWN SUGAR BUTTERCREAM
Place the egg whites, brown sugar, and salt in the bowl of the stand mixer. Set the bowl over a pot of simmering water and whisk by hand until the sugar and salt have dissolved and the temperature reaches 140°F (warm to the touch). Attach the bowl to the mixer fitted with the whisk attachment. Beat on high speed until stiff peaks form. Reduce the speed to medium and beat for an additional 5 to 6 minutes, until the egg whites have cooled and are fluffy. Switch out the whisk attachment for the paddle attachment and turn the speed to medium-low. Add the butter 2 tablespoons at a time, waiting for it to incorporate before each addition. Once the butter has all been added, reduce the speed to low and beat for an additional 2 to 3 minutes to smooth the buttercream and get rid of any air bubbles. If the buttercream looks like it is broken (curdled or separated), raise the speed to medium-high and beat for a minute or two to bring it back together.
ASSEMBLE THE CAKE
Unroll the cake and place it with the long side facing you. Trim ½ inch off the edges on the left and right to make a proper rectangle. Cut the cake vertically in the center with a serrated knife, making two 8 x 12-inch rectangles. Cut each rectangle vertically in half again, to make four 4 x 12-inch rectangles. Spread about half the buttercream over the cake, making sure to evenly spread it across the cake to the edges. Sprinkle ½ cup of the pistachios over the frosting.
Roll the first strip of cake by tucking the cake into the roll and continuing to roll tightly. Don't be concerned if the cake cracks a bit in the beginning. Place the rolled cake upright in the middle of the serving platter so that the flat edge is facing up and you can see the spiral on top. Then take the second strip of cake and wrap it around the first rolled piece of cake. Continue with the third and fourth piece, wrapping the cake around in a spiral pattern. Once you've rolled all the cake, frost the outside of the cake with the remaining frosting, making sure to leave the top of the cake exposed for everyone to see. Sprinkle some of the remaining pistachios on top of the cake, to help cover up any big holes or gaps in the cake roll, and then gently press the remaining pistachios around the outside of the cake, over the frosting. Serve immediately, or refrigerate for up to 4 days, bringing to room temperature before serving.
---
Double-chocolate chunk blondie bars with bourbon ganache – Makes 36 bars
Years ago, I brought a batch of these blondie bars (without the bourbon ganache) to the hospital as a gift for a friend who had just given birth to her first daughter. Upon receiving them, she proclaimed, "Now today is the best day!" as if birthing her first child wasn't enough! I love making these blondie bars, especially since I started using brown butter along with the almond meal and almond extract to give them a deeper nutty flavor. Of course, the bourbon ganache is literally icing on the dessert, but the butterscotchy, smoky bourbon really plays well with the blondie bar's brown sugar notes and is worth the bit of extra effort to make it.
BLONDIE BATTER
¾ cup (170 g or 1 ½ sticks) unsalted butter
2 cups (440 g) packed dark brown sugar
2 teaspoons vanilla extract
3 large eggs
2 cups (280 g) all-purpose flour
1 cup (140 g) almond meal or almond flour
2 ½ teaspoons baking powder
½ teaspoon kosher salt
1 cup (140 g) chopped semisweet chocolate (about 54% cacao)
1 cup (140 g) chopped bittersweet chocolate (about 70% cacao)
BOURBON GANACHE
2 cups (240 g) chopped bittersweet chocolate (about 70% cacao)
2 tablespoons unsalted butter
3 tablespoons bourbon
TO FINISH
1 teaspoon flaky finishing salt (like Maldon) or coarse sea salt
MAKE THE BLONDIE BATTER
Preheat the oven to 325°F. Line the bottom and sides of a 10 x 15-inch jelly-roll pan with a piece of aluminum foil, making sure about 1 inch of the foil hangs over the edges of the pan. Lightly coat the foil with cooking spray.
Place the butter in a large skillet (preferably one with a silver bottom, not nonstick) and turn the heat to high. Once the butter has melted completely, lower the heat to medium and stir constantly until the butter solids have started to brown at the bottom of the pan. Remove from the heat and let the butter continue to cook from the residual heat until it has turned a deep brown and smells fragrant and nutty. Pour the butter, scraping all the brown bits with a large spatula, into the bowl of a stand mixer fitted with the paddle attachment.
Add the brown sugar and vanilla to the butter and mix on medium speed until the outside of the bowl is barely warm to the touch, about 2 minutes. Add the eggs, one at a time, beating until each egg is incorporated before adding the next. Add the flour, almond meal, baking powder, and salt and mix until a batter forms. It will be wet. Add both chocolates and mix on low speed to evenly distribute.
Scrape the batter into the lined baking pan. Wet your hands with water and press the batter into the pan until it is evenly distributed to the edges. Bake until the sides of the blondie bar have started to turn golden brown and have darkened slightly, 25 to 30 minutes. Let cool in the pan on a wire rack while you make the ganache.
MAKE THE BOURBON GANACHE
Place the chocolate and butter in a medium heatproof bowl. Microwave for 30 seconds. Stir the chocolate pieces (they won't have melted much) and microwave for 1 minute more, stopping to stir after 30 seconds. Stir until all the chocolate has melted; the warmth of the bowl and the melted chocolate will continue to melt the chocolate. If there are any stubborn pieces of chocolate chunks, microwave for another 15 seconds and stir again until smooth, but don't overcook. Stir in the bourbon. Pour the ganache over the warm blondie bars and spread to the edges with a large spatula.
FINISH THE BARS
Sprinkle the finishing salt over the warm ganache. Let cool completely in the pan. Remove the bar by grabbing the sides of the foil and lifting it straight up, transferring it to a cutting board. Cut and serve.
* If you don't have a 10 x 15-inch jelly-roll pan, you can bake the blondies in a 9 x 13-inch baking pan. Just increase the baking time by 5 to 10 minutes. Don't forget to line the baking pan with parchment paper or aluminum foil to help remove the bars from the deeper baking pan.
THE MAGIC OF BROWNED BUTTER
Making browned butter, or beurre noisette in French (literally translated as "hazelnut butter"), isn't difficult, but thebiggest mistake people make is burningthe butterfat by either leaving the butteron the stove for too long or using toohigh heat.
Until you get the hang of making browned butter, I usually suggest making it in pan that isn't nonstick. Silver-bottomed pans allow you to watch the butterfat as it separates and browns, helping you remove the pan from the heat before the butter darkens too much. When starting out, I always suggest you remove the pan once the butterfat starts to brown and just let the residual heat from the pan continue to cook the butterfat. You can always nudge the fat to a darker color by placing it back on the heat, but it's impossible to go backward if you've browned it too much.
Once you start browning butter, it'll be hard to stop, as it adds an extra nutty dimension to baked goods like cookies, brownies, and cakes. The resulting baked good will have a deeper toffee butterscotch flavor and just taste richer. I often use it as a secret ingredient in chocolate chip cookies, and the results are outstanding. Sometimes that extra little step is all you need to take a baked good from good to great.
ALTERNATIVE
Apple-toffee blondie bars with caramel ganache
Make the caramel ganache before you make the blondie. Place the chocolate in a large heatproof bowl. Combine ½ cup (100 g) granulated sugar, 1 tablespoon water, and 1 tablespoon fresh lemon juice in a large saucepan, stirring with a fork to moisten the sugar. Heat over medium-high heat until the sugar melts and turns a dark amber brown. Remove from the heat and carefully add ⅓ cup heavy cream. It will steam and bubble up. Add another ⅔ cup cream in two additions, stirring to incorporate in between (for a total of 1 cup cream). Add 2 tablespoons salted butter and then return the pan to the stove and cook over medium heat, stirring constantly, until the caramel is smooth and any hardened pieces of sugar have melted. Pour the caramel over the chocolate and let sit for 5 minutes to melt. Then stir slowly with a whisk until the chocolate is melted and the ganache is smooth and glossy. Let cool to a spreadable consistency, about 2 hours.
While the ganache is cooling, make the apple-toffee blondie. Omit the 1 cup semisweet chocolate and just use the bittersweet chocolate. Add 1 cup (40 g) chopped dried apple chips and ¾ cup (115 g) toffee bits to the batter along with the bittersweet chocolate. Bake as directed. Once the blondie bars have cooled, spread the caramel ganache over the bars and let cool completely before cutting and serving.
Text excerpted from MARBLED, SWIRLED, AND LAYERED © 2016 by Irvin Lin. Reproduced by permission of Houghton Mifflin Harcourt. All rights reserved.
---