Cookbook Giveaway – All Under Heaven
December 11, 2016 by Jenny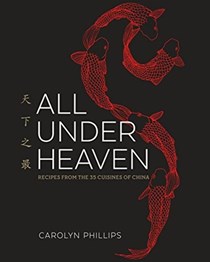 All Under Heaven: Recipes from the 35 Cuisines of China by Carolyn Phillips is one of my picks for top cookbook of 2016 and has found its deserved way to many best books list.
Carolyn is the writer of the blog, Madame Huang's Kitchen. All 400 of her blog recipes are indexed on Eat Your Books (add them to your bookshelf with one click.)
You can read more about this fanstatic title in our review and recipe post. You can also see more photos of finished dishes at my friend, Marc's review post – his cookbook club covered this title and he is extremely knowedgeable in Chinese cuisine.
We are pleased to offer three copies of All Under Heaven to our EYB Members in the U.S. One of the entry options is to answer the following question in the comments section of this blog post:
Do you cook Chinese food at home? If so, what is your favorite dish to make. If not, what is one dish you would like to recreate.
Please note that you must be logged into the Rafflecopter contest before posting or your entry won't be counted. If you are not already a Member, you can join at no cost. The contest ends January 13th, 2017.
Be sure to check your email spam folders for email notifications or check back on this post on the 12th for the names of the winners.