Author Interview with Marie Holm
September 12, 2016 by Jenny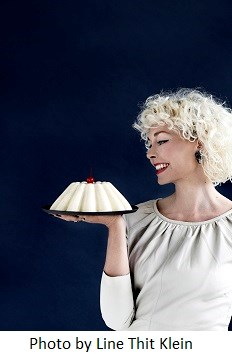 Marie Holm is a Danish food writer and cookbook author with a mission to bring back puddings. Her book Quivering Desserts & Other Puddings is presently out in Danish, English and German and she was recently filmed for Rick Stein's Long Weekends BBC TV Series. Marie Holm started out her career as a food journalist, then became a food critic and since 2007 Marie has been working as an independent food writer and cookbook editor. In 2014 she made her debut as an author with the combined cookbook and essay collection 'Foodie' and in 2015 she started doing public pudding speeches and food radio. You can follow Marie Holm on Instagram under the name @marieholmfood. Be sure to enter our giveaway for a chance to win one of five copies of Marie's new book.
Marie Holms was kind enough to answer some questions for our members about her new book and to provide tips for success in creating her recipes.
How did you come up with the idea for this cookbook?
The first time I tasted a real homemade custard pudding, actually! The wonderful taste and the jiggly wiggly sensation hit me in a very cartoony way – I saw stars and firecrackers and immediately thought "why have I only ever eaten the powdered versions that comes from a packet ..?!" And the answer was simple: Because too many people have forgotten how to make custard puddings and me and my fellow quivering-dessert-lovers out there are in need of a book teaching us how to make this beautiful trembling dessert from scratch.
What is the earliest recorded recipe for custard puddings?
Bavarian cream pudding was mentioned in texts dating from the early 1800's created by the founder of French haute cuisine, Antonin Carême. These extravagant moulded desserts were packed with precious ingredients such as vanilla, rum and dried fruits and became the height of fashion during the latter half of the 19th century. Now it is my wicked plan to bring them back in style!
Which countries around the world have a history of custard puddings?
People from all over the world have a historical liking for creamy and quivering desserts. The Scandinavian countries, especially Norway and Denmark have eaten a lot of custard puddings during the 19th and 20th century. France of course being the mother of the Bavarian cream or bavarois; Germany, where they invented the powdered versions; Holland; Belgium and not least England where there is a history of Bavarian style custard puddings but also blanc manger and junket. In southern Europe there are siblings like pannacotta and flan, in America they have a pudding and jello tradition and in Japan they have their purin. Everybody just loves a quivering dessert!
You are Danish. What recipes from Denmark have made it into the book?
The thing about quivering desserts is that a lot of countries have a shared history. The red jelly ring with summer berries that my father loved growing up in Denmark in the 1950s and that made it into my book might as well have been eaten by a child in England. So none of the pudding recipes in the book are particularly Danish but for some of them I have been inspired by traditional Danish desserts. So for instance we do have a very common classical dessert called 'citronfromage' which is a fluffy lemon mousse that I had in mind when I made my jiggly lemon pudding. Or in the summertime Danes love 'koldskål' – a cold sweet soup of buttermilk, lemon and vanilla and that inspired me to create a beautiful vanilla dotted and lemon scented buttermilk pudding. I really like the idea of turning other desserts into custard puddings.
How many different pudding moulds do you own and what shapes are your favourites? What are your tips for making sure the pudding turns out unblemished?
I might have to make a new count – because my pudding mould collection never stops growing! But I think I own 25-30 different moulds, a mix of old Danish ceramic ones, beautiful English/Victorian porcelain moulds, vintage Swedish and Norwegian metal moulds and new French, American and English non-stick moulds. Some are real pudding moulds and some are kugelhopf or bundt cake tins. I guess my favourite is my first ever pudding mould found in a second hand shop. It is aluminum and technically it is an ice-cream mould. Though it is competing closely with the prettiest oval white Victorian porcelain mould of rounded pillars. When turning out a custard pudding there are a few simple tricks. In the book there is a step-by-step-guide, it is so easy and the key word is hot water! When you dip the mould shortly in hot water it slightly melts the surface and releases the set pudding from its prison. Then you can gently pull the pudding away from the edge of the mould with your finger all the way around – it is much better than the traditional knife, that leaves the pudding with unattractive edges. Cover with a serving plate, and quickly flip the mould and the plate around with a palm under the mould and a palm over the plate. Shake and make downwards movements until you hear a 'slurp'. Lift up the mould and there you have it!
The worry when making custard puddings is that they will either not set or be too rubbery. How do you help us overcome these fears?
I have a word for that worry: Gelatinophobia. Making custard pudding is so much easier than making a mousse where you have to add melted warm gelatine to a cold custard and there is a risk of the gelatine undergoing thermal shock and being scared stiff before it is time to set. The advantage of pudding is that the gelatine is not exposed to a cold shock because it is added to a warm custard. So no need to fear! Just make sure to soak gelatine for at least 10 minutes in a large bowl of water so that it dissolves and incorporates evenly into the custard. And give the pudding time to set in the refrigerator for at least 6 hours or preferably overnight.
You have been the editor of other cookbooks such as Trine Hahneman's 'Tænk før du spiser' (The Nordic Diet in English), Mikkel Karstad's Cook – Natural Flavours from a Nordic Kitchen and several books by Noma co-founder Claus Meyer. How different was it doing your own book?
I have been working with food writing and food communication since I was still at university and I have edited cookbooks for 8 years – so developing, writing and testing recipes, doing food history research, choosing what photographer and graphic to work with, art directing, prop hunting and creating a color universe, doing the actual food-styling, ping-ponging with the editor – all of those behind the scenes cookbook processes were not unfamiliar to me. But I must admit it felt good to have all these very talented people helping me fulfill my vision and not the other way around this time.
How did you make the switch from editing other people's food writing to developing your own recipes?
To be able to foresee what actual problems or challenges you might run into in the kitchen when cooking is crucial in cookbook editing. If you know your way around food and produce you can 'translate' even the hardest recipe into something intelligible. Food is my passion and I always say that I literally put my money where my mouth is, so making the switch seemed quite natural to me and I was lucky that one of the publishing houses I worked with as an editor found that natural too. I wrote my first cookbook in 2014 (only out in Danish) but I still edit other people's cookbooks. Either way it is all about the love of cooking.
In the book you have the classics such as chocolate and vanilla but also more contemporary flavours – which new pudding flavor are you most proud of?
The salted caramel pudding covered in the best sticky salted caramel sauce and crowned with a crunchy topping of salted caramel popcorn has become my signature pudding. Caramel pudding is a classic – and salted caramel a new classic food fashion-wise, but I guess unseen in a bavarois. The burnt sweet caramel flavour is enhanced with the adding of sea salt and the pairing with the salty crunchy popcorn makes a whole new mouth feel in the soft universe of puddings. I promise you, you can go on and on eating this pudding! The pudding that is my personal favorite is the rhubarb-geranium though. I just love the rosey-citrussy flavour of rose geranium paired up with rhubarb in a shiny jelly that sits on top of a vanilla bavarois.