Three recipes from Big Bad Breakfast by John Currence
September 16, 2016 by Jenny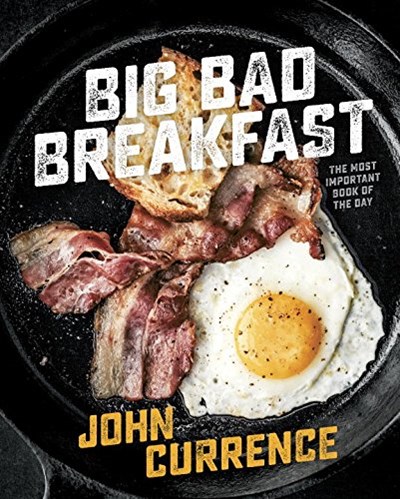 Big Bad Breakfast, John Currence's latest title, will have you rethinking breakfast in a most delicious way. This is not breakfast at your local diner – this is breakfast on high octane.
The James Beard Award winning acclaimed author delivers 75 recipes inspired by his popular restaurant in Oxford, Mississippi. A fun book devoted to breakfast in all her Southern glory.

With recipes for dishes such as Big Bad Breakfast Egg Bake, Fried Chicken Cathead, Pork Posole, Toasted Oatmeal Pancakes and Homemade Pop Tarts – breakfast has never sounded better.
The author and his publisher Ten Speed Press are sharing three recipes that will sure to be breakfast favorites. Be sure to enter our giveaway for a chance to win one of five copies of this title.
CRAWFISH CAKES
There is no way to describe the ingenious culinary process I went through to mutate a crab cake into a crawfish cake. If I tried to explain it to you, your brain would probably implode due to the intricacies of the process. Just kidding. I simply swapped in slightly more affordable but equally delicious crawfish meat for the oh-so-common crab. End of story. This sort of simple ingredient switch is exactly the kind of misdirection chefs use to look like some sort of genius.
Please, take the time and energy to find domestic (preferably Louisiana) crawfish for this recipe. The tails are frequently a little smaller than their imported Asian counterparts, but there is less water content to them, and the 1-pound bags they come sealed in are loaded with delicious fat (yes, crawfish have fat), which is where their flavor comes from. Whatever variety you find, they will be frozen. The best practice with these is to slowly thaw them overnight in your refrigerator. Keep this in mind when preparing to make this dish. The tenacious among you might wait until crawfish season and harvest tails by hand. You will be rewarded with more delicious crawfish cakes and in heaven by a choir of angels. Cajun angels, of course.
For the record, it's CRAW-fish, not CRAY-fish and, while we're at it, pah-CAWN, not PEE-can (as my grandmother used to say, "That's what we keep under the bed!").
3 tablespoons olive oil
1⁄2 cup diced yellow onion
1⁄4 cup diced red bell pepper
1⁄4 cup diced green bell pepper
2 tablespoons minced garlic
12 ounces chopped frozen cooked crawfish tail meat, thawed
3 tablespoons Creole mustard or whole-grain Dijon mustard
2 tablespoons mayonnaise
2 tablespoons Louisiana hot sauce
1 tablespoon Worcestershire sauce
1 tablespoon Creole seasoning
2 eggs plus 1 yolk, lightly beaten
3⁄4 cup panko bread crumbs, plus extra for coating
2 tablespoons clarified butter (page 30) or your preferred cooking fat
Sliced tomatoes, bitter greens, and Hollandaise (page 56), for garnish
Warm the oil in a sauté pan over medium heat for 30 seconds. Add the onion, bell peppers, and garlic and sauté until barely softened, about 1 minute. Remove from the heat and cool to room temperature.
In a stainless steel bowl, stir together the crawfish, mustard, mayonnaise, hot sauce, Worcestershire sauce, Creole seasoning, eggs, and 3⁄4 cup panko. Stir in the cooled onion and pepper mixture and blend until completely combined. Cover and refrigerate for 30 minutes.
Divide into 8 equal portions. Form each portion into 2-inch cakes that are about 3⁄4 inch thick. Roll in extra panko to coat each cake fully.
Preheat the oven to 200ºF. Warm the clarified butter in a 10-inch sauté pan over medium heat for 30 seconds. Place the crawfish cakes in the pan 4 at a time and cook until lightly brown on both sides, 2 to 3 minutes per side. Remove to a baking sheet lined with paper towels and place in a warm oven while cooking the remaining 4 cakes.
Place the hot cakes over the sliced tomatoes on each of 4 plates and garnish with bitter greens and a simple vinaigrette and topped with hollandaise. Serve immediately.
HOLLANDAISE
Makes 1 1⁄4 cups
4 egg yolks
2 tablespoons water
1 1⁄2 teaspoons freshly squeezed lemon juice
1⁄2 teaspoon kosher salt
1⁄2 teaspoon white pepper
4 dashes of Tabasco hot sauce
Pinch of cayenne pepper
1 cup clarified butter (page 30)
Fill a large saucepan with 2 inches of water and bring to a simmer over medium heat. Whisk together the egg yolks, water, lemon juice, salt, white pepper, Tabasco, and cayenne in a stainless steel bowl. Set the bowl over the simmering water (but not touching it) and whisk constantly until the eggs thicken to the consistency of thickened heavy cream (it should barely leave a trail when the whisk is dragged through it), 7 to 10 minutes. Drizzle in the clarified butter, whisking vigorously, until fully incorporated, about 1 minute. Season with salt and set aside in a warm place but not over direct heat (on the stove top, with the oven on). Be very careful because the hollandaise will separate if it gets too hot or too cold.
FRENCH OMELET
One of the few things the French know absolutely nothing about is the beauty of smoky pork belly. As a matter of fact, good people, bacon is ours and ours alone. Sorry, Canada, with your unsmoked impostor "bacon"-you lose. Italy, you're close with your pancetta, but no cigar. American smoked bacon, simply put, kicks ass. There are dozens of things in the French culinary canon that would blast right into the stratosphere with the simple addition of a little American bacon. And not that they aren't perfectly sublime without it, but a kiss from our side of the pond would change the game completely. The traditional French omelet, without equivocation, is one of those things. There, I said it and I'm proud. Dear France, we are here to help you.
I'm also on the record as saying that too many chefs rely on bacon as a crutch, and I stand by that statement. Sadly, lots of folks have misinterpreted my message and think that I actually dislike bacon. This could not be further from the truth. I love bacon, I just abhor the overuse of it in an effort to "Southernize" things.
In this recipe, bacon punctuates classic French ingredients and adds a smoky note to an already good omelet. And as much as the bacon helps the overall flavor of the omelet, it's actually the traditional fresh thyme that really provides the knockout punch. Knowing the French are not fans of people (particularly Americans) tinkering with their traditions (especially their food), I hope I have not made myself unwelcome in France with my clumsy, but brilliant, American nuance. I just wanted to help.
FILLING
1⁄2 cup asparagus tips, trimmed to 1 inch pieces
1⁄4 cup thin-sliced bacon, chopped (a smoky-flavored bacon is ideal)
3 tablespoons sliced shallot
2 teaspoons fresh thyme leaves
Salt and black pepper
OMELET
3 eggs
3 tablespoons whole milk
Pinch of salt and black pepper
2 tablespoons clarified butter (page 30) or your preferred cooking fat
1⁄3 cup grated Gruyère cheese
Set up an ice bath by adding ice and cold water to a large bowl.
To make the filling in a small saucepan, combine 6 cups of water and enough salt to bring the water to the salinity of seawater. Bring to a boil. Add the asparagus tips and cook for 1 minute, then remove and plunge into the ice bath to stop the cooking. Remove from the ice bath and set aside.
Warm a skillet over medium heat for 1 minute. Place the bacon in the pan and cook, stirring constantly, until lightly brown, about 2 minutes Add the shallot and cook, stirring, until it begins to turn transparent, about 1 minute. Stir in the asparagus and thyme and season lightly with salt and pepper. Remove from the heat, cover, and set aside.
To make the omelet, whisk together the eggs, milk, salt, and pepper in a bowl until well combined and the whites are no longer stringy and the egg begins to hold bubbles when whisked, about a minute or so. Warm the clarified butter in a nonstick 10-inch skillet over low heat for 1 minute. Pour the egg mixture into the pan and allow to sit for about 30 seconds. Stir the eggs with the back of a fork, while continually swirling the pan in a circular motion, so the uncooked egg fi the cracks left by the cooked egg being pulled away from the surface. When the egg is about 70 percent cooked, about 1 1⁄2 minutes, stop stirring, but continue swirling the pan for another 30 seconds. Remove the pan from the heat briefly and place the filling and cheese in the center of the omelet. Fold the sides of the omelet to cover the filling. Slide the omelet onto a plate, seam side down, and serve immediately.
SAUSAGE CINNAMON ROLLS
Makes 14 Rolls
I have a primal weakness for the combination of sweet and salty flavors. I still remember the first time I combined some of my granddad's spicy breakfast sausage with pancakes and Karo syrup on my fork and took them down in one bite. I was a very young child, but I became a devout believer in the combination, immediately. Cinnamon rolls have been a special that has floated in and out of our repertoire for years, and one day it dawned on me that adding sausage to them might induce the same euphoric reaction I remember as a youngster. Guess what? Damn right they do! These rolls require a commitment, but you can bet your sweet ass they are worth all of the work.
DOUGH
1 (1⁄4-ounce) package active dry yeast
1 cup warm whole milk (100ºF)
4 1⁄2 cups all-purpose flour
1⁄2 cup granulated sugar
1⁄3 cup unsalted butter, melted
2 eggs, at room temperature
1 teaspoon salt
FILLING
1 cup firmly packed light brown sugar
1 cup cooked breakfast sausage, crumbled
1⁄4 cup unsalted butter, at room temperature
2 1⁄2 tablespoons ground cinnamon
ICING
1 1⁄2 cups confectioners' sugar
3 ounces cream cheese, at room temperature
1⁄4 cup unsalted butter, at room temperature
1⁄2 teaspoon pure vanilla extract
1⁄8 teaspoon salt
1⁄4 cup unsalted butter, at room temperature
Preheat the oven to 350ºF.
To make the dough, in the bowl of a stand mixer, dissolve the yeast in the warm milk and whisk together well. Allow to stand in the bowl for 5 to 7 minutes, or until the mixture begins to look a little foamy on top. Add the flour, granulated sugar, butter, eggs, and salt. Attach the dough hook and knead the dough on low to medium speed until it begins to come together, about 2 minutes. Transfer the dough to a floured surface. Dust your hands lightly with flour and then knead the dough for 3 to 4 minutes until it's smooth and elastic. Form the dough into a large ball.
Transfer the dough to a medium bowl that is coated with cooking spray. Cover the bowl tightly with plastic wrap and let the dough rise in a warm place until doubled, about 1 hour. (At Big Bad Breakfast, we set the bowl on the stove top above a warmed oven. The radiant heat helps the dough to rise.) To test if the dough is ready, poke it with your fingertip. If the indention remains, it's ready.
Once your dough has risen, make the filling: In a small bowl, stir together the brown sugar, sausage, butter, and cinnamon. Set aside.
To make the icing, in a stand mixer with the paddle attachment, beat together the confectioners' sugar, cream cheese, butter, vanilla, and salt on medium speed until combined. Set aside.
To assemble the rolls, turn out the dough onto a floured surface and roll it into a 21 by 16-inch rectangle that's about 1⁄4 inch thick. Spread the 1⁄4 cup butter over the dough, then evenly sprinkle with the sausage filling. With the long side facing you, roll the dough into a tight log.
Using a sharp knife, cut crosswise into 14 slices (if you prefer smaller rolls, cut more slices). Place the cinnamon rolls in a lightly greased 15 by 11-inch glass baking dish. Cover loosely with plastic wrap and let rise, again in a warm place, until nearly doubled, about 30 minutes.
Once your cinnamon rolls have risen, bake them until golden brown, 18 to 20 minutes. The rolls should be brown on top with a light crust.
Take the rolls out of the oven and allow to cool for 8 to 10 minutes. With an offset spatula or icing paddle, spread the icing on them while they're still warm. The frosting should melt into the cinnamon rolls, but not run off completely. Serve immediately.
"Reprinted with permission from Big Bad Breakfast by John Currence, copyright ©2016. Photography by Ed Anderson. Published by Ten Speed Press, an imprint of Random House LLC."