Author interview with Angela Liddon
September 6, 2016 by Jane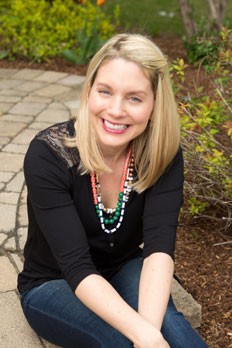 For the past 6 years, award-winning blogger Angela Liddon has shared energizing, plant-based recipes on her blog Oh She Glows. Her goal is to inspire you to embrace more plant-based foods in your diet without feeling the least bit deprived. After publishing a successful first cookbook (The Oh She Glows Cookbook), Liddon decided to write a follow-up. This second book, Oh She Glows Every Day: Quick and Simply Satisfying Plant-Based Recipes, has just hit bookstores. (Enter our contest for your chance to win a copy.) We caught up with Angela to ask her a few questions and to get recipe excerpts from the book:
What inspired you to start your blog?
Back in 2008 – at a time when I was unhappy with my career as a researcher and needed a fun, creative outlet to distract myself – I started my blog, Oh She Glows. I quickly fell head over heels in love with it, and discovered a passion for recipe creation and food photography that, to be honest, I never really expected to find! Eventually, blogging became my full-time job; I'm beyond grateful every day that I decided to take that leap. It's been an amazing journey and I'm so excited for what's to come in the future.
What inspired you to write your second cookbook?
In 2014 my husband, Eric, and I welcomed a baby girl into our family, and life got busier than ever. My fast-paced lifestyle as a business owner and new mother was a huge inspiration for my second cookbook, Oh She Glows Every Day. I rely on so many speedy recipes these days and am always looking for ways to simplify meals. Oh She Glows Every Day features over 100 of my favourite go-to plant-based recipes that are delicious, wholesome, and accessible. I provide my best tips and tricks for saving time in the kitchen, how to make recipes your kids will love, and how to stock a plant-based pantry. My goal is to make my recipes as easy as possible while still knocking it out of the park in the flavour department.
How does Oh She Glows Every Day differ from The Oh She Glows Cookbook?
While my recipes continue to feature nutritious, whole food ingredients that make you feel energized and satisfied, with Oh She Glows Every Day the focus really shifts toward providing recipes that are allergy-friendly, as well as a nice mix of every day and more elaborate dishes for special occasions. I truly think there is something for everyone.
What is your advice for working moms?

I think becoming a mom has reinforced something I have strongly believed in for a while: healthy eating doesn't have to be perfect all the time. It's not possible or practical to expect that. Sometimes, you have to rely on a bowl of cereal or takeout for dinner … and that's okay! And sometimes, you need to indulge a little in order to stay sane and balanced (leftover pie for breakfast, anyone?). I simply aim to enjoy healthy, wholesome foods as much as I can, while knowing not every day will be picture perfect.
What are your favorite recipes in the new book?
It changes day to day, but some of my favourite dishes in the new book include my Protein Power Rainbow Quinoa Salad, Salted Chocolate Hemp Shake, Crispy Smashed Potatoes, Creamy Thai Carrot Sweet Potato Soup, Fusilli Lentil-Mushroom Bolognese, Oh Em Gee Veggie Burgers, and Ultimate Flourless Brownies.
What was the hardest part about writing this book?
One of the hardest parts was juggling my family life (I started the book when my daughter was only 3 months old) and work life. There were many long nights of working on this book after my daughter went to bed. I'm so grateful for all the amazing people who helped bring this book to life, including a huge group of dedicated recipe testers, as I wouldn't have been able to do it all on my own.
---
Chocolate-Dipped Vanilla Bean Macaroons
VEGAN, GLUTEN-FREE, SOY-FREE OPTION, GRAIN-FREE, FREEZER-FRIENDLY
MAKES 13 LARGE MACAROONS
PREP TIME: 15 MINUTES
BAKE TIME: 25 TO 30 MINUTES
FREEZE TIME: 20 MINUTES
This is what I like to call macaroon perfection! It's the go-to quick-and-easy dessert that I pop in the oven before company comes over. Not only does everyone go nuts over the macaroons, but they fill the house with a delicious vanilla, cinnamon, and almond scent as they bake. The macaroons have achieved "in the vault" status in our household. My secret is slow baking the macaroons at a very low oven temperature to ensure that the delicate coconut and almonds don't burn before the interior is baked. Drizzle them in melted dark chocolate for the ultimate treat. Be sure to use melted coconut butter and not coconut oil in this recipe. The coconut butter is necessary for proper binding, and coconut oil will not work in this recipe.
Ingredients:
1 cup (250 mL) raw almonds, ground into a fine meal
1 1/2 cups (375 mL) unsweetened shredded coconut
1/2 teaspoon plus 1/8 teaspoon (2.5 mL) fine sea salt
1/2 teaspoon (2 mL) ground cinnamon
1/2 cup (125 mL) pure maple syrup
1/4 cup (2 ounces/60 g) Homemade Coconut Butter or store-bought, melted
1 teaspoon (5 mL) pure vanilla extract
1 vanilla bean, seeds scraped, or 1/4 teaspoon (1 mL) pure vanilla bean powder
3 1/2 ounces (100 g) non-dairy dark chocolate
1 teaspoon (5 mL) virgin coconut oil
Directions:
1. Preheat the oven to 275°F (140°C). Line a baking sheet with parchment paper. Line a large plate with parchment paper.
2. In a large bowl, stir together the almond meal, shredded coconut, salt, cinnamon, maple syrup, melted coconut butter, vanilla extract, and vanilla bean seeds until thoroughly combined. The dough will be thick and sticky.
3. With a 2-tablespoon (30 mL) retractable cookie scoop, scoop a ball of dough and pack it in so the top is flat. Release the dough onto the prepared baking sheet. Repeat with the rest of the dough, setting the macaroons about 2 inches (5 cm) apart on the baking sheet.
4. Bake for 15 minutes, then rotate the pan and bake for 10 to 15 minutes more, until the macaroons are a bit golden around the edges. Watch them closely during the last 5 to 10 minutes.
5. Let cool on the baking sheet for 10 minutes, then carefully transfer to a cooling rack to cool completely.
6. In the top of a double boiler, melt the chocolate and coconut oil together over low-medium heat, stirring frequently until smooth. (Alternatively, melt them together in a small pot over low heat, stirring frequently.) Turn off the heat.
7. Dip the flat base of each cooled macaroon into the chocolate and twirl the macaroon until the base is coated in chocolate. As you dip them, place each macaroon onto the parchment paper-lined plate, upside down, so the chocolate coating is facing upward. Freeze the macaroons for 10 to 15 minutes, or until the chocolate has hardened.
8. Flip each macaroon chocolate-side down and drizzle the remaining chocolate on top (reheat the chocolate until liquid, if necessary). Freeze for 5 to 10 minutes, until the chocolate drizzle is firm.
9. Store leftover macaroons in an airtight container in the fridge for up to 1 week. You can also wrap the macaroons in foil, place them in an airtight container or freezer-safe zip-top bag, and freeze for up to 1 month.
Make it soy-free: Use a soy-free non-dairy chocolate, such as Enjoy Life brand.
---
Creamy Thai Carrot Sweet Potato Soup
VEGAN, GLUTEN-FREE, SOY-FREE OPTION, GRAIN-FREE, FREEZER-FRIENDLY
MAKES 8 CUPS (2 L) (4 SERVINGS)
PREP: 25 MINUTES
COOK TIME: 20 TO 26 MINUTES
This is my favorite blended soup, and we've been making it once a week during the fall and winter seasons. It's "in the vault," as we like to say! The soup shows off the flavor of red curry paste, an authentic Thai ingredient. It's warm and spicy, but not overpowering, and it's usually enhanced with notes of lemongrass, garlic, ginger, and chiles. It works wonders in this soup, creating rich and full-blown flavor in an instant! The soup also boasts a rich, thick texture, which makes it very comforting as the weather turns cooler. If you don't have any almond butter, feel free to use peanut butter instead. It's also fantastic served with a scoop of cooked rice on the bottom of the bowl to make it heartier.
Ingredients:
FOR THE SOUP
1 tablespoon (15 mL) virgin coconut oil
2 cups (500 mL) diced sweet onion
2 cloves garlic, minced
1 tablespoon (15 mL) minced fresh ginger
2 tablespoons (30 mL) red curry paste
4 cups (1 L) low-sodium vegetable broth, plus more if needed
1/4 cup (60 mL) raw almond butter
3 cups (750 mL) diced peeled carrots (1/2-inch/1 cm dice)
3 cups (750 mL) diced peeled sweet potatoes (1/2-inch/1 cm dice)
1/2 teaspoon (2 mL) fine sea salt, plus more to taste
1/4 teaspoon (1 mL) cayenne pepper (optional)
Freshly ground black pepper
TOPPING SUGGESTIONS
Minced fresh cilantro
Roasted Tamari Almonds (page 263)
Fresh lime juice
Directions:
1. In a large pot, melt the coconut oil over medium heat.
2. Add the onion, garlic, and ginger and sauté for 5 to 6 minutes, until the onion is translucent.
3. Stir in the curry paste.
4. In a small bowl, whisk together some of the broth with the almond butter until smooth. Add the mixture to the pot, along with the remaining broth, carrots, sweet potatoes, salt, and cayenne (if using). Stir until combined.
5. Bring the soup to a low boil over medium-high heat and then reduce the heat to medium-low. Cover and simmer for 15 to 20 minutes, until the potatoes and carrots are fork-tender.
6. Ladle the soup carefully into a blender. You will likely have to do this in a couple of batches, depending on the size of your blender. With the lid slightly ajar to allow steam to escape, blend on low and slowly increase the speed until the soup is completely smooth. (Alternatively, you can use an immersion blender and blend the soup directly in the pot.)
7. Return the soup to the pot and season with salt and black pepper. If desired, you can thin the soup out with a bit more broth if it's too thick for your preference. Reheat if necessary.
8. Ladle the soup into bowls and top with minced cilantro, almonds, and a squeeze of lime juice, if desired. This soup will keep in the fridge for up to a week, and freezes well for 1 to 2 months.
Make it soy-free: Prepare the Roasted Tamari Almonds with coconut aminos instead of tamari.
Roasted Tamari Almonds
VEGAN, GLUTEN-FREE, SOY-FREE OPTION, OIL-FREE, GRAIN-FREE
MAKES 1/2 CUP (125 ML)
PREP TIME: 5 MINUTES
COOK TIME: 9 TO 12 MINUTES
This salty, crunchy, nutty topping is downright addictive! Finely chopped almonds are seasoned with low-sodium tamari and then roasted until they're golden and fragrant. After they cool, the almonds transform any soup, stew, or salad into something extra special. I love them on top of my Creamy Thai Carrot Sweet Potato Soup (page 141), Every Day Glow salad (page 115), or Thai Crunch Salad (page 101)-but I've been known to enjoy them by the handful, too! They are also the perfect topping for any vegan bowl or salad recipe. A note for those of you with soy allergies: Low-sodium tamari is the most flavorful seasoning option, but if you're allergic to soy, you can use coconut aminos instead. Add a pinch of salt if the almonds taste a bit flat.
Ingredients:
1/2 cup (125 mL) raw almonds, finely chopped
1 tablespoon plus 1 teaspoon (20 mL) low-sodium tamari or coconut aminos
Directions:
1. Preheat the oven to 325°F (160°C). Line a large baking sheet with parchment paper.
2. In a medium bowl, toss the almonds with the tamari until the almond pieces are fully coated. Spread the almonds over the prepared baking sheet in an even layer.
3. Roast the almonds for 9 to 12 minutes, until lightly golden. The tamari will have dried up.
4. Let cool completely on the pan. The almonds will harden up as they cool. Using a spoon, scrape the almonds off the parchment paper and enjoy! Leftovers can be stored in an airtight container at room temperature for a couple of weeks.
Make it soy-free: Use coconut aminos instead of tamari.
Reprinted from Oh She Glows Every Day by arrangement with Avery Books, a member of Penguin Group (USA) LLC, A Penguin Random House Company. Copyright © 2016, Glo Bakery Corporation. Photographs copyright © 2016 by Ashley McLaughlin.