Foods to commemorate the eclipse
August 21, 2017 by Darcie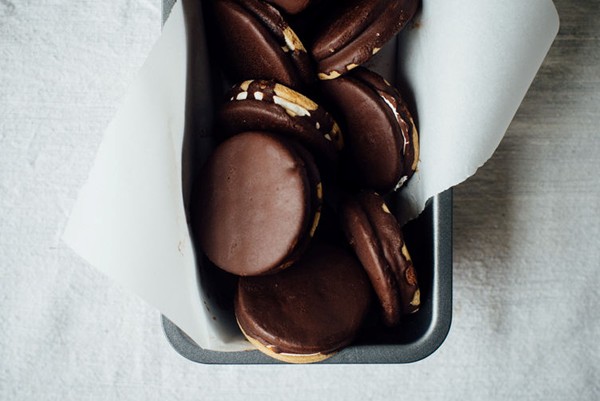 Millions of people in the United States donned special sunglasses today to view the solar eclipse. This was the first time totality occurred over most of the continental US since 1932, and thousands of folks traveled for hundreds of miles in search of optimal viewing conditions, with photographic equipment and family members in tow.
While many viewers experienced the eerie sensation of all-encompassing twilight for a few minutes, other weren't so lucky. Some had cloudy weather, were not in the totality path, or lived on a different continent. If you are disappointed that you didn't get to see it or if you want to keep the feeling going for awhile, why not make some foods to commemorate the event?
One option is to make a blackout cake. These rich, chocolate cakes work in two ways: by virtue of their color and their shape. Another appropriate food would be anything crescent shaped, as most people didn't get to see the totality anyway and still witnessed a sliver of sun peeking out around the moon. Good choices there include Pecan-cranberry cream cheese crescents from Food Network Magazine or Cardamom crescents from Sweet Paul Magazine. One find idea is to make moon pies, like those pictured above from indexed website Food52.
If you missed this eclipse and live in the United States, you have another chance in 2024 as one will pass over the eastern half of the country. Australia has to wait until 2028 for their next full solar eclipse, when the totality will pass directly over Sydney. The closest the UK will get in the near future happens in 2026 (96% in Cornwall and 91% in Aberdeen). Totality won't happen in the UK until 2090. If you got to see the eclipse, we'd love to hear your story, especially if you made any special foods for the occasion.