Tree of Life – Joy E. Stocke & Angie Brenner
October 17, 2017 by Jenny
When Tree of Life authors' Joy Stocke and Angie Brenner first met in a small resort town on the Mediterranean coast, they discovered a shared love of history, literature, and local food traditions. The two set off on a cultural adventure tour of Turkey that spanned ten years. Later, upon returning home to their respective American kitchens, they recreated the flavors of Anatolia and incorporated them into the food they cooked every day for themselves, family, and friends.
Based on the memoir Anatolian Days and Nights (which I just ordered on Kindle to start reading), Tree of Life: Turkish Home Cooking shares more than 100 approachable recipes inspired by Turkish food traditions found in the authors' travels. These thoughtful adaptations of authentic dishes draw on easily accessible ingredients while keeping true to traditional techniques. Recipes include Circassian chicken, Carrot hummus with Toasted fennel seeds, Spice-route moussaka, Weeknight lamb manti, Stuffed grape leaves, and Black Sea hazelnut baklava.

Beautiful photographs are peppered throughout the book along with interesting headnotes that make Tree of Life a wonderful read as well as a lovely cookbook. Special thanks to Burgess Lea Press for sharing the recipe for Tomato and walnut salad with pomegranate molasses with us today along with offering three copies for our contest open to EYB members in the US and Canada. Be sure to scroll to the bottom of this post to enter.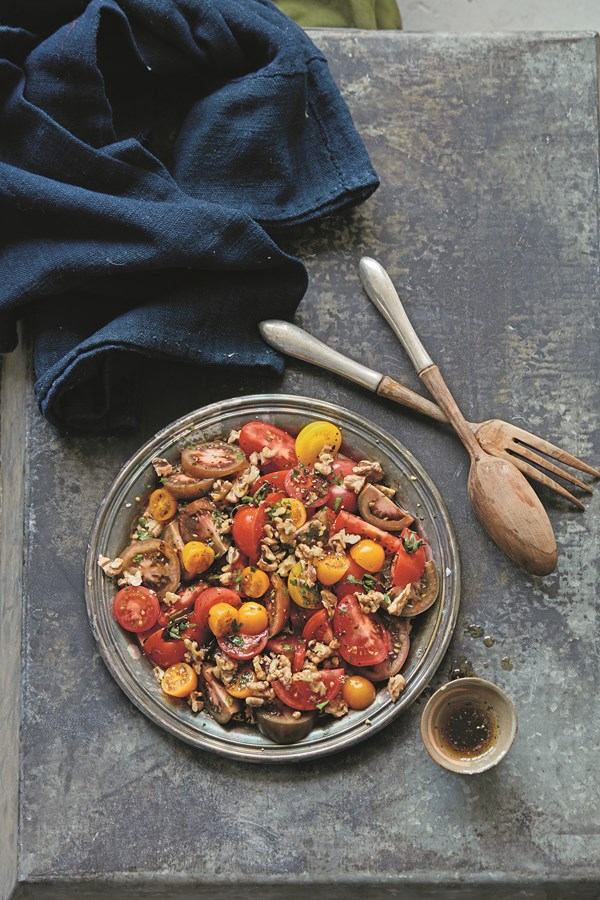 Tomato and walnut salad with pomegranate molasses
Add this recipe to your Bookshelf (click the blue +Bookshelf button).
Serves 4
The walnut tree and its luscious, oil-rich fruit can be traced back to Mesopotamia as early as 2000 BCE. Today, Turkey is among the world's top producers of both tomatoes and walnuts. Turkish cooks have long understood that pairing sweet yet acidic tomatoes with buttery walnuts make a delicious marriage of cultures.
This salad works with any fresh tomatoes in season, but it's more decorative with a mix of heirloom tomatoes in different sizes, hues and flavors. Add it to your meze table or serve as a side dish.
½ cup (60 g) coarsely chopped walnuts
3 medium red tomatoes, coarsely chopped
1 tablespoon pomegranate molasses
¼ cup (60 ml) extra-virgin olive oil
1 teaspoon kosher salt
½ teaspoon freshly ground black pepper
½ cup (25 g) coarsely chopped flatleaf parsley

Put the walnuts in a single layer in a medium skillet over moderate heat. Stir the nuts continuously for 2 to 3 minutes until they become fragrant and turn a rich golden-brown. Set aside to cool.
Cut the tomatoes into bite-sized pieces and put them in a nonreactive serving bowl. If there is any tomato juice left on the cutting board, add it to the bowl.
In a separate small bowl, whisk together the pomegranate molasses, olive oil, salt and pepper.
Add the walnuts and parsley to the tomatoes and gently fold to combine. Drizzle the dressing over the salad and gently toss again to mix. Finish with a few more grinds of black pepper, if desired.
Recipe excerpted with permission from Tree of Life, published by Burgess Lea Press. February 2017. Photo credit Jason Varney.
The publisher is offering three copies of this book to EYB Members in the US and Canada. One of the entry options is to answer the following question in the comments section of this blog post.
Which recipe in the index would you try first?
Please note that you must be logged into the Rafflecopter contest before posting or your entry won't be counted. For more information on this process, please see our step-by-step help post. Be sure to check your spam filters to receive our email notifications. Prizes can take up to 6 weeks to arrive from the publishers. If you are not already a Member, you can join at no cost. The contest ends at midnight on November 27th, 2017.