Orange Appeal by Jamie Schler
October 2, 2017 by Jenny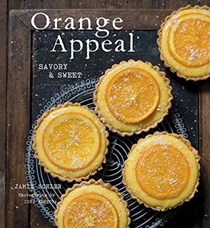 Orange Appeal: Savory & Sweet by Jamie Schler is a joyful culinary celebration of food. I was a recipe tester for this book even though I came a bit late to the game. The dedication by the author in assuring these recipes were as perfect as they can be was evident during the testing stage and is reflected in the beauty of its pages.
Ilva Beretta is the talented photographer behind the lens that captured Jamie's dishes. Her photographs give this book the feel of a being in a French country kitchen, nestled on the side of a lush hillside creating jams, breads and home cooked meals. Who wouldn't want that experience?
Jamie Schler owns the Hôtel Diderot in France where she keeps the famous jam cupboard fully stocked with her homemade creations. Friends who have stayed at her quaint hotel have shared their wonderful experiences on social media. One day I will get there and be able to sit at that table beside the jam cupboard.
Back to the book that brings a little of that idyllic life to us. Orange Appeal isn't just a book packed with recipes devoted to oranges. The recipes are far more than that. The dishes are delightfully nuanced with the subtle addition of citrus and feature a full range of recipes beginning with Sauces, Dressings, Dips and Relishes; followed by Soups, Salads, Starters, and Sides; Main Dishes; Breads (Quick and Yeast); Cookies and Treats; and ending as all good cookbooks should with Cakes and Desserts.
Pea and shiitake orange risotto, Oven-baked stuffed chicken with orange-soy gravy, Navette cookies from Marseille, and Orange-glazed orange cream puffs are a few examples of what awaits you here. Orange Appeal is one of the books we are featuring in the Eat Your Books Cookbook Club so be sure to join us on Facebook to share your photos and results and also remember to share them here at EYB as well. Lastly, there is a Facebook group specifically created to celebrate this book.
Besides the recipe we are sharing here today, I have made a few others – the Orange and brown sugar-glazed sweet potatoes are my son's favorite, the Orange mustard vinaigrette is my go-to, and Isabelle's orange cake are all keepers. I have made the Glazed blood orange yogurt cake at least four times now. Don't worry if you don't have blood oranges – it works perfectly with regular oranges and I am even going to be making it with lemon. It is so dangerous – every time you walk by it you will take a sliver off until there is nothing but the crumbs and then you will scrap those up and unashamedly pop those in your mouth too while mixing up another cake to cover your tracks.
Special thanks to Gibbs-Smith and Jamie for sharing a recipe with our members today and for providing three copies of this book to our members worldwide. Be sure to scroll to the bottom of this post to enter.
Glazed blood orange yogurt loaf cake
Add this recipe to your Bookshelf (click the blue +Bookshelf button).
Makes 1 (9-inch/ 23 cm) loaf cake
Thanks to the yogurt and the vegetable oil, this spectacular, intensely orange loaf cake stays moist for several days, and some friends even say that the cake should be allowed to "age" for 24 hours with the syrup before glazing and serving. The sweet, orangey glaze is optional; leave it off for a perfect breakfast or tea cake, add the glaze for a more festive, special treat.
1 1/2 cups (7 ounces / 195 grams) flour
2 teaspoons baking powder
1/4 teaspoon salt
1 cup (250 ml) unsweetened plain whole milk or Greek yogurt
1 cup (200 grams) granulated white sugar
3 large eggs
Zest of 3 blood oranges
1/2 teaspoon vanilla extract
1/2 cup (125 ml) vegetable oil
Blood orange syrup
1/3 cup (85 ml) blood orange juice
1 tablespoon granulated white sugar

Glaze
2 tablespoons blood orange juice
1 cup (135 grams) confectioner's sugar
Loaf cake
Preheat the oven to 350 degree F (180 degrees C). Butter a standard 9 x 5 x 2 1/2-inch (22 x 13 x 6 ½ cm) or 8-cup (2 1) loaf pan, line the bottom with parchment paper and flour the sides of the pan.
Sift or whisk together the flour, baking powder, and salt and set aside.
In a large mixing bowl, whisk together the yogurt, sugar, eggs, zest, and vanilla until blended and smooth. Slowly whisk the dry ingredients into the wet ingredients just until combined and smooth. Fold the oil into the batter, a little at a time, until well blended and no oil has collected around the edges of the batter.
Pour the batter into the prepared loaf pan and bake in the preheated oven for 45-50 minutes or until the center of the cake is moist but set and a tester inserted into the cake comes out clean.
Blood orange syrup
Prepare the orange syrup by placing the orange juice and sugar in a small saucepan over low heat. Cook until warm and the sugar is completely dissolved and the liquid is clear. Set aside to cool slightly.
When the cake is done, remove from the oven onto a cooling rack that has been placed on top of a large foil-lined baking sheet and allow to cool for 10 minutes. Carefully loosen the cake from the pan by running a knife around the edges between cake and pan. Turn the cake out of the pan, discard the parchment paper, and then place the cake upright on the cooling rack. While the cake is still warm, pour and brush the warm syrup all over the top, allowing it to seep into and soak the loaf and to run down the sides. Allow to cool completely.
Glaze
Prepare the glaze by stirring the orange juice into the sugar until the sugar ha dissolved and the glaze is smooth. The glaze should be thin enough to spoon or drizzle over the cake but just stiff enough that some of the glaze will cling to the sides.
Gently lift the cake off of the rack and onto a serving platter.
Excerpted with permission of Gibbs Smith and Jamie Schler from Orange Appeal, 2017. Photo of the cake by Jenny Hartin. Photo of jam cupboard used with permission of What about the food?
The publisher is offering three copies of this book to EYB Members worldwide. One of the entry options is to answer the following question in the comments section of this blog post.
Which recipe in the index would you try first?
Please note that you must be logged into the Rafflecopter contest before posting or your entry won't be counted. For more information on this process, please see our step-by-step help post. Please be sure to check your spam filters to make sure you receive our email notifications. Prizes can take up to 6 weeks to arrive from the publishers. If you are not already a Member, you can join at no cost. The contest ends at midnight on November 7th, 2017.