October 2017 Cookbook Roundup
October 24, 2017 by Jenny
October has arrived with a staggering number of cookbooks and food related titles. November will have a fair number of new releases as well and as hard as it is to imagine, we will soon be talking about Spring releases. Time is flying by – one roundup at a time.
As always, I have reviewed and selected the best new releases from around the world. This month there are 200 plus new titles and I will focus on the top releases while still giving you a list of other titles that might be of interest.
If you are planning to purchase any of these books for yourself or as gifts, please use the Buy Book link as we will receive a small affiliate fee that will allow us to index more books. You don't even need to buy the book you clicked from, we get affiliate revenue for anything you buy from Amazon over the next 24 hours after clicking the link. You will find the Buy Book link (pale blue box to the right of +Bookshelf) when you click on the book titles highlighted in this post (or any post) – your support is very much appreciated.

We have launched the Eat Your Books Cookbook Club – find out more here and come join us. In November we will be cooking from Half Baked Harvest or any Diana Henry recipe – almost 4,000 are in our complete recipe index. Our World Calendar of Cookbook Events shares author signings, classes, bookstore events and more. Deb Perelman, David Tanis, Gail Simmons, Lidia Bastanich and Ree Drummond are hitting the road to promote their new books along with many other authors.
We also have many great giveaways open and if you need help with entering the contests this post can help. As a reminder, we have tagged each promotion with the specific region to make those regions searchable. Once you have found your region's tag – bookmark that search and you will never have to scroll through the long giveaway list again. To further help, I have set out the tags below with links to the proper searches. #US, #UK, #NZ, #AU, #CA, #worldwide. Also, be sure to enter and check your email folders (spam and junk) for winning notifications. We will have promotions planned for many of the featured titles so check back regularly. We are working hard to include more countries in our promotions – due to the high cost of postage many publishers are unable to ship outside of their own territory.
As books are often released in many countries you may wish to browse through the entire roundup. The Buy Book button will show you the options available for online booksellers including Book Depository which offers free shipping worldwide. In this regard, all Phaidon books are released in the UK, US, Australia and Canada but information on these titles can be found in the UK section.
This month's selections include many exciting books – I hardly know where to begin. To mention just a few gems, we have Robyn Eckhardt's Istanbul and Beyond, Deb Perelman's Smitten Kitchen Every Day, David Tanis' Market Cooking, Matt Jennings' Homegrown and Melissa Clark's Dinner in an Instant. A scrumptious assortment of baking books this month from Zingerman's Bakehouse, The Fearless Baker, and The Artful Baker. Restaurant cookbooks are plentiful as well and include The Grand Central Market, The Juhu Beach Club Cookbook, State Bird Provisions, Elizabeth Street Cafe, wd-50 and Pok Pok Drinking Food.
Let's dive in.
US
Zingerman's Bakehouse: Best-Loved Recipes for Baking People Happy by Amy Emberling and Frank Carollo is spectacular. Since 1992, Michigan's renowned artisanal bakery, Zingerman's Bakehouse in Ann Arbor, has fed a fan base across the United States and beyond with their chewy-sweet brownies and gingersnaps, famous sour cream coffee cake, and fragrant loaves of Jewish rye, challah, and sourdough. Now, for the first time, to celebrate their 25th anniversary, the Zingerman's bakers share 65 meticulously tested, carefully detailed recipes in a beautiful hardcover book featuring more than 50 color photographs and bountiful illustrations.
Smitten Kitchen Every Day: Triumphant and Unfussy New Favorites by Deb Perelman delivers more than 100 new, easy-to-cook, impossible-to-resist recipes from the beloved blogger (indexed here) and New York Times best-selling, award-winning author of The Smitten Kitchen Cookbook. In the movies, people always say that the sequel is never better than the original, the same can't be said about cookbooks and specifically this one. Recipes include Winter squash flatbread with hummus and za'atar, Parmesan Dutch baby with creamed mushrooms, and Pretzel linzers with salted caramel. Deb has an extensive tour scheduled so be sure to see if she is in your area. This title is being released both in the US and Canada this month and in the UK on December 7th.
Istanbul and Beyond: Exploring the Diverse Cuisines of Turkey by Robyn Eckhardt. With her husband, photographer David Hagerman, she takes readers on an unforgettable epicurean adventure, beginning in Istanbul, home to one of the world's great fusion cuisines. From there, they journey to the lesser-known provinces, opening a vivid world of flavors influenced by neighboring Syria, Iran, Iraq, Armenia, and Georgia. From village home cooks, community bakers, café chefs, farmers, and fishermen, they have assembled a broad, one-of-a-kind collection of authentic, easy-to-follow recipes – many of which have never before been published in English. I tested a few recipes from this title and they were delicious. Robyn has a number of events scheduled to celebrate this book.
Chefs & Company: 75 Top Chefs Share More Than 180 Recipes to Wow Last-Minute Guests by Maria Isabella delivers a never-before-assembled collection of recipes that offers a rare and exciting glimpse into the private home kitchens of 75 culinary superstars as they prepare show-stopping meals for their own last-minute guests in an hour or less. With more than 180 personal recipes, secret tips, inside advice, beverage pairings, and music playlists, plus gorgeous full-color photos, this book is a knock-out.


Sweet by Yotam Ottolenghi and Helen Goh is coming to the US this month and was released last month in the UK. The pastry chef turned international cooking sensation shares this book entirely filled with delicious baked goods, desserts, and confections starring his signature flavor profiles and ingredients including fig, rose petal, saffron, orange blossom, star anise, pistachio, almond, cardamom, and cinnamon. There are still a few tour dates up for the UK.

Super Tuscan: Heritage Recipes from Our Italian-American Kitchen by Debi Mazar and Gabriele Corcos shares over 100 tasty recipes, Debi and Gabriele share entertaining anecdotes, useful tips, and day-to-day life in their household with over 125 stunning photographs. Super Tuscan will inspire you to make cooking a daily experience in your family life and live la dolce vita wherever you are. I am a huge fan of Gabriele and Debi – their first book Extra Virgin – is amazingly good. I recently covered that title in a Friday Flashback piece. I've made dozens of recipes with no fails and many compliments and I can't wait to start cooking from Super Tuscan! Gabriele and Debi's events are on our calendar.
Feed the Resistance: Recipes + Ideas for Getting Involved by Julia Turshen is a practical and inspiring handbook for political activism – with recipes. As the millions who marched in January 2017 demonstrated, activism is the new normal. When people search for ways to resist injustice and express support for civil rights, environmental protections, and more, they begin by gathering around the table to talk and plan. These dishes foster community and provide sustenance for the mind and soul, including 30 of the healthy, affordable recipes Turshen is known for, plus 10 recipes from a diverse range of celebrated chefs. Julia is touring to promote her new title.

The Grand Central Market Cookbook: Cuisine and Culture from Downtown Los Angeles by Adele Yellin and Kevin West delivers over 85 distinctive recipes, plus spectacular photography that shows off the food, the people, and the daily bustle and buzz of the Market. Stories about the Market's vibrant history and interviews with its prominent customers and vendors dot the pages as well. This is another stunner of a book.


Market Cooking: Themes and Variations, Ingredient by Ingredient by David Tanis focuses on seeking out the best ingredient and exploring the best ways of cooking it, pulling from all the world's great cuisines. So whether it's Louisiana dirty rice, Persian jewel rice, Chinese sticky rice, Arroz Valenciana, or Italian risotto, you learn the qualities of each ingredient and the best methods and recipes for showcasing what makes it special. David has a full book tour planned. David has again published another gorgeous book. I have all his books and they are keepers.
Kristen Kish Cooking: Recipes and Techniques by Kristen Kish and Meredith Erickson shares more than 80 recipes from the Top Chef winner that celebrate impeccable technique and bridge her Korean heritage, Michigan upbringing, Boston cooking years, and more. This debut offering from Kristen is magnificent with detailed instructions and beautiful photographs. Rigatoni with walnuts, béchamel, sage and fried shallot; Slow-roasted pork loin with Korean melon, chorizo, Asian pear; and a Hazelnut cake with banana ice cream, whipped chocolate ganache, ras el hanout are some of the standouts in this book of standouts. The author is touring to promote this title.

The Cherry Bombe Cookbook by Kerry Diamond and Claudia Wu shares selected recipes from the writers of the quarterly Cherry Bombe. The Cherry Bombe team asked a list of influential women for their most meaningful recipes and the result is a beautifully styled and photographed collection that you will turn to again and again in the kitchen. The vibrant pink cover sets the tone for this impressive, fun title. The duo have a full line up of dates which are available on our calendar.

The Juhu Beach Club Cookbook: Indian Spice, Oakland Soul by Preeti Mistry brings the outsized opinions and culinary daring of the chef/owner of Oakland's Juhu Beach Club, to the page. This collection of street food, comfort classics, and restaurant favorites blends cuisines from across India with American influences to create irresistible combinations. Hip, fun and delicious all collide in this vibrant book that is organized by feeling rather than course. Pork momos in JBC kimchi broth, JBC fried chicken & doswaffle, and Manchurian cauliflower are a few examples of what lies between its covers.


Guerrilla Tacos: Recipes from the Streets of L.A. by Wesley Avila and Richard Parks III is the definitive word on tacos from native Angeleno, Wes Avila of Guerrilla Tacos, who draws on his Mexican heritage as well as his time in the kitchens of some of the world's best restaurants to create taco perfection.

The Artful Baker: Extraordinary Desserts From an Obsessive Home Baker by Cenk Sonmezsoy is a collection of more than 100 extraordinary desserts – all with photos and meticulous instructions – by the creator of the internationally acclaimed blog Cafe Fernando. This book is spectacular and will bring out the baking artist that is buried within each of us.

Lidia's Celebrate Like an Italian: 220 Foolproof Recipes That Make Every Meal a Party by Lidia Matticchio Bastianich and Tanya Bastianich Manuali gives us 220 fantastic recipes for entertaining with that distinctly Bastianich flare. From Pear Bellinis to Carrot and chickpea dip, from Campanelle with fennel and shrimp to Berry tiramisu – these are dishes your guests will love, no matter the occasion. Here, too, are Lidia's suggestions for hosting a BBQ, making pizza for a group, choosing the perfect wine, setting an inviting table, and much more. Lidia is touring and her schedule is available on our calendar.

State Bird Provisions: A Cookbook by Stuart Brioza, Nicole Krasinski and JJ Goode is the debut cookbook from one of the country's most celebrated and pioneering restaurants, Michelin-starred State Bird Provisions in San Francisco. In a month full of stellar cookbooks, State Bird holds its own with dishes that include Spicy yuba noodles with kimchi, crab, and tomalley butter, Porcini fried rice with balsamic spring onions, ramps, and porcini alioli, and Fried pork belly with plum, fish sauce, herbs, and long pepper. A four-page foldout on gourmet ice cream sandwiches made my heart skip a beat. I am crushing so hard on this stunning book. The authors are touring in support of this gorgeous book.


Downtime: Deliciousness at Home by Nadine Levy Redzepi blurs the lines between everyday and special occasion cooking, elevating simple comfort food flavors to elegant new heights. When you're married to Noma's Rene Redzepi you never know who might drop by for dinner. So Nadine has developed a stripped-down repertoire of starters, mains, and desserts that can always accommodate a few more at the table, presenting them in a stylish yet relaxed way that makes guests feel like family – and makes family feel special every single day.

Dinner in an Instant: 75 Modern Recipes for Your Pressure Cooker, Slow Cooker, and Instant Pot by Melissa Clark gives home cooks recipes for elevated dinners that never sacrifice convenience. Beloved for her flawless recipes, Clark turns her imagination to the countertop appliances that have won American hearts from coast to coast. Recipes include Fresh coconut yogurt, Japanese beef curry, Osso buco, Smoky lentils, Green Persian rice with tahdig, and Lemon verbena crème brulee. The book also provides instructions when possible for making the same dish on both the pressure cooker and slow cooker settings, allowing home cooks flexibility. Symbols guide the reader toward Paleo, Vegan, Vegetarian, and Gluten Free dinners. I can't wait to get this book!
wd~50: A Restaurant by Wylie Dufresne and Peter Meehan is the first cookbook from one of the world's most groundbreaking chefs and a pioneering restaurant on the Lower East Side of New York – the story of Wylie Dufresne's wd~50 and the dishes that made it famous. Do not put off by the adventurousness and high-tech reputation of this chef – the book is wonderful and will bring our cooking to new levels with an Everything bagel and crispy cream cheese, Busted foie: foie gras, fennel, malt, sherry vinegar jam, and Scallops, pine needle udon, grapefruit dashi, and Chinese broccoli.

Bringing It Home: Favorite Recipes from a Life of Adventurous Eating by Gail Simmons is the long-awaited book from the Top Chef judge. From her travels, where she tries different dishes and keeps detailed notes on them, to her culinary adventures with the world's most notable chefs on Top Chef, she is always thinking: "How can I bring this dish home to my kitchen?" She then makes the recipe approachable with accessible ingredients so it can be made in a short time for a family dinner. The author is touring extensively to promote this title.


Pok Pok: The Drinking Food of Thailand by Andy Ricker and JJ Goode is a cookbook featuring the rich and varied drinking food of Thailand (and the drinks it's consumed with), with 50 recipes and travelogue-like essays, inspired by Whiskey Soda Lounge, Ricker's Portland, Oregon, restaurant. I've been waiting for this since Pok Pok was published, which was a Flashback Friday feature. I love everything about this book from the photos, to the incredible and sometimes wild dishes, to the stories shared.

Night + Market: Delicious Thai Food to Facilitate Drinking and Fun-Having Amongst Friends by Kris Yenbamroong shares the author's brash style of spicy, sharp Thai party food by stripping down traditional recipes to wring maximum flavor out of minimum hassle. Whether it's a scorching hot crispy rice salad, lush coconut curries, or a wok-seared pad Thai, it's all about demystifying the universe of Thai flavors to make them work in your life. Darcie's article shares more information on this title.

Autentico: Simply Delicious Recipes for Authentic Italian Dishes by Rolando Beramendi is a simply glorious book that reminds us of the pleasure of true Italian dishes. Details on how to make classic dishes from Spaghetti cacio e pepe to Risotto in bianco and Gran bollito misto as they are meant to be – not the versions that somehow became muddled as they made their way across the globe. Colored by the choicest ingredients from the shores of Italy and beyond, the pages of Autentico offer a rich taste of the Italy's history, brought to life in the modern kitchen.
Modernist Bread: The Art and Science by Francisco Migoya and Nathan Myhrvold is the bread baker's Disneyland in a five book set. The epic Modernist Cuisine set (that I am still waiting for a fairy godmother to make appear) is still taunting me. I was fortunate enough to see a digital copy of this masterpiece and all I can say is – spectacular. For more information on this title, see Darcie's article.
Eleven Madison Park: The Next Chapter (Deluxe Edition) by Daniel Humm and Will Guidara reflects on the last eleven years at Eleven Madison Park, the period in which this singular team garnered scores of accolades, including four stars from the New York Times, three Michelin stars, seven James Beard Foundation awards, and for Chef Humm, the 2015 chefs' choice award from a worldwide jury of his peers. In two highly appointed volumes, the authors share more than 100 recipes, stunning photographs, lush watercolor illustrations, and – for the very first time – personal stories from Chef Humm describing his unparalleled culinary journey and inspiration. Only 11,000 copies of this deluxe slipcase collection have been printed, and each edition is numbered and hand signed by the authors. This set makes it onto my wish list along with the Modernist Cuisine sets.
Instant Pot Miracle: From Gourmet to Everyday, 175 Must-Have Recipes by The Editors at Houghton Mifflin Harcourt is going to be a must have – not only because these recipes are approved by Instant Pot – but because one of my recipes is shared in this title! Full of international flavor and anything but boring dinners, this is one of the Instant Pot titles you must buy this year. Next month we hope to bring a full promotion including an Instant Pot for one lucky member.
The Fearless Baker: Simple Secrets for Baking Like a Pro by Erin Jeanne McDowell is the highly anticipated debut cookbook from one of Food52's most popular columnists. Erin is a top food stylist who shares her baking secrets and the science behind them. Erin's book tour dates can be found on our calendar.
Le Creuset (L'uh-cru-say) : A Collection of Recipes from Our French Table was created in Le Creuset's very own test kitchen, creating over eighty inspiring French recipes designed to empower home cooks to explore the timeless pleasures of the French table. It's filled with classics like Coq au vin, Boeuf Bourguignon, Croque madame, Clafoutis, and many more mouthwatering recipes and photos. We are excited to be bringing you a promotion on this beautiful book soon along with a giveaway for a stockpot from Le Creuset.
The Myrtlewood Cookbook: Pacific Northwest Home Cooking by Andrew Barton brings forth 100 recipes that amplify the tastes, colors, and textures of summer tomatoes, fall mushrooms, winter roots, and spring greens. You will gain nearly as much from reading these recipes as from cooking them. Whether you are inspired to make Nettle dumplings in sorrel broth, Candied tomato puttanesca, or Russet rye apple pie, be prepared to swoon under the spell of Myrtlewood. I reviewed this gorgeous book when it was published independently.
France is a Feast: Paul and Julia Child's Photographic Journey by Alex Prud'homme and Katie Pratt documents, through intimate and compelling photographs, Julia Child's discovery and mastery of French cooking and the French way of life.
S Is for Southern: A Guide to the South, from Absinthe to Zydeco by Editors of Garden and Gun and David DiBenedetto is a lively compendium of Southern tradition and contemporary culture. This is a bible devoted to all things Southern and while there are no actual recipes in this title it will be wonderful resource in any cook's kitchen. Be sure to enter our contest for a chance to win a copy of this book.

The Chef and the Slow Cooker by Hugh Acheson brings a chef's mind to the slow cooker, with 100 recipes showing readers how an appliance generally relegated to convenience cooking can open up many culinary doors. Poached eggs in romesco with potato chips, Braised shiitake mushrooms with tofu, Thai basil and chiles, and a Mexican-style sipping chocolate await us here. Over the last year, cookbooks devoted to slow or pressure cooker devices have morphed into artistic, must-have titles and this one surely fits that category.


Speaking of beautiful books devoted to slow cooking, Sarah DiGregorio's Adventures in Slow Cooking: 120 Slow Cooker Recipes for People Who Love Food is another such title. I wrote about this beautiful book in our promotion last month. Here, Sarah has reinvented dishes for a generation that cooks for fun and flavor, taking a fresh approach to reclaim this versatile tool without sacrificing quality or taste. For most cooks, it's not just about getting dinner on the table – we want to create delicious, healthful meals without giving up the enjoyment of a tasty experience. Sarah teaches us to use a slow cooker to make fabulous dinners like herb oil poached shrimp or the most perfect sticky toffee pudding for dessert.
The Sweet Spot: Dialing Back Sugar and Amping Up Flavor for Better Desserts by Bill Yosses and Peter Kaminsky is a game-changing collection of recipes that upend the very notion of "healthy" desserts by using sugar and fat as grace notes to enhance rather than dominate sweets. "Use sugar as you would salt: to enhance flavors, not be the main flavor itself," counsels former White House pastry chef Bill Yosses. More than 100 delectable sweets, including Kabocha persimmon pie, Matcha green tea roll with fresh berries and cream, Alfonso mango cake, Lemon kaffir semifreddo, and Coconut chocolate apricot cookies, are designed to bring diners to their bliss point more quickly. Complete with professional tips for ensuring that each confection is a treat for the eye as well, this title will have cooks thinking about dessert in a whole new way.
Duchess Bake Shop: French-Inspired Recipes from Our Bakery to Your Home by Duchess Bake Shop Ltd. and Giselle Courteau is an updated version of the 2015 title. Another beautiful baking book with step-by-step photographs, exquisite pastries and detailed instructions. For instance, The Duchess, a domed cake with multiple components is comprised of six pages of photos and instructions. How can we fail? Elaborate pastries to the simple Double ginger cookie are covered. By taking a look at the 2015 index, you will have a better idea of the recipes shared here. This title is being released in Canada as well.

Patisserie: A Step-by Step Guide to Creating Exquisite French Pastry by Philippe Urraca, Michel Guérard and Cecile Coulier is a comprehensive and beautiful reference focusing on French baking containing step-by-step accessible instructions for the creation of wonderful pastries. 130 emblematic recipes that represent the best of French baking: croissants, millefeuilles, financiers, ParisBrest, eclairs, macarons, and more are outlined here. Basic recipes and techniques are explained with detailed step-by-step instructions as well as professional tips, making this book a helpful reference for both amateurs and pros.
Valerie's Home Cooking: Over 100 Delicious Recipes to Share with Friends and Family by Valerie Bertinelli is a celebrity cookbook that is both approachable and fun. In the realm of Cravings and Food Swings, it delivers recipes that both present beautifully and taste delicious. Rosemary and pepper crackers, Chicken with lemon-wine sauce, and Brown sugar sriracha bacon bites are just a few of the recipes that will become family favorites. Valerie comes from a long line of home cooks and her recipes work. Her Broccoli salad and Ricottta cookies with sour cream glaze are delicious. Valerie is touring to promote her title.
Cakes by Melissa by Melissa Ben-Ishay is vibrant, enjoyable and full of sugary delights that will be sure to please. Peanut butter cup cupcakes and chocolate peanut butter cake (my son wants this cake now!), a Rainbow cookie cake, Neopolitan cake and a Cereal cake are examples of recipes you will find here. Toppings, icings (pretzel icing anyone?), batters, ultimate flavor combinations (Melissa is the queen of exciting flavors) and more are shared and are guaranteed to make any baker happy. I am gobsmacked by all the possibilities in this title! For a full review and a recipe to try now, along with a giveaway see our promotion post.
Cook Beautiful
by Athena Calderone presents the secrets to preparing and presenting unforgettable meals. As the voice and curator behind EyeSwoon, an online lifestyle destination for food, entertaining, fashion, and interior design, Athena cooks with top chefs, hosts incredible dinners, and designs stunning tablescapes, while emphasizing the importance of balancing the visual elements of each dish with incredible flavors. This book is stunning and includes 100 recipes with step-by-step advice on everything from prep to presentation from artfully layering a peach and burrata salad to searing a perfect steak. Organized by season, each section closes with a tablescape inspired by nature, along with specific table décor and entertaining tips. Athena has a few book tour events scheduled – be sure to
check our calendar
.

America The Great Cookbook, edited by Joe Yonan, is a lovely collection of recipes from well-known chefs and TV personalities like Mario Batali and Carla Hall to culinary revolutionaries such as David Chang, Michael Voltaggio, and Dan Barber. 100 of America's top food personalities share their most treasured home recipes in America The Great Cookbook. Lavishly photographed with spectacular images of food and locations from across the United States, this gorgeous cookbook highlights what is the very best about America and its rich culinary traditions.
All-Time Favorite Sheet Cakes & Slab Pies: Easy to Make, Easy to Serve by Bruce Weinstein and Mark Scarbrough is sure to be a crowd pleaser. Slab pies are the perfect flavor trifecta of flaky crust, jammy filling, and crumbly topping, while sheet cakes ensure that every bite of cake has a thick layer of frosting. Best of all, these delightful sweets are simple to make and can serve a crowd with ease. Whether you're looking for a timeless classic like Blueberry buckle or craving something simply indulgent like the Bacon-peanut butter cake with maple buttercream, with over 100 recipes inside you'll find the perfect dessert for every occasion. In addition to the cakes and pies there are also recipes for cheesecakes, Danish, coffee cakes, and more.
Pioneer Woman Cooks: Come and Get It!: Simple, Scrumptious Recipes for Crazy Busy Lives by Ree Drummond shares more than 120 of the Food Network personality's best solutions for tasty, wholesome meals (with minimal fuss) for breakfast, lunch, dinner, desserts and snacks. Ree is touring to promote her book, check out her schedule here.
Dining In: Highly Cookable Recipes by Alison Roman shares 125 recipes that are tempting enough to attract seasoned cooks but easy enough for the novice. Roman is known for her keeper recipes and simple approach as well as for her fun, effortless style. 100 gorgeous photographs make this book pop along with recipes that include Crispy kimchi and cheddar omelette, Vinegar-braised chicken with farro and watercress and Turmeric-roasted carrots with seeds and labne. While all the recipes cry out to be made, one is screaming to me "Salted butter and chocolate chunk shortbread, or why would I make another chocolate chip cookie ever again?" I hear you, recipe, and I'm yours. Check our calendar for Alison's tour dates.

Modern French Pastry: Innovative Desserts Using Classic French Techniques by Cheryl Wakerhauser is another cookbook devoted to pastry this month and is a beauty. Cheryl focuses on innovative modern pastries that are elegant and show stopping. Recipes include a Concerto, a beautiful mini tart that contains components of coffee cream, fleur de sel caramel, coffee caramel glaze, phyllo decor with a chocolate almond dough – while there are multiple components each one in itself is doable and the end result is spectacular.
Southern Girl Meets Vegetarian Boy: A Cookbook for Everyone at the Table by Damaris Phillips is a love story that made its way into a cookbook. Food Network personality, Darmaris, a Southern chef, meets an ethical vegetarian and the rest as they say is history. Not a vegetarian book in totality as Damaris offers carnivore options as well as providing two separate versions of family favorites – it is a book sure to please everyone. I recently did a piece for Books for Better Living that includes a recipe you can try now.
The Sioux Chef's Indigenous Kitchen by Sean Sherman and Beth Dooley provides a thorough introduction to the modern indigenous cuisine of the Dakota and Minnesota territories. Sherman delivers a vision and approach to this cuisine that travels well beyond those borders. Hominy cakes, Tatanka truck sunflower-crusted trout, and Bison tartare along with basics such as real wild rice and stocks. Along with the recipes and photographs, the authors provide the reader with a rich education to the ingredients used for centuries by the indigenous people.
Cooking in Season: 100 Recipes for Eating Fresh by Brigit Binns is the author's newest offering from the William Sonoma line of books. It is vibrant and with gorgeous seasonal dishes reflected in the photographs peppered throughout. I have the Potato & pancetta crostata with fresh rosemary, Walnut torte with chocolate-caramel sauce, and the Cider-braised chicken legs with fresh figs & cipollini onions marked to make.
Hazana: Jewish Vegetarian Cooking by Paola Gavin delivers a symphony of beautiful photographs and crave-worthy dishes beginning with that stunning cover continuing throughout its pages until the very last recipe for Chocolate walnut balls. In Hebrew, the word "Hazana" refers to nourishment, a word that defines the role food and cooking play in Jewish life. Paola shares 140 traditional Jewish vegetarian dishes that have been passed down for generations taking us on a journey from Poland to Morocco, Italy, Lithuania, Turkey and more.
Rasika: Flavors of India by Ashok Bajaj brings the famed Washington D.C. restaurants' dishes into our home kitchens. Stuffed saffron and almond chicken, Grilled eggplant and potato stacks with jaggery peanut sauce, and Grilled cashew cardamom lamb chops are a few examples of what is available here. I am looking forward to this title!
Feasts by Sabrina Ghayour was released last month in the UK and comes to the US this month. This title is the highly anticipated follow up to the award-winning Persiana and number one bestseller Sirocco. Here Sabrina shares a delicious array of Middle-Eastern dishes from breakfasts to banquets and the simple to the sumptuous. Sabrina is one of those authors whose books I must have and was the subject of a recent Flashback Friday. This book is incredible.
Breaking Bread: A Baker's Journey Home in 75 Recipes by Martin Philip is an intimate tour of Philip's kitchen, mind, and heart. Through seventy-five original recipes and life stories told with incandescent prose, he shares not only the secrets to creating loaves of unparalleled beauty and flavor but the secrets to a good life. From the butter biscuits, pecan pie, and whiskey bread pudding of his childhood in the Ozarks to French baguettes and focaccias, bagels and muffins, cinnamon buns and ginger scones, Breaking Bread is a guide to wholeheartedly embracing the staff of life.
Chasing Bocuse: America's Journey to the Culinary World Stage by Philip Tessier shares the dramatic story of the American team's journey from obscurity to the silver-medal and ultimately the gold-medal win at the world's most renowned cooking competition, the Bocuse d'Or. It is told in riveting narrative, breathtaking photographs, and expert recipes from every stage of the process. We will have more information on this beautiful book in our promotion coming soon.
Cooking Price-Wise: A Culinary Legacy by Vincent Price is a charming book of the actor's favorite recipes based on the Thames Television series he hosted in the 1970s, which showcased timeless international cuisine. Scores of easy-to-make dishes from around the world include soups, breads, main courses, side dishes, and desserts that can be made from ingredients readily available in supermarkets and food shops. Fascinating food-related historical tidbits add extra zest to the newly typeset recipes and numerous color and black-and-white photographs that enhance this handsome collectible edition.
How to Cake It: A Cakebook by Yolanda Gampp, popular You Tube cake artist, includes directions for making twenty-one jaw-dropping cakes that are gorgeous and delicious, including a few fan favorites with a fresh twist, and mind-blowing new creations. Yolanda shares her coveted recipes and pro tips, taking you step-by-step from easy, kid-friendly cakes (no carving necessary and simple fondant work) to more difficult designs (minimal carving and fondant detail) to aspirational cakes (carving, painting and gum-paste work).
Meehan's Bartender Manual by Jim Meehan is acclaimed mixologist Jim Meehan's magnum opus – and the first book to explain the ins and outs of the modern bar industry. This groundbreaking work chronicles Meehan's storied career in the bar business through practical, enlightening chapters that mix history with professional insight. Meehan's deep dive covers the essential topics, including the history of cocktails and bartending, service, hospitality, menu development, bar design, spirits production, drink mixing technique, and the tools you'll need to create a well-stocked bar – all brought to life in over 150 black-and-white illustrations by artist Gianmarco Magnani.
My Mother's Philippine Recipes: Filipino Cookbook Recipes from Asian in America by Elizabeth Ann Besa-Quirino is the follow up to How to Cook Philippine Desserts, Cakes and Snacks (this book is one of a kind and I can't wait to get my hands on this new title). Elizabeth Ann, born and raised in the Philippines, writes the popular blog Asian In America. In this title, she shares a special collection of her mother's recipes often cooked and served to family and friends who stopped by their home in Tarlac. Some family favorites in this cookbook include Sinigang na baka with lemongrass, Tokwa't lechon, Pancit palabok, Pork barbecue, Spanish cocido, Beef Kalitiran pot roast, and some new dishes like Salted-egg potato chips, Vegetable siomai, Kangkong salad with salted egg dressing, and Mango tempura.
The Art of the Pantry: Save Time and Money with 150 Delicious Meals Using Everyday Ingredients by Claire Thomson presents 150 dishes that offer everyday meal solutions, all with kitchen basics at their heart. An organized pantry makes meal planning painless. Knowing that you can always have a simple, healthy, delicious meal at your fingertips will revolutionize the way you cook and shop. Claire takes you through the essentials, from flours and grains, to pulses, pastas and spices, as well as dried fruits, nuts, and seeds for instant dessert or breakfast solutions. By combining kitchen staples with a little fresh produce, you can enhance your dinner or just make a pantry supper from scratch. With dishes including buckwheat crêpes, sour cherry and pistachio pilaf, firecracker noodles, Egyptian ful medames, date and semolina bars, and honey and nutmeg tea bread you can't go wrong.
The Cottage Kitchen: Cozy Cooking in the English Countryside by Marte Marie Forsberg is simply gorgeous. Here, the tastemaker and photographer, shares a glimpse into her idyllic life. Stunning photos of dishes that whisper comfort and elegance tempt you to drop everything and create them. Truffled Yorkshire pudding with onion gravy, Taleggio and potato pizza, and Orange and clove roast chicken with pears and butternut squash are examples of a few of the dishes. If you can't find me, I'll be buying a white apron for my new life in the English countryside.
Jamie's Christmas Cookbook by Jamie Oliver is available in the US this month, previously released in the UK in 2016. Jamie says: "I've got all the bases covered with everything you need for the big day and any feasting meals over the festive period, as well as party fare, edible gifts, teatime treats, cocktails and of course, exciting ways to embrace and celebrate those leftovers. You'll also find all the deeply important technical info you need, such as cooking charts, and wherever possible, I've designed the recipes to be cooked at the same oven temperature, so you can be efficient with time and oven space, and it'll be super-easy for you to mix and match the different elements and build your own perfect Christmas meal. I haven't held back. This book is the greatest hits, all wrapped up in one Christmas parcel, and I hope you have fun looking through, picking your recipes, and building your own plan."
My Thai Cookbook by Tom Kime is an inspiring and beautifully photographed cookbook brings the vibrant and flavorful cuisine of Thailand to home cooks everywhere. Featuring a range of recipes that explore this beloved cuisine's four main groups of taste – hot, sweet, salty, sour – the author demonstrates how simple it is to prepare authentic Thai dishes in your kitchen. Sample recipes include: Hot & sour grilled beef salad shrimp, Sweet & crispy pork spare and Sesame-seared tuna with ginger.
The Vermont Non-GMO Cookbook: 125 Organic and Farm-to-Fork Recipes from the Green Mountain State by Tracey Medeiros honors the state's mission to connect with its local organic farmlands and the farmers who nurture and care for them. It also serves as a guide for eating organically and non-GMO in Vermont. The book celebrates the region's esteemed organic food producers, farmers, cheesemakers, dairy farmers, and the chefs who partner with them to create delicious, innovative, organic, and non-GMO recipes. Recipes include Avocado, jalapeño, and cheddar cheese cornbread, Maple kale salad with toasted Almonds, parmigiano-reggiano cheese, and rustic croutons, Oven-roasted organic pulled pork sandwiches with spicy apple cider vinegar slaw, and Apple-raspberry pie.
Tupelo Honey Southern Spirits and Small Plates (Tupelo Honey Cafe) by Elizabeth Sims, E. Tyler Alford and Eric Gabrynowicz shares 70 unique cocktail and 30 delicious small plate recipes in this third title from the Tupelo Honey franchise. Among the made-from-scratch cocktails and small plates perfect for two or twenty are Johnny cakes with BBQ pulled pork and corn-jalapeño slaw, Goat cheese deviled eggs with country ham prosciutto, and Don't judge my okra obsession.
What Can I Bring?: Southern Food for Any Occasion Life Serves Up by Elizabeth Heiskell is based on the popular monthly feature "What Can I Bring?" in Southern Living magazine, no matter what the occasion, you'll have the perfect dish. From housewarming party to garden party, a new baby, a wake, a wedding, christening or anything in between, Elizabeth delivers over 100 delicious recipes, including appetizers, mains, sandwiches, desserts and more, that are sure to please a crowd, no matter how big or small. Additionally, these are all dishes that can be prepared in advance and travel well.
Feast with Sababa: Middle Eastern and Mediterranean Food by Tal Smith, owner of the popular Sea Point deli, Sababa, is back with new recipes in his second offering. This follows the incredible success of the first Sababa cookbook and the constant request for more recipes. This is a beautiful book full of delectable recipes featuring an array of meze, salads, risottos and meat recipes among others. I have purchased both of Tal's books and they are gorgeous.
Stir Crazy: 100 Deliciously Healthy Stir-Fry Recipes by Ching-He Huang makes stir fry dishes approachable for novice cooks with enough flavor and punch to please established cooks. This title was released in the UK late last month and contains recipes from Chinese 'pesto' spring onion chilli noodles with kale and Taiwanese five spice peanut rice with carrot and edamame, to Chicken and green beans in spicy garlic sauce.
In October, exclusively through Sur la Table, Jacques Pépin's My Menus: Remembering Meals with Family and Friends will be available. I had the pleasure of speaking with the master last month and more information about this work of art can be found in that interview.
MUNCHIES: Late-Night Eats from the World's Best Chefs by JJ Goode and Helen Hollyman and Editors of MUNCHIES is based on the game-changing web series Chef's Night Out, features stories of the world's best chefs' debauched nights on the town, and recipes for the food they cook to soak up the booze afterwards. This book is also being released in the UK.
Other titles of interest include:
CANADA
The Simple Bites Kitchen: Nourishing Whole Food Recipes for Every Day by Aimée Wimbush-Bourque shares the popular blogger's love of whole foods along with heart-warming kitchen stories and recipes that are nutritious, fairly simple to make, and utterly delicious. Aimée knows the challenges that come with feeding a family and tackles them head on by providing lunchbox inspiration, supper solutions and healthy snack options. Brown Eggs & Jam Jars, her first title, is a beautiful book.
Okanagan Table: The Art of Everyday Home Cooking by Rod Butters is a cookbook celebrating the local flavours: creating exceptional meals by connecting with the freshest, highest quality food. Featuring more than 80 illustrated recipes, the book is structured in the order in which we enjoy our meals: sunrise, midday, sunset, and twilight and showcases a collection of classic and signature recipes from the Okanagan Valley.
Flavours of New Brunswick: The Best Recipes from Our Kitchens by Karen Powell brings together the best-loved appetizers, entrées, soups, preserves, desserts, and more from Karen Powell's popular cookbooks. Featuring time-tested favourites like Fundy fog pea soup and crowd-pleasers like Fiddlehead fry and leek and salmon pizza, these delicious recipes are as fun to make as they are to share!
The Edgy Veg: 138 Carnivore-Approved Vegan Recipes by Candice Hutchings and James Aita shares 138 fun and exciting vegan recipes to your table. The YouTube sensation (with over 250,000+ subscribers and counting) created by the hilarious Candice and her husband Aita are on a journey to revolutionize vegan food as we know it.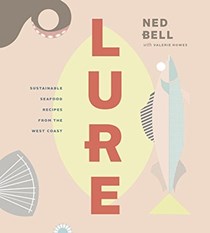 Lure: Sustainable Seafood Recipes from the West Coast by Ned Bell and Valerie Howes features simple techniques and straightforward sustainability guidelines about Pacific species as well as 80 delicious recipes to make at home. You'll find tacos, fish burgers, chowders, and sandwiches – the types of dishes that fill bellies, soothe souls and get happy dinner table conversation flowing on a weekday night as well as elegant (albeit still simple-to-execute) dinner party options, such as crudo, ceviche, and caviar butter.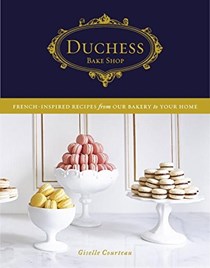 Duchess Bake Shop: French-Inspired Recipes from Our Bakery to Your Home by Duchess Bake Shop Ltd. and Giselle Courteau is an updated version of the 2015 title. By taking a look at the 2015 index, you will have a better idea of the recipes shared here. This title is being released in the US as well.
UK
New French Table: A Fresh Take on Classic Recipes by Emily Roux and Giselle Roux, mother-and-daughter team, share a completely fresh take on classic and contemporary recipes, creating a modern bible for today's lifestyle. Drawing upon their experience working in Roux restaurants and fond memories of cooking together, they prove that French food is not only easy and approachable, but light, fresh and bursting with flavour. From the provincial home cooking of the Ardeche to the sweet treats of Brittany, this unique collection of recipes shows how the French kitchen has evolved to suit a modern lifestyle. This title was released last month in the US and Canada.

The Palestinian Table by Reem Kassis weaves together a tapestry of personal anecdotes, local traditions, and historical context, sharing with home cooks her collection of delicious, easy-to-follow recipes that range from simple breakfasts and speedy salads to celebratory dishes fit for a feast – giving rare insight into the heart and hearth of the Palestinian family kitchen. Please remember Eat Your Book members receive 30% off Phaidon titles when using the link provided and all Phaidon books are released in the UK, US, Australia and United Kingdom.
Hong Kong Diner: Recipes for Baos, Buns, Hotpots and More by Jeremy Pang is the first cookbook to explore the east-meets-west diner food crossover of Hong Kong cuisine which draws on everything from classic Chinese to America's west coast to French Vietnamese. This book represents comfort food at its finest: Beef brisket noodle soup sits alongside Peanut butter French toast, Claypot rice beside Savoury doughnuts, Pineapple buns next to Milk tea, and he expertly brings together in this book the very best dishes that the city has to offer.
Saturday Pizzas from the Ballymaloe Cookery School: The essential guide to making pizza at home, from perfect classics to inspired gourmet toppings by Philip Dennhardt and Kristin Jensen shares the recipes from the small pop-up restaurant at the famous Ballymaloe Cookery School. The pizzeria has been going for nearly 10 years, and is considered something of an institution within Ireland. Due to high demand, Saturday Pizzas also sell their pizzas into local shops too.
River Cafe 30 by Ruth Rogers and Rose Gray is a celebration of an iconic restaurant on its thirtieth birthday. This bold and beautiful cookbook has over 120 recipes – revisiting favourites from the first iconic River Cafe blue cookbook, updated for home cooks today, and introducing 30 new recipes, with new tips and anecdotes.
The Modern Cook's Year by Anna Jones is the long-awaited new cook book from the rising food star who has authored A Modern Way to Eat and A Modern Way to Cook. The Modern Cook's Year will be filled with hugely-inventive, easy recipes that will continue to transform vegetarian main meals into vibrant, energising food that everyone wants to eat.

Elizabeth Street Cafe by Tom Moorman and Larry McGuire and Julia Turshen shares recipes from the French-inspired Vietnamese restaurant located in the cultural hub of Austin, Texas – recommended by everyone from locals to Bon Appetit to The New York Times. Please remember Eat Your Book members receive 30% off Phaidon titles using the link provided and all Phaidon books are released in the UK, US, Australia and United Kingdom. This book is exciting, approachable and inspirational all wrapped up in a gorgeous cookbook.
Comfort: Food to Soothe the Soul by John Whaite is a collection of enticing recipes will have you cooking up a comforting feast in the kitchen. Chapters are divided by comfort cravings, including Something Crunchy; Something Spicy; Something Pillowy; Something Cheesy and, of course, Something Sweet. Recipes include Breakfast ramen, Devil curry, Crab & sriracha mac'n' cheese, Lemon & pea barley risotto, Peanut butter brownies and Cinnamon knots.
Mary's Household Tips and Tricks: The Complete Guide to Home Happiness by Mary Berry is a wonderful, practical and comprehensive household how-to from national treasure, Mary Berry. "This book is a collection of what I've learnt about running a home over the years, along with all the helpful hints that friends and family have imparted to me. It's about helping you with life – not creating more work, or telling you what you should do. These are my tips, gleaned from years of practical experience, and I hope it will be a helping hand."
Catalonia: Spanish Recipes from Barcelona and Beyond by José Pizarro shows readers how to create some of the best-loved dishes from the Catalonian region at home. Dispelling the myth that creating tapas and traditional Spanish fare is scary, he shows us how to take the experience of eating in the little bars of Barcelona to your own kitchen. Set to the backdrop of the stunning views of Barcelona and the rest of Catalonia, you'll really feel like you're on a magical holiday in Spain. Basque, his first title is stunning and Catalonia follows suit.
Igni: The First Year by Aaron Turner tells the story of IGNI, a high-end degustation restaurant in the backstreets of the Australian coastal city of Geelong. A striking title with black and white photographs dotted with a splash of color to jolt you, a fascinating story highlighting the peaks and valleys of opening a restaurant, and elegant recipes guarantees Turner a world of accolades from the cookbook world. The chef's story is told through diary entries, seasoned with recipes from Aaron's exquisite tasting menu and also includes a look into the development of his recipes, daily kitchen processes and the importance of local producers. One word – gorgeous. This title is also be released in the US and Australia.
Recipes from an Italian Butcher: Roasting, Stewing, Braising by The Silver Spoon Kitchen shares 150 inspiring and authentic Italian recipes for meat, poultry, and game – from the world's most trusted authority on Italian cuisine. Please remember Eat Your Book members receive 30% off Phaidon titles when using the link provided and all Phaidon books are released in the UK, US, Australia and United Kingdom..
America: The Cookbook: A Culinary Road Trip Through the 50 States by Gabrielle Langholtz is the first book to document comprehensively – and celebrate – the remarkable diversity of American cuisine and food culture. A unique state-by-state section features essays and menus from a 'who's who' of 100 foremost food experts and chefs. Please remember Eat Your Book members receive 30% off Phaidon titles when using the link provided.
MUNCHIES: Late-Night Eats from the World's Best Chefs by JJ Goode and Helen Hollyman and Editors of MUNCHIES is based on the game-changing web series Chef's Night Out, features stories of the world's best chefs' debauched nights on the town, and recipes for the food they cook to soak up the booze afterwards. This book is also being released in the US.
Lisboeta: Recipes from Portugal's City of Light by Nuno Mendes invites you to experience the author's favourite places, and the incredible food you will discover there. Sharing recipes inspired by the dishes that he loves, Nuno takes you through a typical day in Lisbon.
The Christmas Chronicles: Notes, Stories and Essential Recipes for Midwinter by Nigel Slater features everything you need for the winter solstice. Written as a diary, and starting in September, this is the story of Nigel Slater's love for winter, its fables and its family feasts.
Modern British Food: Recipes from the Parlour by Jesse Dunford Wood is a delightfully wacky, delicious and irresistible collection of British classics with a twist and a turn, based around the premise that food should be fun and that flavour is key.
Hawksmoor: Restaurants & Recipes by Huw Gott and Will Beckett is an essential read for anyone interested in the realities of restaurants, revealing the trials and tribulations faced along the way, as well as the people, places and plates that have made it so successful. From refined, tweaked and perfected Hawksmoor favourites like Mac 'n' cheese to the Steak slice that caused a social media storm, and from a light and elegant Lobster slaw to big carnivorous sharing feasts, this book will make you look at the classics anew and fall in love with a whole new collection of dishes for the first time.
Hook Line Sinker: A Seafood Cookbook by Galton Blackiston is a seafood cookbook from Michelin-starred chef Galton Blackiston featuring recipes created through his lifelong love affair with fish and shellfish.Galton's seafood dishes have always turned heads. He has a knack of taking simple ingredients and pairing them with techniques and flavours that allow the flavours to remain pure whilst bringing a sense of fun to the occasion. Cooking seafood is an art and in this book, Galton shows you how to master it. The book features over 90 recipes divided into five chapters – Quick and Easy, Small Plates, Stress-Free, Spicy Seafood and Main Courses.
Cooking Tonight: Simple recipes to put the joy back into weekday suppers by Alex Hollywood is an exciting new cookery book for anyone whose heart sinks at the question: 'What shall we have for dinner tonight?'. Alex is a busy working mum who faces all the usual challenges: not enough time, too much to do, wanting to feed her family good home cooked food but bored by endless food shopping. Guided by her fuss-free approach to cooking and drawing on the recipes from her popular Twitter feed, this book is based around the staple ingredients we all buy in our weekly shop, showing us how to throw them together to create delicious and easy home cooked suppers.
Tanya's Christmas by Tanya Burr shares tips and strategies for having the perfect Christmas. From finding the perfect gift, decorating your home and hosting a party to remember, to cooking roast turkey with all the trimmings, baking indulgent festive treats and her own hair and make-up tips. Presented as a countdown to the main event and into the new year, this beautiful book has over 50 sumptuous recipes and thoughtful craft projects. At every step, bestselling author Tanya suggests easy ways for you, your family and friends to create special memories together that will last a lifetime.
Home Baking by Rachel Allen is filled with over 140 easy-to-follow recipes to cater to your every baking need or whim. Whether you're after something traditional like the perfect Birthday cake, the crispest Brandy snaps or the crumbliest Cheese swirls, Rachel has a fail-safe recipe. Or perhaps you're looking for something a bit more unusual, in which case you'll find undiscovered gems such Pashtida with aubergine, feta and mint (an Israeli quiche), Cardamom butter biscuits and a Tarte de Saint Tropez.
Leon Happy Soups by Rebecca Seal and John Vincent brings together 100 all-new, all-smiles soup recipes for all the family. Whether you're looking for a bright soup with which to dazzle your friends, or a simple soup to take to the office, this book is a must-have kitchen staple. Alongside the recipes, the book is packed with tips and tricks for added extras. Leon is the future of fast food, and it's clear that vegetables are a big part of that future.
What's Cooking? by Joshua David Stein tackles the world of cookery with his signature quirk and charm. From the practical ("Can I fry a scoop of gelato?") to the playful ("Do frozen peas grow on frozen trees?"), each vignette features an engaging question and a satisfying reveal, all revolving around the preparation of food. The simple yet sophisticated hand-drawings by Julia Rothman provide authenticity and a balance of seriousness to the silliness at hand. Incorporating humor, word play, logic and illogic, foreign foods, and even some cookbook vocabulary, this read-aloud book offers children facts to share and maybe even the impetus to get involved in the kitchen. Please remember Eat Your Book members receive 30% off Phaidon titles when using the link provided and all Phaidon books are released in the UK, US, Australia and United Kingdom.
Lasagne by Sandra Mahut is a beautiful little book devoted to – what else – lasagne. From Curried crab to Lamb and pea, there is something for everyone in this fun title with 30 different recipes for the layered pasta favorite.
Crumbles by Sabrina Fauda-Role shares sweet and savoury recipes for crumbles. Whether you want a sweet bite of comfort with butter, cinnamon and fruit or a meal time crumble – 30 versions are included in this book.
Les Abats: Celebrating the Whole Beast by Michel Roux Jr is geared toward teaching us the benefits and delicious qualities of the whole animal. From the simple sweetbreads Michel's mother fed him as a child, to the more adventurous dishes in the style served at his award-winning restaurants. Dishes range from La Salade Aveyronnaise (Warm salad with sweetbreads and Roquefort) or Soupe aux abattis (Giblet soup), to Cervelle de veau zingara (Calves' brains with zingara) or Langue de boefu au persil et cares (Salted ox tongue with caper parsley sauce).
Cheese by Michel Roux is the third title this month from the prolific Roux family, this one devoted to something less adventurous – cheese. The author guides us through classic recipes and techniques and inspires with a multitude of inventive ways to make the most of fantastic international and easy-to-find cheese varieties in cooking. With over 120 dishes including cheese straws, Normandy onion soup, Greek salad, lobster gratin, even the greatest ever ravioli and pizza, orange cheesecake, and of course the perfect soufflé and raclette, the recipes feature suggestions for alternatives depending on what's available or whether you prefer a stronger or milder tasting variety.
Rick Stein: The Road to Mexico by Rick Stein brings the author's unrivaled enthusiasm and trusted expertise to the fresh, flavorful food of Mexico and California. No one better captures the food essence of a country and brings the best recipes into our kitchens than Rick. Starting in San Francisco and Baja California, and working his way down to the southernmost tip of Mexico, Rick Stein cooks, eats and experiences Mexican food at its very best and most diverse. Packed with vegetables, centred around fresh ingredients and always high on flavour, Mexican and California cooking is naturally healthy and satisfying – from the incredible seafood of the north Pacific coast and the mole of Oaxaca, to the spices and salsas of Yucatan and Quintana Roo.
Salted Caramel Dreams: Over 60 Incredible Caramel Creations by Chloe Timms brings over 70 irresistible salted caramel recipes for fudges, toffees, brownies, cookies, cakes and more, and fail-proof techniques that anyone can achieve to our kitchen. From golden, crispy Bocaditos (South American caramel cornflake clusters) to luxurious Salted caramel truffles, to more experimental recipes such as Miso sesame caramels and spicy Mexican cajeta – the possibilities are endless in this decadent book.
The Grammar of Spice by Caz Hildebrand is a practical resource for cooks that also changes the way we understand the role spices play in defining not only our food but also our place in the world. Featuring custom stunning illustrations for each of the more than sixty spices featured this beautiful, informative book that celebrates the world of flavors that spices open up to us.
Gino's Italian Escape: A Taste of Italy from the Aeolian Islands to Elba by Gino D'Acampo takes us on a journey of discovery, sailing along the stunning coast of Italy to explore delicious, local food by the sea. Off the beaten track and into the markets, kitchens and restaurants where the very best authentic, seasonal Italian ingredients and culinary traditions can be found – Gino visits tiny fishing villages and hidden beaches, as well as bigger bustling seaside resorts. And just because he's by the sea, it's not all about fish and seafood, although that's obviously a big part of the story. Gino also discovers there are plenty of other recipes to try from mouth-watering pastas, fresh salads and sumptuous desserts.

Andina: Healthy, Fresh Food From Peru by Martin Morales follows up on the success of his first cookbook, Ceviche. This new beautiful title reveals the unique dishes of the Andes region of Peru, an area where quinoa, maca and naturally healthy eating reign supreme. Featuring over 120 recipes, chapters cover breakfasts, snacks, superfood salads and healthy desserts, power shakes and protein-packed main courses. This book will be released in the US next month.
Other titles that may be of interest:
Ireland
A Sense of Home by Helen James is a book that combines design advice for optimising your living space – outdoors and in – including home decor, recipes, gardening tips, and every aspect of your house and home. From leading Irish designer and food blogger, Helen James, comes a beautiful book for all who enjoy making their house a home. Room by room, Helen shares her distinctive design sensibility inspired by the natural world, as she considers the spaces where we spend so much of our time – indoor and out – from a sensory perspective: taste, sight, scent, touch and sound. Combining over 60 delicious, homely recipes – from bedroom feasts to 'movie-night' suppers – with essential design principles, natural beauty products, gardening plans and more, this title is stunningly illustrated throughout. A sumptuous journey that is as pleasurable to browse as it is to put into practice – and the ideal gift.
Neven Maguire's Perfect Irish Christmas: 100 Recipes for all of your Christmas Celebrations by Neven Maguire shares recipes and advice to help you deliver the perfect Christmas. Packed with all the classics you need for the big day, like Neven's famous Buttermilk turkey, Perfect roast potatoes and traditional Christmas desserts, you'll also find lots of inspiration for the whole festive season: from a Snowman cake to make with the kids and St. Stephen's Day leftovers, right through to a festive New Year's Eve dinner. In addition, you'll find lots of fun ideas for edible gifts, party food and all the little extras that help make Christmas as special as it can be.
AUSTRALIA
Corsica: The Recipes by Nicolas Stromboni celebrates all that is Corsican – the people, the geography and, most importantly, the food. And with around eighty incredible Corsican recipes designed to be prepared in the home kitchen, you'll be transported to the island in no time.
Mr & Mrs Wilkinson's How it is at Home by Matt Wilkinson and Sharlee Gibb is food for people aspiring to prepare healthy, seasonal food, whether it be for family, friends, special occasions or evenings of mid-week craziness. In all, it offers more than 100 delicious and fuss-free recipes covering off the myriad occasions that arise for busy families in any typical week.
Thai Food Made Easy by Tom Kime takes us on a culinary adventure, from building your store of essential Thai ingredients and making your own curry pastes and marinades to sticky rice, rice noodles. From there, on to classic Thai staples such as Pad Thai fried noodles, Thai stir fry beef and Coconut fish curry and authentic dishes that are the go-to recipes for die-hard Thai food fanatics who love delicious, healthy food that is easy to cook and impressive to serve.
Cornersmith: Salads and Pickles: Vegetables with More Taste & Less Waste by Alex Elliott-Howery and Sabine Spindler is the follow-up to the bestselling self-titled cookbook, with a focus on seasonal salads, pickles and preserving. Including dozens of simple ideas for fresh ingredients that might otherwise be thrown away, this is your handbook to putting vegetables at the centre of the way you eat.
The Vegetable: Recipes that Celebrate Nature by Caroline Griffiths and Vicki Valsamis is spectacular. It is filled to the brim with stunning photographs and delectable recipes. I am working on a full review with a promotion to be shared soon.
delicious.daily: 101 Simply Brilliant Twists on Classic Recipes by delicious. Magazine is an essential collection of more than 100 new recipes, each with a genius twist. Fill your kitchen with the gorgeous aromas of simply great food and shake up your recipe repertoire with this book full of fantastic twists on your go-to favourites. With cook's tips and creative variations from the team at delicious. magazine, these tried-and-tested recipes will inspire you from breakfast to bedtime with sensational dishes to make every day of the week.
I Heart Rome: Recipes & Stories from the Eternal City by Maria Pasquale is a love letter to Rome, with beautiful food and location photography, classic recipes, and stories from the heart of the Eternal City. Through quirky local stories and glorious pictures, this gorgeous title takes you on an inspiring journey through the Rome that tourists rarely get to see.
Ferment: A Practical Guide to the Ancient Art of Making Cultured Foods by Holly Davis is a book that will not only help you understand fermented food – it will have you creating the beautiful recipes and incorporating more healthful choices in your daily diet. Gorgeous photographs, incredible recipes and great information make this book a keeper.

Igni: The First Year by Aaron Turner tells the story of IGNI, a high-end degustation restaurant in the backstreets of the Australian coastal city of Geelong. A striking title with black and white photographs dotted with a splash of color to jolt you, a fascinating story highlighting the peaks and valleys of opening a restaurant, and elegant recipes guarantees Turner a world of accolades from the cookbook world. The chef's story is told through diary entries, seasoned with recipes from Aaron's exquisite tasting menu and also includes a look into the development of his recipes, daily kitchen processes and the importance of local producers. One word – gorgeous. This title is also be released in the US and UK.
New Zealand
New Zealand Restaurant Cookbook by Delaney Mes introduces us to new and iconic restaurants throughout the country and shows how to recreate some of the most popular dishes from their menus. Fifty celebrated chefs share recipes for their favourite dishes in this follow-up to the bestselling New Zealand Café Cookbook. Winery restaurants, breweries, neighbourhood bistros and fine dining establishments all make an appearance, with recipes that draw from a broad range of cooking styles and international cuisines.
Black Barn: Portrait of a Place by Gregory O'Brien and Jenny Bornholdt is a fitting tribute to the Hawke's Bay landmark. Lavishly photographed by Brian Culy, with text and poetry contributed by Gregory O'Brien and Jenny Bornholdt, and recipes from the Black Barn Bistro menu, it's the next best thing to being there yourself.
New York Christmas: Recipes and Stories by Lisa Nieschlag and Lars Wentrup is a getaway to the magical New York of the pre-Christmas period: when coloured lights decorate the buildings, Jingle Bells rings out everywhere and culinary delicacies tempt you to indulge. With 50 recipes for Blueberry brownies, Maple glazed ham and an unforgettable cheesecake, this cookbook allows you to share the dream of a New York White Christmas in your own kitchen.