Dinner & Party – Rose Prince
October 9, 2017 by Jenny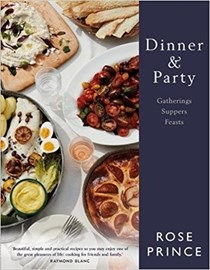 Rose Prince is a UK food writer, cooking teacher and cookbook author who has been bestowed this praise by Nigel Slater: "Every kitchen needs a Rose." I am in agreement after reviewing her latest book, Dinner & Party Gatherings Suppers Feasts.
In Dinner & Party, the author shares a collection of practical recipes that are ideal for entertaining along with concrete advice to guarantee stress-free enjoyable dinner parties and celebrations.
The litmus test for measuring the success of a dinner party, writes the author, is that that the party-giver enjoyed their day as much as the guests. So that we pass this test, she guides us through the basics of timing and preparation along with scrumptious recipes and gorgeous photographs.
Rose covers it all and brilliantly – Pigeon breasts with figs and pearl barley; Lemon risotto, Crispy potato cakes with garden peas and lettuce sauce, and the classic Cassoulet – are examples of the dishes here. There is aVegetable biryani with coconut baked under a pie crust that looks like a show stopper. I stopped today in the snow (yes, it is already snowing in Colorado) and bought all the ingredients to make this dish this week. I'll be adding my photograph later and I am hoping it looks a fraction of how amazing Rose's does. (Updated with my photo – the recipe is incredible!)
Also included are several menus for various party themes – Persian Feast, Indian Feast and Summer Lunch as well as holiday menus and recipes, incredible looking desserts and more. Everyone who loves to entertain needs this book – it is a must have and beautifully done.
Special thanks to Seven Dials for sharing the recipe below for our members as well as providing three copies of this beautiful book for our members, worldwide. Be sure to scroll down to enter our giveaway.
Pork, duck and pistachio terrine
Add this recipe to your Bookshelf (click the blue +Bookshelf button).
Adaptable through the seasons and easy enough for large numbers, I love to make baked terrines like this one. They look so 'brown' in the pot after baking but when you cut that first slice, to reveal a mosaic of shell-pink and buff-coloured meats threaded with nuts and/or preserved fruits, it feels like just reward for the initial patience needed to 'build' the terrine. It is very important to buy free-range pork mince and meat for a terrine, because intensively reared pork releases a white liquid during cooking, overly shrinking the terrine.
Think of the following recipe as a 'blueprint', which can be modified through the seasons – see the options opposite.

Serves: 6-8
Serving dish: 1-litre terrine dish or loaf tin
30g butter
1 garlic clove, finely chopped
1 large shallot, chopped
300g pork shoulder meat, cut into 1cm chunks
500g pork mince
1 tsp thyme leaves
1 tsp salt
½ tsp fresh ground black pepper
60ml port
1 egg, beaten
30g softened butter, for greasing
16 slices pancetta
6 soft dried figs, halved
70g unsalted pistachio nuts
1 x 200g duck breast, or two smaller ones, cut into long strips along the grain of the meat
2 bay leaves
To serve:
bowl of pickle or chutney
cornichons (pickled baby gherkins)
hot toast and butter
Preheat the oven to 200°C/fan 180°C/400°F/Gas 6. Melt the butter in a pan and add the garlic and shallot. Cook for 2 minutes over a medium heat until soft, cool for a few minutes then put in a bowl with the pork, the thyme, salt, pepper and port. Leave to marinate for 1 hour then mix in the egg.

Rub the inside of the terrine dish with the softened butter then line it neatly with 12 of the pancetta slices, laying them side by side across the width of the dish and allowing them to hang down the outer side, ready to wrap around the contents later. Pack one half of the marinated pork mixture into the terrine.

Push half of the fig halves into the pork mix in the terrine – so that they run in a line the length of the dish – then do the same with half of the pistachios. Next, lay the duck breast strips lengthways along the dish. Cover with a 1cm-layer of the pork mix then another line of fig halves and the remaining pistachios. Finally, cover with the remaining pork mix, heaping it higher in the centre of the terrine to make a loaf shape.

Place the bay leaves on top, then bring the pancetta (hanging down the side of the dish) up and over the contents, wrapping them. The terrine is now ready to bake.

Cover the dish with a lid or foil and place it in a roasting tin containing 3cm of boiling hot water. Bake for 1¼-1½ hours until the meat has shrunk a little from the side of the dish. Add more water to the pan if it evaporates during cooking.

Remove the terrine from the oven and leave to cool. You will notice how the juices around the meat are reabsorbed as it cools. Chill until needed, wrapped in foil.

To serve, use a spatula to lift the terrine out of the dish. With a very sharp carving knife, cut a 2cm-thick slice for each person. Serve with hot buttered toast and pickles.

Options: For duck, use lean skinless fillets of any game bird, venison loin, chicken, rabbit, pork loin or the cheaper tenderloin or wild boar. For pistachios, use walnuts or hazelnuts; for dried figs, use dried plums; for port, use wine, cider, gin or sherry. Apple juice can also be used in place of alcohol.

Recipe is from Rose Prince's Dinner & Party Gatherings Suppers Feasts. Published by Seven Dials. Photography (c) Matt Russell*
The publisher is offering three copies of this book to EYB Members worldwide. One of the entry options is to answer the following question in the comments section of this blog post.
Which recipe in the index would you try first?
Please note that you must be logged into the Rafflecopter contest before posting or your entry won't be counted. For more information on this process, please see our step-by-step help post. Be sure to check your spam filters to receive our email notifications. Prizes can take up to 6 weeks to arrive from the publishers. If you are not already a Member, you can join at no cost. The contest ends at midnight on November 16th, 2017.