Friday Flashback – Cocolat – Alice Medrich and Worldwide Giveaway
November 10, 2017 by Jenny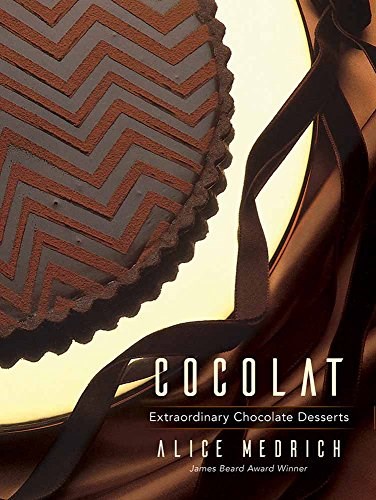 Alice Medrich is one of those authors that demand attention. Her books are as impressive as the first lady of chocolate herself. Since 1976, when her renowned shop Cocolat opened and her first dessert feature appeared in a national publication, Alice's innovative ideas and recipes and her insistence on quality ingredients have influenced a generation of confectioners, pastry chefs, and home cooks. Among her early accomplishments, Alice is credited with popularizing chocolate truffles in the US all from a recipe she procured from her Paris landlady.
In 1989, she sold her interest in the Cocolat shops. Since then she has become an award-winning cookbook author, receiving three Cookbook of the Year awards from the James Beard Foundation and the International Association of Culinary Professionals for Cocolat: Extraordinary Chocolate Desserts, Chocolate and the Art of Low-Fat Desserts; and Bittersweet: Recipes and Tales from a Life in Chocolate. In 2007, Gourmet, Bon Appétit, and Food & Wine magazines named her Pure Dessert one of the top cookbooks of the year. Alice's book, Chewy Gooey Crispy Crunchy Melt-in-Your Mouth Cookies, won the 2011 International Association of Culinary Professionals Cookbook Award in the baking category. Her 2014 book, Flavor Flours won the 2015 James Beard Award for Best Baking and Dessert Book. The paper back edition, Gluten Free Flavor Flours, was published this year. Also, Dover has published a revised and updated edition (including a new introduction and ingredient information but the recipes remain the same) of Cocolat. She has authored other titles including Chocolate Holidays and Cookies and Brownies.
While I'm covering Alice's decadent career, today's focus is on Cocolat: Extraordinary Chocolate Desserts which as stated above has been republished by Dover with a new introduction and information about ingredients. Every recipe in this book creates a stunning showpiece dessert. Cranberry Christmas cake, Queen of Sheba (a stunning tart), and a Chestnut chocolate torte (which my friend Jenni Field made recently at Pastry Chef Online). Anything from this book will wow your holiday guests.
I love when a book is republished and finds a whole new audience of fans but also reminds me of the brilliance of one of my favorite authors. Dover is providing two copies of this beautiful book to our members worldwide in our contest below as well as offering 25 percent off any of their cookery titles for the holidays using this link and entering the code WRBK which expires on 12/31/2017. There is also a worldwide giveaway for Vincent Price's Cooking Price-Wise at The Cookbook Junkies' site be sure to enter that promotion. Price was a gourmet and the recipes in this title will impress you.
The publisher is offering two copies of this book worldwide. One of the entry options is to answer the following question in the comments section of this blog post.
Which recipe in the index would you try first?
Please note that you must be logged into the Rafflecopter contest before posting or your entry won't be counted. For more information on this process, please see our step-by-step help post. Be sure to check your spam filters to receive our email notifications. Prizes can take up to 6 weeks to arrive from the publishers. If you are not already a Member, you can join at no cost. The contest ends at midnight on December 18th, 2017.
Seen anything interesting?
Let us know
& we'll share it!