InStyle Parties – Review, recipes and giveaway
November 14, 2017 by Jenny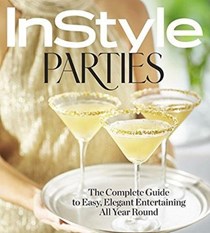 Here in the US, November through New Years Day is peak party season. Even those who don't like to entertain will gather together friends and family to celebrate the holidays. No matter how confident or organized we are in the kitchen, we all can use advice and tips from the experts when it comes to entertaining, and in this case the expert is InStyle Magazine.
InStyle Parties: The Complete Guide to Easy, Elegant Entertaining All Year Round by The Editors of InStyle is a completely revised and updated version of the 2007 edition of this book. The editors of InStyle offer their advice on hosting any type of celebration. Whether a baby shower, dinner gathering, or holiday affair, you'll discover how to transform your tabletop to fit the theme, get ideas for the perfect invitations, and learn the shortcuts of posh party prep.

Each chapter represents one occasion or party. For instance, the chapter on Thanksgiving dinner includes recipes for a Seasoned roast turkey, Carrots with espresso, dates, sorghum and lime, Cornbread with honey butter and scallions, Roasted green beans and okra with caramelized fish sauce, Sweet potato pave and a decadent Chocolate tart with pine nut crust. Also shared is a signature cocktail for each occasion and in Thanksgiving's case it would be a Maple old-fashioned. Ideas for decorating and ideas for activities to keep your gathering fun are also provided along with a countdown or timeline to keep you on schedule and shortcut options.
InStyle Parties would be the ideal gift for the hostess this season and I may be adding a few of the dishes mentioned above on my Thanksgiving table – especially that cornbread. Special thanks to Oxmoor House for sharing two recipes with our members today and for providing three copies of this book for our contest below.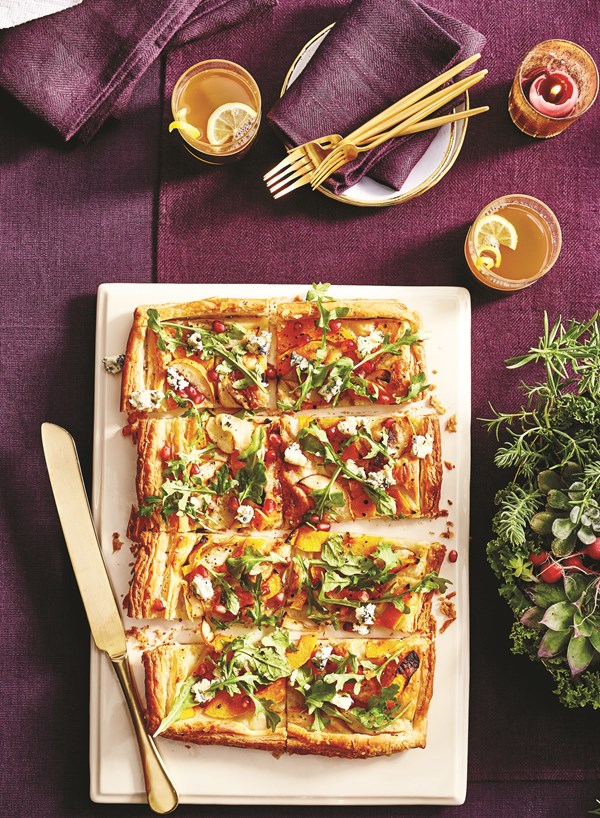 Pear & pumpkin tart
Add this recipe to your Bookshelf (click the blue +Bookshelf button).
Serves 6 to 8
Hands-on 20 minutes, Total 50 minutes
1 (17.3-ounce) package frozen puff pastry sheets, thawed
1⁄2 (3-pound) sugar pumpkin, peeled, seeded, and cut into 1⁄4-inch-thick slices
1 firm Bartlett pear, cut into 1⁄4-inch-thick slices
1⁄2 teaspoon kosher salt
1⁄4 teaspoon freshly ground black pepper
2 teaspoons olive oil
2 cups loosely packed arugula leaves
1⁄4 cup crumbled blue cheese
1⁄4 cup fresh pomegranate seeds
1 teaspoon red wine vinegar
1. Preheat the oven to 425°F. Unfold the puff pastry sheets, and place side by side on a baking sheet, overlapping the short sides 1⁄2 inch. Press the seam to seal. Score a 1⁄2-inch border on all sides, using a knife. Do not cut through the pastry.
2. Toss together the pumpkin slices, next 3 ingredients, and 1 teaspoon of the olive oil in a large bowl. Spread the mixture in a single layer on the prepared pastry sheets, leaving a 1⁄2-inch border. Bake at 425°F until golden brown, 20 to 22 minutes. Cool on a wire rack 10 minutes.
3. Toss together the arugula, next 3 ingredients, and the remaining 1 teaspoon olive oil in a bowl. Add salt and pepper to taste. Sprinkle the mixture over the tart; cut and serve.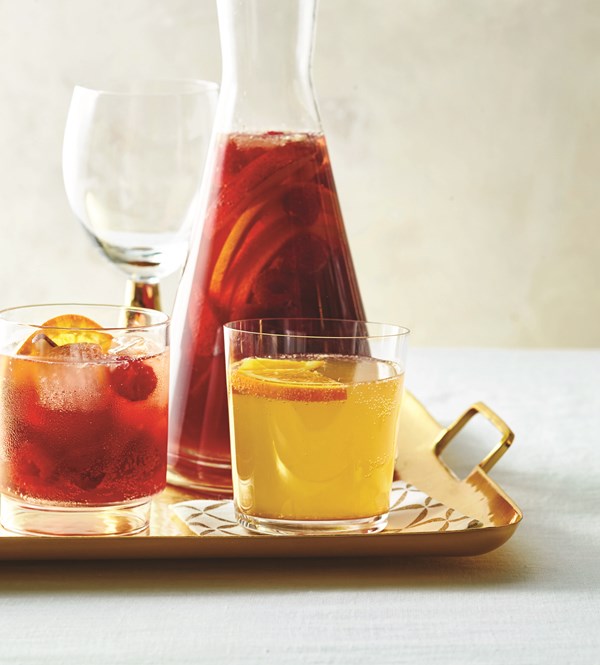 Fizzy ginger punch
Add this recipe to your Bookshelf (click the blue +Bookshelf button).
Serves 8 Hands-on 15 minutes Total 1 hour, 15 minutes (includes cooling)
1 1⁄2 cups granulated sugar
3⁄4 cup chopped peeled fresh ginger
3⁄4 cup water
4 (2-inch) lemon zest strips, plus 1⁄3 cup fresh juice, chilled
1 star anise pod
1 (750-milliliter) bottle Champagne, chilled
1 cup brandy, chilled
2 medium-sized oranges, cut into rounds
1. Combine the sugar, ginger, water, lemon zest strips, and star anise pod in a small saucepan over high. Cook, stirring constantly, until the sugar dissolves, 2 to 3 minutes. Cool completely, about 1 hour; pour through a fine wire-mesh strainer, discarding the solids.
2. Place 1⁄2 cup of the sugar syrup mixture in a pitcher. Cover and chill the remaining simple syrup up to 2 weeks; reserve for another use. Add the Champagne, brandy, and lemon juice to the pitcher; stir gently. Garnish with the orange rounds.
Excerpted from INSTYLE Parties by the Editors of INSTYLE. Copyright © 2017 Oxmoor House. Reprinted with permission from Time Inc. Books, a division of Time Inc. New York, NY. All rights reserved.
The publisher is offering three copies of this book to EYB Members in the US. One of the entry options is to answer the following question in the comments section of this blog post.
Which recipe in the index would you try first?
Please note that you must be logged into the Rafflecopter contest before posting or your entry won't be counted. For more information on this process, please see our step-by-step help post. Be sure to check your spam filters to receive our email notifications. Prizes can take up to 6 weeks to arrive from the publishers. If you are not already a Member, you can join at no cost. The contest ends at midnight on December 18th, 2017.