Vegan Recipes from the Middle East
December 13, 2017 by Jenny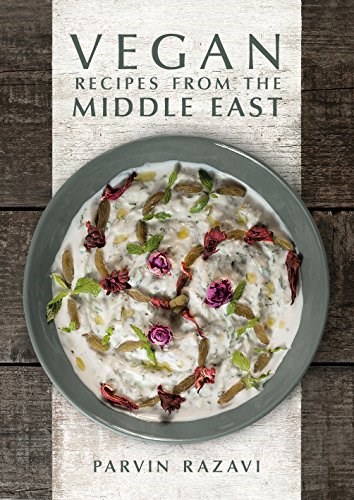 Many cultures blend together to make up the melting pot that represents the food of the Middle East. Generations of Iranian, Israeli, Armenian, Kurdish, Greek, Cypriot, Azerbaijani and Turkish cooks, as well as other nations, join together as the foundation of this varied and vibrant cuisine.
One constant among these people are the reverence and respect they have toward cooking with food that comes from the earth.
In Vegan Recipes from the Middle East by Parvin Razavi, vegan cooking blends natural culinary delights from various cultures with a contemporary approach to deliver dishes that will please the modern cook. Here are warm and spicy stuffed vegetables, cool and fragrant soups, delicate preserves, pilafs, breads, pickles, relishes and pastries with beautiful photographs to boot.

The dishes of the following countries: Iran; Armenia; Syria, Lebanon, Jordan; Egypt; Morocco and Turkey are the focus of Parvin's recipes. The book is organized in chapters for each country with a focus on the mezze style of cooking and serving. It is not unusual for up to ten dishes to be prepared for one meal in the Middle East and they are all served together. There is no designation of courses – everything is brought to the table to enjoy. I love this type of celebration that sets out myriad dishes so that guests can explore and share.
The Crispy saffron rice and Orange and coriander relish were two dishes I tried several months ago and they were perfect, especially the relish. I love the sweet and sour combination that added a bright note to our chicken dish (of course, this relish would be good with any number of vegan dishes such as rice or lentils).
Special thanks to the publisher for sharing the recipe below for Stuffed aubergines with walnut and pomegranate with our members today as well as providing five copies of this book in our contest for members worlwide. Scroll to the bottom of this post to enter.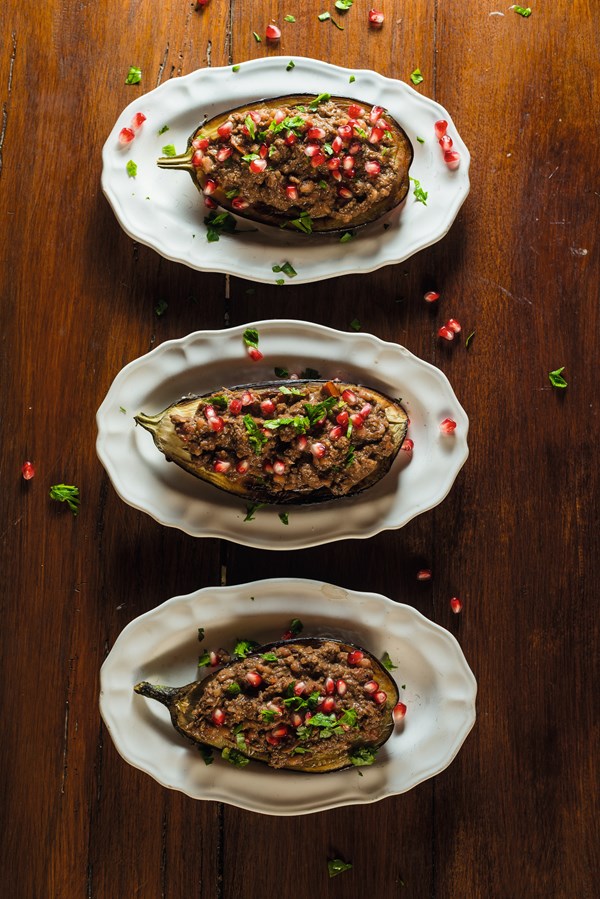 Stuffed aubergines with walnut and pomegranate
Add this recipe to your Bookshelf (click the blue +Bookshelf button).
Preparation time: 30 minutes
Cooking time: 1 hour
2 aubergines
2 medium-sized onions, chopped
1 garlic clove, crushed
A little oil
500 g ground walnuts
3 tbsp pomegranate syrup
250 ml water
Salt and pepper
100 g approx. Pomegranate seeds
Juice of 1 lemon
A little parsley, for garnishing
1. Halve the aubergines, place in a generous amount of salted water and steep for half an hour.
2. Sweat the onions in a pan with some oil until transparent and add the garlic.
3. Add the walnuts and pomegranate syrup to the saucepan and slowly bring to the boil with the water.
4. Season to taste with salt and pepper and simmer on a low heat for 45 minutes, stirring regularly.
5. Add the pomegranate seeds and continue to simmer for another 15 minutes, stirring constantly.
6. Remove the aubergines from the water and wipe well with a clean cloth.
7. Cut into each aubergine flesh twice lengthways and saute in a heated frying pan for 2-3 minutes on each side.
8. Add the lemon juice to the pomegranate and walnut mixture, and spread on the aubergines. Serve with pomegranate seeds and a little parsley as a garnish.
Tip: The nut and pomegranate filling can also be supplemented with 150-200 g strips of seitan and served with rice.
The publisher is offering five copies of this book to EYB Members worldwide. One of the entry options is to answer the following question in the comments section of this blog post.
Which recipe in the index would you try first?
Please note that you must be logged into the Rafflecopter contest before posting or your entry won't be counted. For more information on this process, please see our step-by-step help post. Be sure to check your spam filters to receive our email notifications. Prizes can take up to 6 weeks to arrive from the publishers. If you are not already a Member, you can join at no cost. The contest ends at midnight on January 21, 2017.